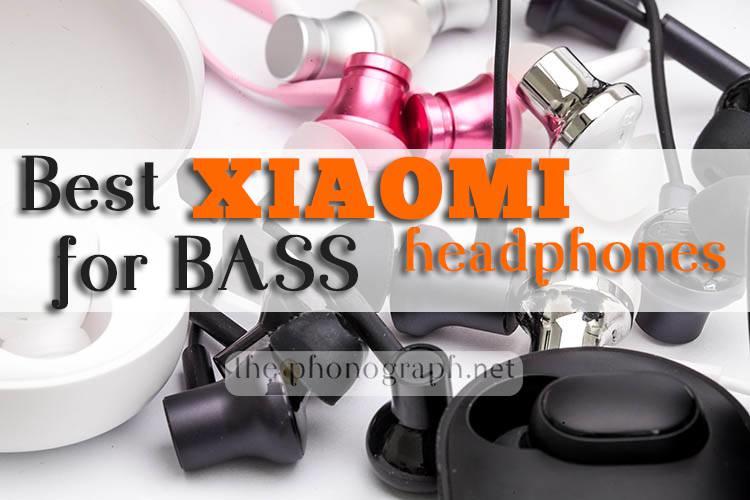 ---
Best Xiaomi Headphones for Bass
---
If you are a Xiaomi fan and looking for the best Xiaomi headphones for bass, you came to the right place.
---
Xiaomi headphones usually are never bass-shy nor anemic and can provide as much mid-bass punch and sub-bass as needed for any genre, yet the brand's constant expansion of it's headphones catalog has also introduced models that will not well suited for genres with intense bass requirements.
To help users choose among the best Xiaomi headphones for bass, our editors have made a selection among all the tested and reviewed models that can offer a more bassy and bass-intense profile.
Recommended for you:
---
Guide and advice:
If you are visiting this page on a mobile device or a device with a small screen size, you might need to scroll/swipe right on the table to see all the products listed.
You can find all the scores, of each model that our team has reviewed so far, on our Scores Comparison page.
Each model has been chosen according to features that adapt better to specific categories, their performance or other pertinent reasons.
We recommend to read the full review of each model to get a deeper insight of each product's performance.
Discount coupon codes might be available for one or more models listed in the chart.
To look up for the discount coupons you can visit our Coupons pages for each shop – Aliexpress Coupons, Amazon Coupons, Gearbest Coupons.
---
Best Xiaomi Headphones for Bass
Scroll the chart to the right to see all entries
Xiaomi Mi Quantie



the best Xiaomi headphone for bass heads
This selection is not contemplating a normal bass response out of the box but the potential to reach basshead rumble and impact after being handled by expert basshead with advanced knowledge in custom basshead equalization and extreme amplification aimed for rumble and impact.
Among all the Xiaomi headphones put through our extreme basshead tests, the original Xiaomi Mi Quantie had showed unique basshead ear crushing.
The Xiaomi Mi Quantie is the oldest hybrid multi-driver headphone from the brand, belonging to the Mi In-Ear Headphones Pro series.
Other Xiaomi Headphones that are part of the same series as the Mi Quantie include the:
To know how to unleash the basshead potential of the Xiaomi Mi Quantie you will need to read our full review and head to the basshead section of the review.
See all the Best Xiaomi Headphone, here
Xiaomi Mi Bluetooth Neckband



the best Xiaomi Bluetooth neckband headphone for bass
Many of Xiaomi headphones offer a strong and full bass but there are also money modern models from the brand that are not bass-centered and would not be the best choice for listeners who prefer a boosted bass response.
Though it is fundamental to highlight that you need to read our full review to see how to modify the Xiaomi Mi Bluetooth Neckband to be able to provide a bass-intensive response.
A couple of the Xiaomi headphones with a lighter/tighter bass that should not chosen by listeners looking for intense bass are the:
See all the Best Xiaomi Headphones under $50, here
Xiaomi Mi Pro HD



The Xiaomi Mi Pro HD might not be as bass-intense nor be able to achieve the same extreme basshead potential of the older brother (Xiaomi Mi Quantie), yet the Xiaomi Mi Pro HD will offer a very rich and energetic bass response that will be stronger than on other headphones from Xiaomi's catalog.
The Xiaomi Mi Pro HD provides, as well, an outstanding build quality, fit and comfort and a triple hybrid driver configuration at a ridiculously cheap price.
Other sufficiently bassy Xiaomi headphones that might be worthy of looking at, include the:
See all the Best Bang for Buck Xiaomi Headphones, here
---
All Best Xiaomi Headphones charts:
---
Best Headphones & Earphones Charts:
---
Read each Xiaomi headphone review: