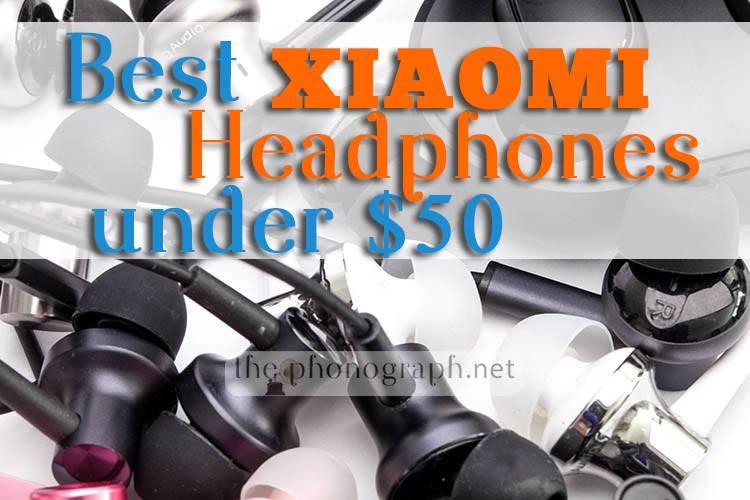 ---
Best Xiaomi headphones under $50
---
Our editors have selected the best Xiaomi headphones under $50 to help you out choose the best ones on the market.
A budget of $50 will allow users an outstanding level of Xiaomi headphone options to choose from.
---
If you wallet allows it, stretching the budget above the $20 limit up to $50 or less will grant a superior array of Xiaomi models to choose from.
The additional budget will open the possibility to wisely select a Xiaomi headphone that can better adapt to your usage needs.
Recommended for you:
---
Guide and advice:
If you are visiting this page on a mobile device or a device with a small screen size, you might need to scroll/swipe right on the table to see all the products listed.
You can find all the scores, of each model that our team has reviewed so far, on our Scores Comparison page.
Each model has been chosen according to features that adapt better to specific categories, their performance or other pertinent reasons.
We recommend to read the full review of each model to get a deeper insight of each product's performance.
Discount coupon codes might be available for one or more models listed in the chart.
To look up for the discount coupons you can visit our Coupons pages for each shop – Aliexpress Coupons, Amazon Coupons, Gearbest Coupons.
---
Best Xiaomi headphones under $50
Scroll the chart to the right to see all entries
Xiaomi Mi Noise Cancelling Earphones



the best Xiaomi headphone under $50
Many times found under the $50 price tag, the Xiaomi Mi Noise Cancelling are, undoubtedly, the best Xiaomi headphones under this price limit.
Offering top-tier Active Noise Cancelling performance and amazing sound quality that surpasses every other Xiaomi headphone on the market, the Xiaomi Mi Noise Cancelling Earphones are still the one to beat.
As always, you should read out full review to see the complete sound profile of this Xiaomi headphone and evaluate if it matches your sound preferences (hint: this is not a bass-heavy headphone)
Being than nearly 2/3 of Xiaomi's headphones are priced below $50, this is a tough category to crown a single model.
Other worthy mentions include the:
See all the Best Xiaomi Headphones under $20, here
Xiaomi Redmi Airdots


 
The Xiaomi Redmi Airdots is, certainly, cheaper than $50 and even sometimes costs below $20, yet this model earns a solid place as an alternative as one of the best Xiaomi headphones under $50.
With just a couple of bucks, users will get a friendly sound signature, great fit and comfort and will also benefit from the freedom of Bluetooth true wireless design.
Other True wireless headphones from Xiaomi include the:
Alternatives:
See all the Best Smallest Xiaomi Headphones, here
Xiaomi Mi Quantie



On the extremely fast paced market release of headphones, the Xiaomi Mi Quantie can be considered a veteran of Xiaomi's headphones.
Nonetheless, the Xiaomi Mi Quantie still holds the title as one of the best Xiaomi headphones under $50 ever created.
In fact, this model continues to be one of the very favorite of many hardcore Xiaomi headphone enthusiasts due to their excellent sound quality and build that has not much to envy to newer headphones.
As the Xiaomi Mi Quantie is also known as Xiaomi Mi In-Ear Headphones Pro and is the first generation of the series.
This headphones series was later expanded with the release of the:
See all the Best Xiaomi Headphones for Bassheads, here
Xiaomi Mi Pro HD
 
The Xiaomi Mi In-Ear Headphones Pro HD might also be an older model from Xiaomi but it still holds up as superb bang for buck earphone that can be well worthy of being considered.
Features that make it stand out include a multi driver hybrid configuration, very good sound quality, durable metal build and gorgeous looks with a smooth form factor.
Moreover, the Xiaomi Mi Pro HD is a very comfortable earphone to carry around and wear for long lasting listening sessions.
Some users prefer the newer Xiaomi Mi Pro HD over the older Xiaomi Mi In-Ear Headphones Pro but this will be a subjective decision that will depend on each one – reading our full review of both model is highly recommended to understand the difference between them.
Other Xiaomi rugged Headphone:
See all the Best Xiaomi Headphones, here
---
All Best Xiaomi Headphones charts:
---
Best Headphones & Earphones Charts:
---
Read each Xiaomi headphone review: