---

DDPAI Z40
| Dashcam | 5 MP Camera | GPS | WiFi | IPS Screen |
---
DDPAI Z40, an interesting dashcam with premium specs but cheap price.
DDPAI is brand exclusively specialized in the development and construction of dashcams with already more than 10 current models and a market presence in continuous growth.
The DDPAI Z40 is part of the upper-tier models of dashcams from DDPAI.
In fact, the DDPAI Z40 is more rich-featured than most other dashcams at a similar price point.
The DDPAI Z40 can be bought in 3 different variants:
• DDPAI Z40 front camera only
• DDPAI Z40 dual front-rear camera
• DDPAI Z40 GPS
FIND ALL: Earphones Scores Compared
MORE: In-Ear Headphones Reviews
SEE ALSO: Headphones Technical Specifications
---

---
DDPAI Z40 Review
Tests & Scores
---
AF
Advanced Features
The DDPAI Z40 features include advanced options such as:
• GPS
• WiFi
• NAND flash (for security backup)
• G-Sensor
• Speaker
• WiFi
• 5MP camera
• Firmware upgrades
---
A
Accessories & Packaging
The DDPAI Z40 unboxing results in:
• 1x mounting bracket
• 1x car charger-USB PSU
• 1x power cable
• 1x installation tool
• 1x electrostatic sticker
• 2x 3M adhesive
If the dual camera model is bought, users will also find:
• 1x RC1 rear camera
• 1x power cable
• 1x 3M adhesive
Everything comes inside a robust packaging that safely holds the unit inside.


5/5
---
D
Design
The DDPAI Z40 has a rectangular form factor with an all-black pearled matte finish.
Overall, the dashcam looks clean and can aesthetically fit and match nearly every inside´s car appearance – even looking like an original accessory coming directly from the car´s factory.
With an elongated and slim design, the dashcam is able to fit smartly on the windshield, optimizing and reducing any blocking to the driver´s view, becoming highly unobtrusive.
The front edge of the unit holds the front lens, that can be swiveled up and down to customize and correctly level the angle and vision of the recording videos.
Right next to the lens and on both sides of the front edges, users will note some perforated sections. These are the output ports for the speaker and also act as ventilation conducts to keep the unit cool.
The bottom is the section where the screen and buttons are placed for easy access and visibility.
On the back edge, the dashcam holds both the USB-C power connector and the input jack for the optional RC1 rear camera kit – also, users will notice once again another perforated plate (both for speaker´s audio and ventilation)
The left edge section carries the MicroSD card slot under a protective gasket and a small hole next to it is the home of the recording microphone.
The DDPA Z40 measures 81x61x35mm, while the optional DDPAI RC1 measure 54x39x29mm.


4.5/5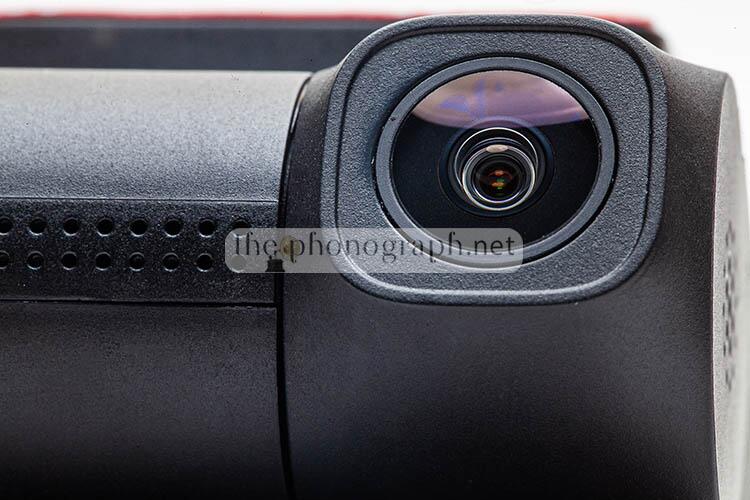 ---
T
Technology & Specs
The DDPAI Z40 holds inside more quality components than many other dashcams at a sub-$150 price.
DDPAI has opted for a class-leading brand for the sensor inside the Z40, the Sony IMX335.
This is a 5 megapixel sensor that grants both high resolution output at 1944p and clean image.
To match the quality sensor, the Z40 has 6 optical lenses and one infrared lens.
In addition to this, the f-stop aperture of the lens is a very wide f/1.8 with a field-of-view of 140 degrees.
Moreover, the DDPAI Z40 comes equipped with built-in GPS (if the GPS model is bought), WiFi, 3 gyro sensor.
Inside, the device is also equipped with a SigmaStar 8629Q processor and 2GB of RAM memory.
It is worth mentioning, that to power such a rich-featured dashcam, the DDPAI Z40 requires more power than other budget-dashcams. Specifically, the DDPAI Z40 requires an input power of 5V 2A, but users do not have to worry about this nor need to buy any additional power supply, as the brand includes a PSU with all variants of the DDPAI Z40..


4.5/5
---
OC
Operation & Control
The right at the bottom of the screen, the DDPAI Z40 offers 4 physical buttons to take full control of the dashcam.
These buttons can either control the settings, navigation, configuration and installation of the device.
In addition to the buttons, some of the settings can be controlled and configured through the DDPAI app when paired to a smartphone.
Thanks to a combination of physical buttons, app control and a built-in screen, the DDPAI Z40 is a breeze to setup and control.
After installation, going through the first setup steps and after setting all the custom options that best adapt to each user; owners of the DDPAI Z40 will find that it will become an automated, care-free dashcam that will work on its own without necessarily needing any intervention from the user.
The normal operation of the DDPAI Z40 will be:
1. Connect and place the dashcam on its bracket (if you leave it permanently in place, this will not be necessary each time)
2. Turn on the car
3. The dashcam will turn on, connect to GPS and start recording automatically
Only if being very picky, we could point out that the app might not be the best dashcam app on the market and will be less user-friendly than the device on its own.
Some issues include manual WiFi connecting to the smartphone and a less-automated overall experience than the dashcam is able to provide when not using it with the smartphone app.
On the other hand, users have full-control for customizing the way that the dashcam works, having access to audible notifications on-off, sensitivity level of sensors, screen on-off, welcome message on-off, etc.


4.75/5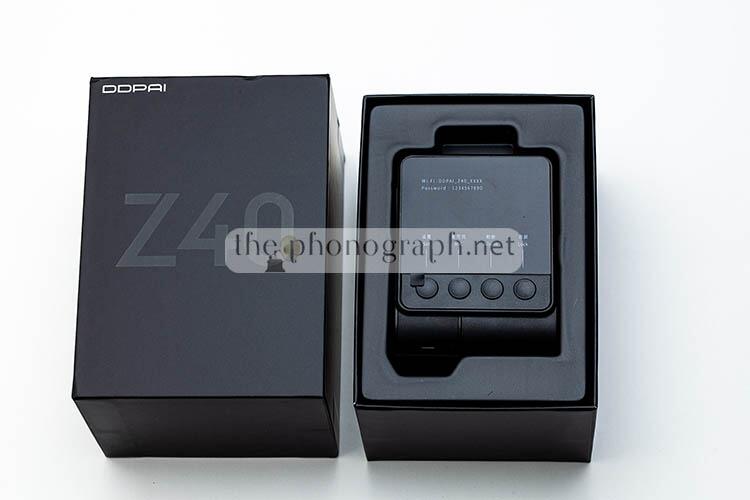 ---
SEC
Security
Certainly, DDPAI shows a long expertise manufacturing dashcams and ensuring a high-level of security for their users.
The DDPAI Z40 has a plethora of security-related functions and components that can grant a safer experience.
Among them, the DDPAI Z40 includes a dual-channel recording system called D2 save dual storage which saves emergency videos in both the MicroSD card and on an internal NAND flash memory in case of a failure of the external card. This provides a backup system to grant the users to have the most important emergency videos ready to be restored to a permanent storage if the MicroSD card failed.
Most importantly, the DDPAI Z40 has built-in GPS (if the GPS model is bought) that records driving speed, location, time and full GPS tracking and details such as altitude, coordinates, etc. All these data is recorded to the emergency videos to be restored and presented as evidence in case of needed.
Our team deeply tested its GPS functionality and verified that the recorded and informed data was accurate both in speed and GPS coordinates located in the map. On the other hand, the dashcam did take from some seconds to up to 1 minute to connect to GPS at some times when turning on.
When GPS is correctly connected, a voice-over will inform users that the connection has been established.
Moreover, the unit is equipped with a G-sensor and a 3-axis gyroscopic sensor that is dedicated to sense any impact, sudden and/or abnormal movement. The sensors will activate on collision and will fire an automated-recording of the incident event with a security-locked videos that lasts 10 seconds – these sensors also adds the possibility to view and record deviation and slope angles.
If also connected to the smartphone app, these 10 seconds security videos will be instantly sent to the phone through a WiFi 2.4GHz connection.
Users will receive an audible beep feedback every time a collision and 10 seconds video is recorded – through all the intensive testings, the DDPAI Z40 showed a very good setting for the sensitivity of the sensors right out of the box, yet users can manually change it for a stronger or less-reactive sensitivity.
To ensure that users will always have the latest videos recorded and never run out of storage space, the DDPAI Z40 dashcam has a loop-recording system that will provide a seamless, automated operation – for the serenity of users, the loop-recording system will never overwrite any of the 10 seconds security videos.
In addition to this, the dashcam uses a super capacitor design instead of a classic battery design, this allows the unit to be able to continue recording for up to 4 seconds after the dashcam has been turned off. Moreover, the super capacitor provides a wider operating temperature range (-20 Celsius degrees to 70 Celsius degrees)
Additional variants and accessories of the DDPAI Z40 can be bought that add further security functions such as a hardwire power kit that provides direct power from the fuse-battery that enables a 24 hours parking recording in a time-lapse format that saves videos at 1 fps.


5/5
RELATED TO THIS: Active Noise Cancelling Headphones Reviews
RELATED: Best Earphones for Daily Commute
MORE: Most Comfortable In-Ear Headphones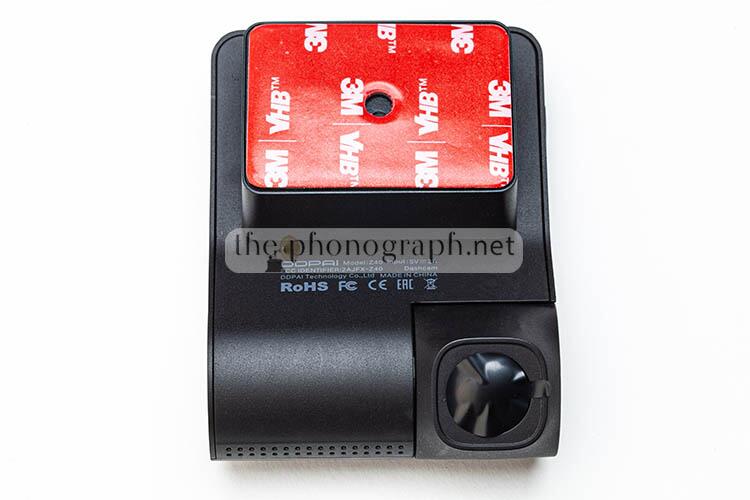 ---
CB
Construction & Build
The DDPAI Z40 is fully made of a polymer material but it does not feel cheap nor flimsy at all.
Overall, the dashcam gives a sensation of ruggedness and premium build.
Any of the buttons show wobbling nor rattling noises while a nice tactile and clicky feedback will be present every time a button is pressed.
The front panel of the screen is also made of plastic and not glass, this might make it more prone to scratches than a gorilla glass but this will never be an issue for users that leave the dashcam permanently placed and fixed to the bracket.


4.25/5
MORE: Earphones Amplification Power Comparison
MORE: Best Basshead Earphones
SEE ALSO: Best Fun Sounding Earphones Chart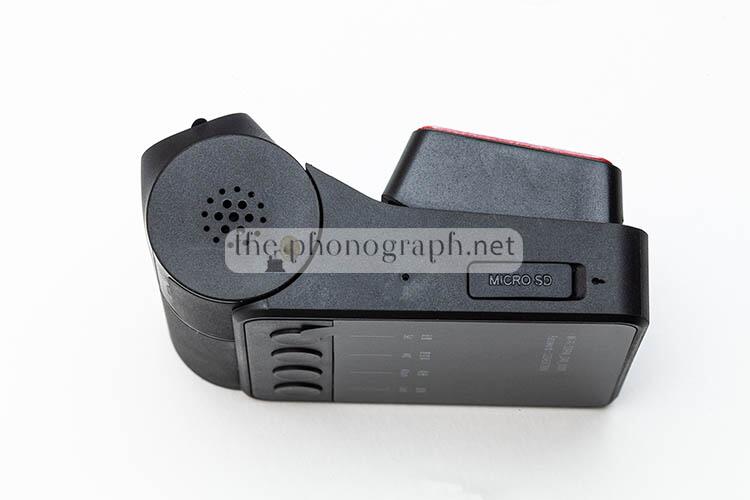 ---
S
Screen
A screen on a dashcam might not be strictly necessary but it is certainly a handy added spec that adds functionality and ease of use.
With the screen, the DDPAI Z40 gives users freedom to the need of a smartphone to either set, use and install the device.
The screen has fairly small size at 2 inches but with an excellent angle of view and general visibility thanks to its IPS technology.
Navigating through the menus, verifying the correct leveling and positioning and configuring the dashcam become acceptably easy with even the 2″ screen diameter.


3.75/5
MORE: Editor's Picks Earphones Chart
MORE: Best Bang for the Buck Earphones
---

---
CAM
Camera
As we mentioned before in this DDPAI Z40 review, this dashcam comes equipped with a 5 megapixel SONY IMX335 sensor and a 6 lens optical design.
The DDPAI Z40 is able to record in both 2592x1944p or 1920x1080p; providing a field of view of 140 degrees.
Our team proceeded to test and analyze the quality of the image of the DDPAI Z40 and noticed that when comparing the video quality at 1080p vs 1944p there was a clear reduction of sharpness and perceive resolution.
Despite the differences in image quality, it is fair to highlight that when deeply analyzing the image quality at 50% and 100% crops, the 1944p demonstrated that it carries artifacts and resolution issues such as sporadic cartoonish colors and detail on specific scenes an light conditions – most of these are typically common effects from interpolation instead of native resolutions.
This means, that most probably the 1944p mode might be an interpolated resolution and not a native resolution coming from the sensor. Nonetheless, the 1944p mode does effectively show a better overall image with improveness in detail, low light sharpness and image clarity than when set to its 1080p resolution.
Additionally, the team noticed that there is an aspect ratio variation on 1080p resolution vs 1944p, with a 16:9 wide styled for 1080p and a more 3:2 aspect ratio in 1944p – the 1080p widescreen image is actually a stretched version of the non-distorted 1944p aspect ratio.
The dashcam records continuous videos of 1 minute, one after the other, resulting in files with a size of 140 MB.
Yet, oddly, this 1 minute files have the exact same 140 MB size on either 1080p mode or 1944p mode.
It is fair to highlight that all the testing done in this section refers to a very deep and critical pinpointing analysis but the overall image quality, detail and definition of the videos recorded by the DDPAI Z40 are more than perfectly fit for dashcam use and even safely visible for security recording. Of course, a reduction of quality will be visible on nighttime recordings but the quality remains still quite good and absolutely usable – examples of the image quality on some recordings done through our testings can be seen below.
Photos (unedited) taken with the DDPAI Z40:
Photos correspond to a frame from recorded videos
DDAPI Z40 photo example 1944p day:
DDAPI Z40 photo example 1944p night:
DDPAI Z40 photo example 1944p vs 1080p:


   4.25/5
---
C
Connectivity
The DDPAI Z40 has all the physical connectors on its back edge, including:
• USB Type-C for power
• 2.5mm jack for the optional RC1 rear camera
In addition to the physical connections, this DDPAI dashcam can pair wirelessly to a smartphone app through a 2.4GHz WiFi connection and a hot-spot generated by the Z40.
This WiFi connection allows further functions such as live-view through the smartphone screen, Sense Reality 2.0 access where users can see in real-time information such as speed, deviation, GPS, time, distance of other cars, driving speed of other cars.


4.5/5
SEE ALSO: Best Earphones for Bed
MORE: Best Headphones for Libraries Chart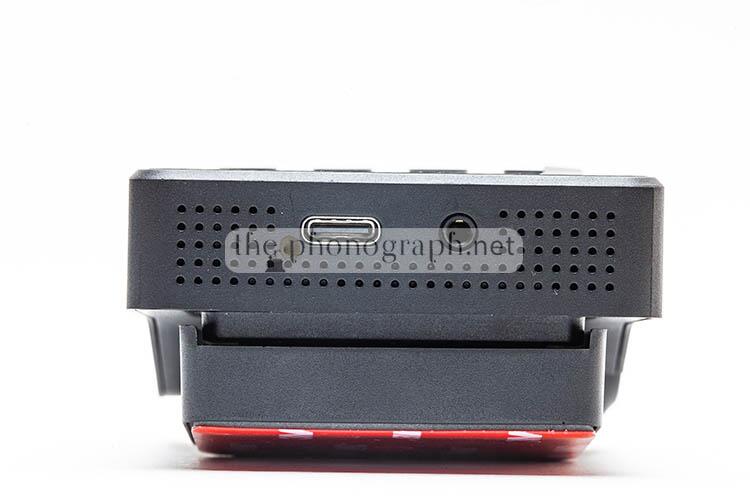 ---
SPK
Speaker
The DDPAI Z40 has a built-in speaker that enables to receive audible feedback when the device is turned on- turned off and, most importantly, when a security event is registered and a 10 seconds security video has been recorded.
On the other hand, the turn on sound is a bit annoying with a Hello welcome voice message that sound awkward but, fortunately, this sound can be turned off on the menus.
---
INS
Installation
The DDPAI Z40 is extremely easy to install because all installation accessories are provided.
In addition to this, the installation design is pretty straight forward and simple with an electrostatic stickers placed first and then the bracket being stuck to it. As the last and remaining step, users will need to run the power cable through the desired path and simply connect the USB end to the bundled car charger/USB power supply.
On the other hand, some users will notice that the installation instructions are a bit poor in the guidance of all steps and not very informative for less-experienced users.


4.5/5
---
Follow us:
Get the latest reviews on your favorite social network
---

Scores
DDPAI Z40 Scores
Technology & Specs -

9/10

Accessories -

10/10

Design -

9/10

Technology -

9/10

Operation & Control -

9.5/10

Construction & Build -

8.75/10

Security -

10/10

Screen -

7.5/10

Connectivity -

9/10

Installation -

9/10

Camera -

8.5/10

Value for Money -

10/10
Summary
Pros
✅ Optical and IR lens
✅ Large F1.8 aperture
✅ Sony sensor
✅ 1944p Video recording with audio
✅ GPS
✅ WiFi
✅ IPS Screen
✅ Precise GPS
✅ Very secure dashcam
Cons
❌ Rear cam should be a standard accessory
❌ App is not very optimized
❌ Funny "Hello" sound on power on (can be turned off)
Conclusion
The DDPAI Z40 is a very safe and secure dashcam with high-class specs and features, for little money.
With it's 5MP resolution, GPS, G-sensor, WiFi, supercapacitor, loop recording, security D2 save dual storage, IPS screen, durable construction quality and app access; the DDPAI Z40 is one of the best bang for buck dashcams at this moment.
FIND ALL OUR: Earphones Reviews / In-Ear Headphones Reviews
MORE: Best Earphones Charts
---
Buy it from

:
RECOMMENDED FOR YOU: Headphones Frequency Response Curves
SEE ALSO: KZ Headphones Frequency Response Curves
---
DDPAI Z40 Technical Specifications
RAM: 2GB
Sensor: Sony IMX335
Input: 5V 2A
GPS: Yes
WiFi: Yes
G-sensor: Yes
Gyro: Yes
Card slot: Yes
Rear camera: Yes, optional
Detachable: Yes
Power: Super capacitor
NAND Flash: Yes
Camera: 5 MP
Resolution: 1944p
FOV: 140 degrees
Speaker: Yes
YOU WILL ALSO LIKE: Amazon Coupons & Deals
MORE:  Gearbest Coupons – Discounts – Deals – Promo Codes – Sales Deals
SEE ALSO: Banggood Coupons – Discounts – Deals – Promo Codes – Sales Deals
SEE ALSO: Aliexpress Coupons – Discounts – Deals – Promo Codes – Sales Deals
MORE: Hybrid Earphones Reviews
MORE: Single Dynamic Driver Earphones Reviews
---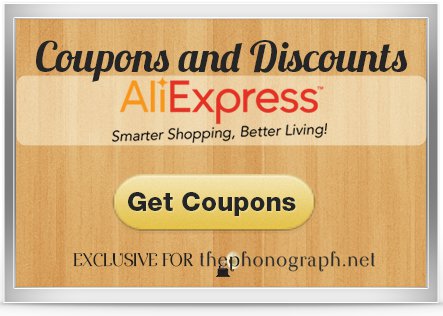 ---
RECOMMENDED
---
Found the Information Useful?
---
We hope you enjoyed this article. All the earphones reviews, earbuds reviews, headsets reviews, in-ear monitors reviews (iem), in-ear headphones reviews are made as objective and thorough as possible to provide our readers a way to choose the best earphones, earbuds, iem, in-ear monitors, headsets and in-ear headphones. By providing exhaustive information we allow our readers to even fine-tune their choices to select among the best budget earphones, best earphones for sports, best basshead earphones, best fun sounding earphones, most balanced earphones, least fatiguing earphones, most comfortable earphones, best looking earphones or even for the best cheap earphones to buy. Our resources offer: In-Depth Earphones Reviews, Earphones Scores Compared, an Earphones Size Comparison Tool, a sound frequency cheat-sheet, an Earphones Amplification Comparison Table, a brief audio glossary with the most frequent audio terms and audio definitions, and our Earphones Top Charts (covering the Top 10 Basshead Earphones, Best Bang for Buck Earphones, Top Sports Earphones, Best KZ earphones, Best bang for buck KZ earphones, Best basshead KZ earphones, Best KZ earphones for bass, Best KZ earphones for gaming, Best KZ earphones for sleeping, Best KZ earphones for working out, Best KZ earphones under $20, Best KZ earphones under $50, Best smallest KZ earphones, Top Balanced Earphones, Top Fun Sound Earphones, top smooth sounding earphones), Best Xiaomi Headphones, Best Xiaomi Earphones for Bass, Best Xiaomi Headphones under $50, Best Xiaomi Headphones under $20, The Best Xiaomi Wireless Headphones, Best Bang for Buck Xiaomi Headphones, Best 11.11 Deals and Coupons – Aliexpress – Gearbest – Banggood, Black Friday Coupons and Deals, Aliexpress Anniversary Sale Coupons and Deals, Cyber Monday Coupons and Discounts, Black Friday Coupons Aliexpress, Gearbest, Banggood, Amazon Coupons Discounts Deals Promo Codes Sales, ALIEXPRESS Coupons and Promo Codes – Exclusive Discounts