---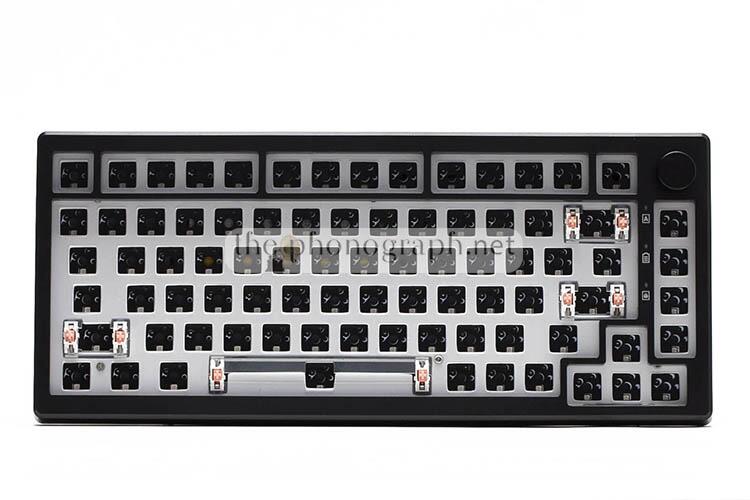 ---
EPOMAKER Aura 75
| DIY Kit | Mechanical Keyboard | Hot-Swappable | Wireless/Wired | 75% |
---

EPOMAKER Aura 75, a DIY keyboard Kit with a very popular 75% layout.
The EPOMAKER AURA 75 is part of the vast DIY Kits offered by the brand but with an accessible price.
If you want to get into building your first mechanical keyboard, the AURA 75 might be an excellent first experience to a quality keyboard to keep for long-time.
A neat detail about the Epomaker Aura 75 is it's absurdly cheap price for what it offers spec-wise.
Keep reading our EPOMAKER AURA 75 to see what it has to offer and how it performed during our tests.
FIND ALL: Headphones Scores Compared
---
EPOMAKER Aura 75 Review
Tests & Scores
---

Scores
EPOMAKER Aura 75 Scores
Accessories -

7.75/10

Design -

9/10

Ergonomics -

9.5/10

Construction & Build -

8.5/10

Connectivity -

9.75/10

Customization -

10/10

Gaming -

9.25/10

Productivity -

9.25/10

Office -

9.5/10

Tablet-Mobile -

9.5/10

Programming -

8.75/10

Typing -

10/10

Sound -

10/10

Durability -

9/10

Lighting -

9.5/10

Software -

8.5/10

Battery -

8.75/10

Value for Money -

10/10
Summary
Pros
✅ Affordable price
✅ Friendly build for first timers
✅ Knob
✅ Same software as most EPOMAKER keyboards
✅ Hot-swappable
✅ Sound quality better than pre-assembled keyboards
✅ Excellent bang for buck
Cons
❌ Case build quality below other Epomaker pre-assembled keyboards reviewed
CONCLUSION
Building your first mechanical keyboard should be a fun project and not a frustrating one; with the EPOMAKER AURA 75 you can start building your keyboard without getting a loan but still obtaining great specs and construction quality and no overly difficult assembly steps.
MORE: Best Headphones Charts
---
A
ACCESSORIES & PACKAGING


3.75

/5
Inside the packaging you will get:
• USB-C cable
• Knob
• Keycap/keyswitch puller
---
---
---
D
DESIGN


4.5

/5
The Epomaker Aura 75 kit has a 75% layout with 82 keys and a knob with an F number row that holds a free switch slot for an extra key after the F12.
Right below the knob you will have the option to place 4 additional keys to personalize and program their function to whatever you prefer.
Also, you will notice that the kit has a nice tactile separation between the arrows keys and the rest of the keys so you will never miss the arrow keys (or right Shift) when searching for it – even without having to look at the keyboard to confirm that you are pressing the right key.
A 3-light indicator is found on the left of the 4 customizable keys; these LED lights will give you information of CAPS Lock, battery and locking.
The EPOMAKER AURA 75 is particularly light-weighted at just 679 grams, despite having an internal rechargeable battery.
The EPOMAKER AURA 75 is available in 2 different colors:
• EPOMAKER AURA 75 black
• EPOMAKER AURA 75 white
Some details not so "polished" are the power/OS mode switch placed on the bottom section of the casing that is a bit rough on it's movement having to put some effort to place it in the desired switch position.
---
E
ERGONOMICS


4.75

/5
The Epomaker Aura 75 has a form factor and layout that has been massively loved by users and which can be seen on many other 75% keyboards due to the superb ergonomics without compromising usability.
In fact, you are getting the same footprint of the highly popular TH80 series but with 2 additional keys.
Moreover, the kit comes with a 2-height adjustable feet to adapt the angle of the keyboard to your liking.
Of course, a fundamental part of the ergonomics will also be the layout of the keycaps that you choose but this is open to your choice.
---
CB
CONSTRUCTION & BUILD


4.5

/5
The case of the Aura 75 is made of ABS plastic which helps to maintain the overall weight lighter than metal keyboards and is a choice of casing made on most mechanical keyboards on the market.
Despite sharing an ABS build material with the Epomaker TH80 models, the Aura 75 feels lighter and a bit less rugged with some case flex if you grab it and strongly force it to flex. Nonetheless, the mentioned flex is never felt in real life use neither while typing nor while handling/transporting the keyboard – the knob, though, is made of metal.
Beneath, you will find a polycarbonate plate, silicone bottom pad, sound absorption foam and IXPE switch padding.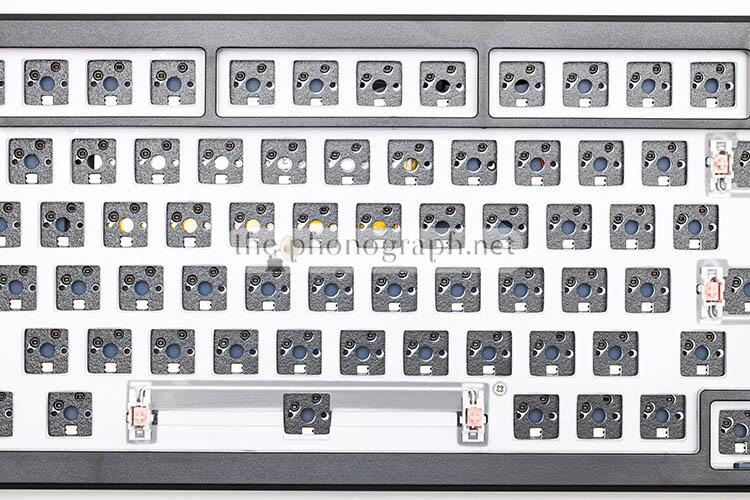 ---
CON
CONNECTIVITY


4.75

/5
This keyboard kit can handle up to 5 different devices connected to it on independent connection slots. This is thanks to a 3-connectivity system that include:
• 1x wired USB-C
• 3x wireless Bluetooth with independent slots
• 1x 2.4G wireless with the included dongle
As seen on most other Epomaker keyboards that we have recently reviewed, the connection was always stable on every mode with no hiccups, no noticeable lag and never exhibiting unexpected disconnections. Also, the pairing, re-pairing and re connection after sleep were always quick and hassle-free.
---
C&R
CUSTOMIZATION & REPROGRAMMING


5

/5
The kit has a hot-swappable board with south-facing LED that is compatible with 3/5-pin mechanical switches with MX design. Therefore, building, choosing and customizing the keyboard's switches (and keycaps) is extremely easy without any soldering involved – also the knob has a hot-swappable design.
On top of that, the fact that the AURA 75 comes with features such as plate-mounted / pre-assembled stabilizers can be a less complicated DIY Kit building project for first timers avoiding over-complicated assembly and possible user-error.
Regarding software customization, this DIY Kit can be personalized per-key for macros, remapping and also lighting – the only 2 keys that are not remappable are the Fn key and the knob's function when pressed.
---
P&E
PERFORMANCE & USE
GAMING


4.75/5
The Epomaker Aura 75 will have a larger footprint than a 60% keyboard but will be substantially smaller than a TKL, you could say that the Aura 75 sits in the sweet spot between them and both extremes of this range are highly loved by gamers.
Being so, the Aura 75 is well-adapted size-wise as a gaming keyboard, while the assembly possibility to choose nearly any switch on the market without soldering, allows gamers to fine-tune the keyboard and switch feel to their gaming needs.
Also gamers will welcome:
• Wired and 2.4G wireless connection
• RGB backlighting
• Media knob
• NKRO in all modes
Epomaker does not specify the polling rate of the Aura 75 but if this model follows the specs of nearly every other Epomaker keyboard that we have reviewed, the polling rate should be 1000Hz but do not take this as a specs confirmation.
PRODUCTIVITY


4.75/5

With a dedicated F number row for productivity or even custom programming per key & macros, the Aura 75 provides an excellent balance of keyboard accessibility and reduced desk space utilization.
The wired + wireless connection enables a higher versatility for multiple-device setups or for mobility on active users that spend some time working also outside of their office/home.
OFFICE


4.75/5
A remarkable sound performance and mechanical typing experience are 2 qualities that certainly define the Epomaker Aura 75.
These are results that can offer a perfect match for office users and business people, while the particularly light weight of the unit will open up the possibility to use it both at your office environment and as your main keyboard at your home office or take it with you on business trips without compromising your max. carry-on weight.
Moreover, some sound qualities achievable by this model make it office-friendly for you coworkers – mainly being it's controlled, non-annoying sound profile.
TABLET/MOBILE


4.75/5
The relatively small size and the remarkable light weight of this kit gives it a strong advantage over both larger or heavier keyboards for users on-the-go and tablet/mobile use.
Also, this model has all the specs to fulfill the needs of this public, like:
• Bluetooth
• Backlighting
• Knob
• On-board memory
PROGRAMMING


4.25/5
Programmers will welcome the additional F number row and the 5 extra keys that will allow a further level of macros and custom reprogramming.
The friendlier size and weight can also be attractive specs for programmers that do not want a chunky keyboard to have around.
---
L
LIGHTING


4.75

/5
The south-facing LED from the Aura 75 showed a very bright maximum level that made it easier to shine through the gaps between keycaps even when not being shine-through keycaps. If you pair it with shine through or translucid keycaps you will see even more how strong the backlights are.
As we have mentioned and for sure you have already seen, the EPOMAKER Aura 75 has one strip light on each edge of the case. These light have some patterns and presets (6 in total) but you cannot control them nor set them through Epomaker software. To customize and control them you will have to apply the key combinations/shortcuts informed on the user manual.
The knob by default controls not only the volume but by pressing the knob the rotational move will change from volume control to backlight brightness control.
---
S
SOUND


5

/5
We assembled the Aura 75 with Epomaker Dawn Pink switches and Epomaker Blushing Mint keycaps, resulting in a delightful sound profile that is in the style of Epomaker Flamingo switches on the EK68 and a significantly more refined quality than Gateron Pro Yellow.
As a point of comparison, in the sound department the Aura 75 sounds way better than the other pre-assembled keyboards that we tested (at least with the models of switches and keycaps assembled by us)
At the same time, the plate-mounted pre-lubed stabilizers do a magnific job with a zero-rattling, smooth and secure movement – in fact, the rattling control of these stabilizers is in no way comparable with any pre-assembled keyboard that we have tested, this ones on the Aura 75 perform like a high-class DIY kit instead of a budget one.
The Kit with our combo of switches/keycaps resulted in no pinging nor any bouncy back clicky sounds and a clean quality sound profile overall.
---
B
BATTERY


5

/5
Regarding the battery of the Aura 75, there are some incongruencies between the models page and the user manual; the manual informs a 2500mAh capacity but every listing from the brand and from their own website indicates a 3000mAh – we cannot ensure which one is the right one but from our tests the keyboard could withstand easily around 1 week of use without having to recharge it yet.
---

---
EPOMAKER Aura 75 Technical Specifications
Model
Epomaker Aura75
KEYS AMOUNT
82 Keys + 1 knob
STABILIZER TYPE
Plate-mounted
Case Material
ABS Plastic
Plate Material
PC
PCB TYPE
3/5-pin Hotswap PCB
BATTERY CAPACITY
3000mAh
CONNECTIVITY
Type-C Wired, 2.4 & Bluetooth Wireless
ANTI-GHOST KEY
NKRO in all modes
COMPATIBILITY
WINDOWS/MAC
DIMENSION
330 x 145 x 39 mm
WEIGHT
Around 0.7kg
---
Follow us:
Get the latest reviews on your favorite social network
YOU WILL ALSO LIKE: Amazon Coupons & Deals
SELECTED FOR YOU: Aliexpress 11.11 Shopping Festival Coupons
RELATED TO THIS PAGE: Aliexpress Anniversary Sale Coupons and Deals
SEE ALSO: Black Friday Coupons and Deals – Black Friday Aliexpress coupons
MORE: Cyber Monday Coupons and Discounts
We hope you enjoyed this article. All the earphones reviews, keyboards reviews, power tools reviews, music players reviews, DAC reviews, amplifiers reviews, smartwatch reviews, gadget reviews, tech reviews, dashcam reviews, earbuds reviews, headsets reviews, in-ear monitors reviews (iem), in-ear headphones reviews are made as objective and thorough as possible to provide our readers a way to choose the best earphones, earbuds, iem, in-ear monitors, headsets and in-ear headphones. By providing exhaustive information we allow our readers to even fine-tune their choices to select among the best budget earphones, best earphones for sports, best basshead earphones, best fun sounding earphones, most balanced earphones, least fatiguing earphones, most comfortable earphones, best looking earphones or even for the best cheap earphones to buy.
Our resources offer: In-Depth Earphones Reviews, Earphones Scores Compared, an Earphones Size Comparison Tool, a sound frequency cheat-sheet, an Earphones Amplification Comparison Table, a brief audio glossary with the most frequent audio terms and audio definitions, and our Earphones Top Charts (covering the Top 10 Basshead Earphones, Best Bang for Buck Earphones, Top Sports Earphones, Best KZ earphones, Best bang for buck KZ earphones, Best basshead KZ earphones, Best KZ earphones for bass, Best KZ earphones for gaming, Best KZ earphones for sleeping, Best KZ earphones for working out, Best KZ earphones under $20, Best KZ earphones under $50, Best smallest KZ earphones, Top Balanced Earphones, Top Fun Sound Earphones, top smooth sounding earphones), Best Xiaomi Headphones, Best Xiaomi Earphones for Bass, Best Xiaomi Headphones under $50, Best Xiaomi Headphones under $20, The Best Xiaomi Wireless Headphones, Best Bang for Buck Xiaomi Headphones, Best 11.11 Deals and Coupons – Aliexpress – – , Black Friday Coupons and Deals, Aliexpress Anniversary Sale Coupons and Deals, Cyber Monday Coupons and Discounts, Black Friday Coupons Aliexpress, , , Amazon Coupons Discounts Deals Promo Codes Sales, ALIEXPRESS Coupons and Promo Codes – Exclusive Discounts