---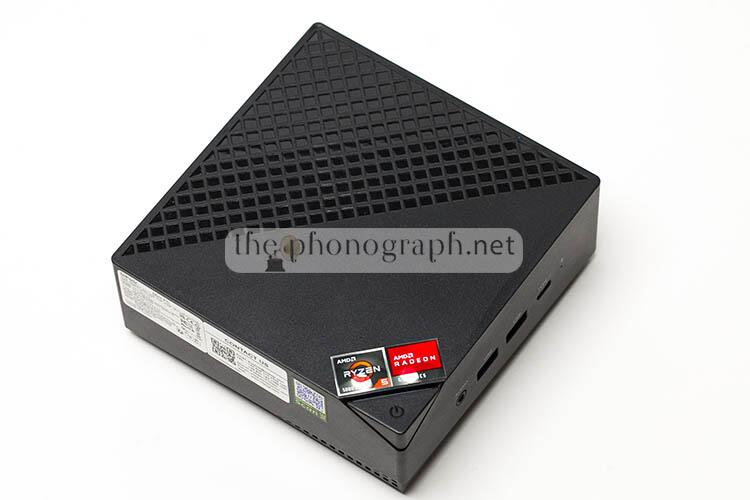 ---
NiPoGi AM06PRO / KAMRUI AM06PRO
| MiniPC | AMD Ryzen 5 5500U | 512GB SSD | 16GB RAM | 4K 60Hz |
---

---
We are reviewing the NiPoGi AM06PRO / KAMRUI AM06PRO, a fully featured miniPC with attractive price.
NiPoGi is a brand specialized in MiniPc with over 10 years of experience and a sibling brand of KAMRUI – both mini computer manufacturers.
To clarify the double name on this review, the NiPoGi AM06PRO and KAMRUI AM06PRO are supposed to be the same product from the sibling brands but named KAMRUI in USA and NiPoGi in most of the rest of the world.
Nonetheless, we are specifically reviewing and testing the NiPoGi AM06PRO, therefore we cannot fully grant that the KAMRUI variant will present the precise same results.
FIND ALL: Earphones Scores Compared
MORE: Headphones Reviews
---
NiPoGi AM06PRO / KAMRUI AM06PRO Review
Tests & Scores
---
AF
Advanced Features
The NiPoGi AM06PRO / KAMRUI AM06PRO HCK0401A1U includes advanced features such as:
• 4K 60Hz
• Triple display
• Dual RJ45


5/5
MORE: Editor's Picks Earphones Chart
MORE: Best Bang for the Buck Earphones
---
A
Accessories & Packaging
The NiPoGi AM06PRO / KAMRUI AM06PRO unboxing results in:
• 1x USB Type-C data cable
• 1x VESA mount
• 1x HDMI cable
• 1x SATA cable
• 1x Type G PSU
When buying the NiPoGi AM06PRO / KAMRUI AM06PRO you will get all the accessories and cables needed to connect and start utilizing the miniPC.


5/5
---
D
Design
Both the NiPoGi AM06PRO and the KAMRUI AM06PRO have a tiny rectangular housing with a semi matte finish.
Across the surface you will notice several sections with a honeycomb pattern design that might seem ventilation grids but they are actually an aesthetic detail – the grid on the back panel though is a true ventilation.
On the top panel, you will find the only button of the whole PC, the power button. Specifically, the button is placed on the front left corner with a triangular shape and right below the Ryzen and Radeon stickers.
In order to inform the power status of the miniPC, the unit has a strip LED light above the edge of the power button – it will turn and glow in red when the PC is On.
The bottom of the PC has 4 feet with a rubberized finish to keep the unit in place if used standing on a desktop.
Overall, the miniPC has a clean and stylish design with more of a business look than flashy gaming one.
The NiPoGi AM06PRO and the KAMRUI AM06PRO measure: 5.19 x 5.19 x 1.96 inches. As a point of reference, the miniPC is as small as most of the headphones amps that we have reviewed.


4.25/5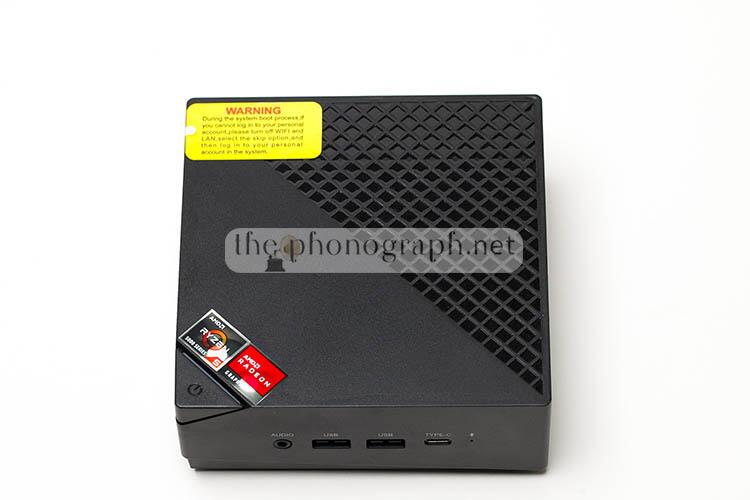 ---
TS
Tech & Specs
The NiPoGi AM06PRO / KAMRUI AM06PRO HCK0401A1U has been wisely designed to have a fast and user-friendly operation with a simple button layout.
Despite the small size, the KAMRUI AM06PRO and NiPoGi AM06PRO pack an impressive quality of inner components.
This miniPC model carries inside a 6 cores, 12 threads AMD Ryzen 5 5500U CPU, 16GB of RAM and a 512GB SSD disk.
The AMD Ryzen 5 5500U has a base frequency of 2.10 GHz and a boost capacity of 4041 Hz and is equipped with a 7 cores AMD Radeon integrated GPU with a frequency of 1800 MHz, so no additional graphics card is needed to start using the miniPC – it worth noting that as every integrated GPU, the available memory for it will be shared with the RAM memory.
Specifically, the RAM included on this miniPC is a dual-channel SO-DIMM DDR4 type with a 3200 MHz clock (transfer rate of 3192 MT/s), CL22 1.2V from ASint (Micron), while the disk equipped is a M2 2280 NVME SSD from Airdisk.
On the network department, the unit carries an 802.11ac Dual Band 2.4/5GHz Wi-Fi with WiFi 5 support and backwards compatibility 802.11a/b/g/n.
Moreover, the PC includes Dual Ethernet ports of which one runs at 1 Gigabit and the other at 2.5 Gigabit but with the capability of being combined to connect to 2 networks at the same time, thus improving speed and stability.
Wake On LAN, RTC Wake, and Auto Power On are supported on these MiniPcs.


4.5/5
KAMRUI AM06PRO COUPON
$30 OFF Coupon
KAMRUI AM06PRO COUPON
$30 OFF Coupon
---
CB
Construction & Build
The KAMRUI AM06PRO and NiPoGi AM06PRO have a casing made entirely from plastic, yet the brand has used the right amount and quality of polymer as to make it feel sufficiently sturdy to carry around without fearing of cracking or breaking apart.
Looking at the details of the unit such as the button and the ports, neither show traces of wobbliness and provide a firm plugging and pressing experience.
With a weight of 1.14 kg (2.51 lb) the NiPoGi and Kamrui are very light miniPCs, which combined with the tiny footprint make it a fantastic companion for PC users that travel a lot or to match seamlessly with a minimalistic desktop environment.
In addition to this, with the included VESA support, users will be able to screw and fix the miniPC to the back of any TV and monitor.


4/5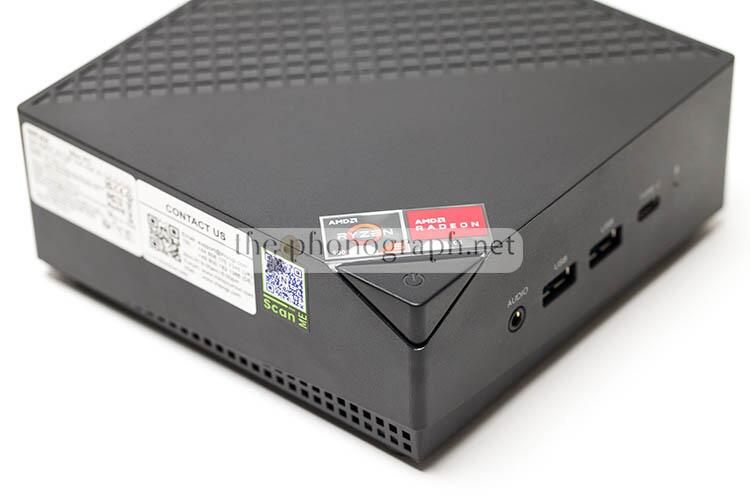 ---
C
Connectivity
The ports of the NiPoGi AM06PRO / KAMRUI AM06PRO are placed on the front and back panel of the unit.
On the front panel you can find a 3.5mm audio stereo output jack, 1X integrated microphone, 2x USB 3.0 ports and a USB Type-C that supports data and video – this last port offers a transfer speed rate of 10 GB/s.
The back panel has 7 ports, including: 1x 1G RJ45 (1 Gigabit speed rate), 1x 2.5G RJ45 (2.5 Gigabit speed), 1x HDMI, 1X Display Port, 2x USB 3.0 ports (5 Gigabit/s speed) and a power port with an USB-C connector design.
In addition to this, you will find a Kensington Security Slot to connect a security lock.


5/5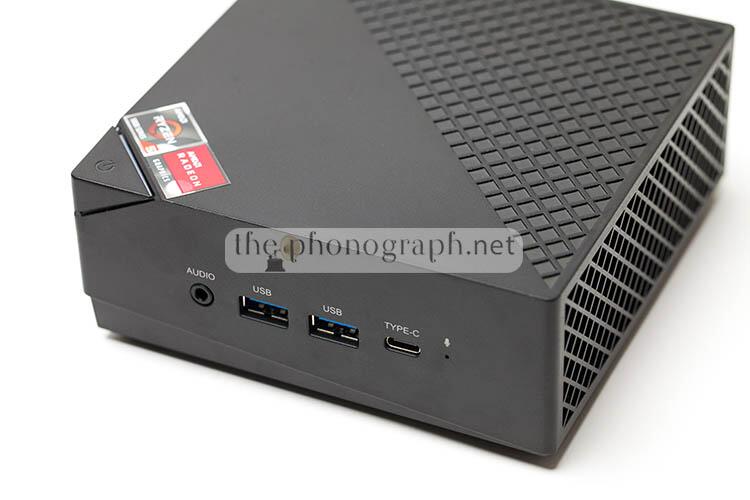 ---
UP
Upgradeability
The NiPoGi AM06PRO / KAMRUI AM06PRO can be easily opened by removing the 4 screws found on the bottom of the unit, right on the center of each rubber foot; after this you can proceed to remove top cover and access the internal components.
The RAM modules of the PC can be easily removed by pressing the corner tabs (system and design identical to any laptop with replaceable RAM); the unit accepts an upgradeable maximum of dual channel 64GB (2 x 32GB), 3200MHz.
The M2 disk can also be replaced and upgraded by any power user by just unscrewing the tightening screw and unplugging it from the connector, the AM06PRO can be upgraded to a max of 2TB with a compatible M.2 NVME 2280 disk.
On top of that, the supplied SATA cable allows the connection of any 2.5-inch HDD or SSD for disk capacity expansion – the cable needs to be connected to and internal white connector found on the mainboard next to the NVME disk.
This additional 2.5´´ disk can then be screwed to the internal section of the top cover as there is enough space to fit it; you will have to consider that the added disk will increase the thermal condition inside the case and might stress out the single fan and ventilation system of the miniPC.


4/5
---
Per
Performance
Note: If not specified, all tests and benchmarks were done at 4K 60Hz, WiFi On, Bluetooth On and an USB keyboard and USB mouse connected to the unit. No Bios modifications were applied. OS utilized was Windows 11 Professional (bundled with the PC) with no deep customization besides setting the power plan to "High Performance"
In comparison to previous generations, the AMD Ryzen 5 5500U offers a 10% performance improvement from the Ryzen 5 4500U model and a massive 43% over the older AMD Ryzen 5 3750U.
DISK
According to the manufacturer, the internal M2 NVME SSD is rated at 1900MB/s maximum read speed.
Nonetheless and to the very surprise of our team, our benchmarks showed a far faster and impressive speed of 2700MB/s write speed and a whopping 3587MB/s for read speed, which is nearly a 200% performance increase above the declared by the brand.
The 512GB capacity of the SSD will result in an usable formatted capacity of 477GB, of which users will have 438GB free after the complete installation of the bundled Windows 11 Professional.
NOISE
The AM06PRO is so silent that users might wonder if this MiniPC has an active cooling system with a physical fan, as for the more typical everyday tasks like web browsing, Office suite and media playback, the internal fan barely kicks in and is completely inaudible unless it speeds up to max revs – the moment were the fans always turn on at full speed is when pressing the On button and booting.
The fan is smartly placed below the mainboard, facing upwards.
OFFICE, WEB BROWSING and MEDIA
The NiPoGi AM06PRO / KAMRUI AM06PRO showed a snappy and lighting fast response to office, web and media use.
The MiniPC did not show any trace of stress nor lag and a completely instant opening time for all most typical uses and software/apps like: web browsers, Microsoft Office, VLC, Spotify, Windows Mail, Windows Explorer or navigating through any of the Windows UI apps – Chrome, Microsoft Edge, Mozilla Firefox and Opera were equally immediate to open and be ready to be used.
More demanding software like Adobe Creative Cloud programs required at most 4 seconds to open and be ready to be used, while the infamously laggy Steam app took around 6 to 8 seconds to fully open and show a 200+ games library.
GAMING
It is fair to start highlighting that since the integrated GPU has a dedicated memory of just 512MB and shares the additional memory from the RAM modules, the amount of GPU memory request will affect the effective available memory left for RAM use.
The MiniPC has 8.2GB of total GPU memory of which 7.7GB are shared memory.
On legacy and low demanding games at 1080p; for example with a fighting arcade game like "Marvel vs. Capcom: Infinite" (a game released in 2017) set at 1080p and with all quality settings at maximum, the MiniPC was able to maintain 60 fps without any frame drop and with the GPU at 65% of it´s maximum capacity.
On the other hand, when switching to 2K resolution, 60 fps were difficult to achieve and at 4K the game was lagging way too much to be usable and running far below 60 fps. The same unachievable 60 fps was applied to AAA gaming and graphics demanding games.
WiFi, Bluetooth
The dual band WiFi module offered a connection that was always stable with no unexpected disconnections.
The transfer rates of our current internet service were maintained and never throttled nor slowed down when connecting through the AM06PRO.
It is worth highlighting that the MiniPc might tend to prefer connecting to your 2.4GHz band if you do not force it through Windows settings or if your WiFi 5 connection is not strong and stable enough.
The Bluetooth module inside the NiPoGi-Kamrui miniPC is a Bluetooth v4.2 one, which might not be the most modern version out there but for desktop PC use, it´s BT performed very well with good range, no hiccups and fast easy pairing with new devices.
| | | |
| --- | --- | --- |
| Office and Work Performance | AAA & 4K Gaming Performance | 1080p Legacy Gaming Performance |
| 4.75/5 | 2.5/5 | 3.5/5 |
Overall General Use Performance


4.5/5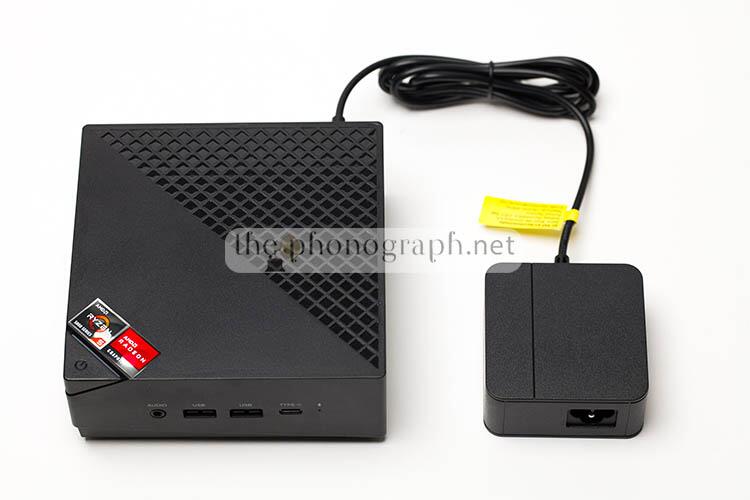 RELATED: Best Earphones for Daily Commute
MORE: Most Comfortable In-Ear Headphones
---
Pow
Power Consumption
The NiPoGi AM06PRO / KAMRUI AM06PRO has a highly energy-efficient AMD laptop series CPU with a TDP of 15W, making it a great choice for users looking to keep under control the electricity bill.
Our measurements of wattage revealed the following consumption in different situations:
Idle: 8.5W to 10.9W
Windows updating: 15W to 25W
Medium intensive use: 15W to 30W


5/5
---
KAMRUI AM06PRO COUPON
$30 OFF Coupon
KAMRUI AM06PRO COUPON
$30 OFF Coupon
---
B&I
Benchmarks and Detailed Info
According to our measurements, real world testing and measurements results, the bottleneck of the AM06PRO will be the GPU.
In real life use, this bottleneck will only limit the added potential that the PC could have for gaming and 3D applications.
In further detail, their bottlenecks are in the following order: GPU, RAM, CPU and, far away, SSD disk.
CPU
RAM
The ASint RAM modules are set in a dual-channel configuration of 2x 8GB PC-3200 1600MHz running at 3200MHz with the following timings:
CL: 22
tRCD: 22
tRP: 22
tRAS: 52
tRC: 74
CR: 1T
DISK
Motherboard and BIOS
The MiniPC has a HCAR5000-MI mother from HC Technology and an American Megatrends BIOS.
The combination will not affect nor be of any particular interest to most users but some power users might be limited by the options available on the BIOS as it does not extend as deep nor is as customizable as the BIOS of gaming motherboards.
Real Life use
• Boot speed: 3 seconds
• Shutdown: 1 to 2 seconds
• Open Word, Excel, PowerPoint, Outlook from Microsoft Office 2021 Professional Plus: Instant (Less than 1 second)
• Open Microsoft Edge, Mozilla Firefox, Chrome, Opera: Instant (Less than 1 second)
• Open Adobe Photoshop 2023: 3 to 4 seconds
• Open Adobe Photoshop Lightroom Classic: 2 to 3 seconds
• Open Steam: 6 to 8 seconds
GPU 
---
Follow us:
Get the latest reviews on your favorite social network
---

Scores
NiPoGi AM06PRO / KAMRUI AM06PRO Scores
Features -

10/10

Accessories -

10/10

Tech & Specs -

9/10

Design -

8.5/10

Operation & Control -

10/10

Construction & Build -

8/10

Compatibility -

9.5/10

Connectivity -

10/10

Office & Work Performance -

9.75/10

Gaming Performance -

5/10

Power Consumption -

10/10

Noise -

10/10

Upgreadabilty -

8/10

Value for Money -

9/10
Summary
Pros
✅ Powerful computing power for the price
✅ Outstanding office and entertainment performance
✅ Plenty of varied and high performing ports
✅ Tiny
✅ Low power consumption
✅ Silent
✅ Includes Windows 11 Professional license
✅ Great value for money
✅ Full PC replacement for business/office use
Cons
❌ Limited bios options for overclockers and gamers
❌ Integrated mobile GPU will be the bottleneck for 3D and gaming potential
Conclusion
NiPoGi/KAMRUI states that their AM06PRO model is "a compact mini PC, ideal for anyone who needs it for office, home entertainment, school, research, or social media browsing." (words from the brand) and, indeed, our tests and benchmarks revealed that this MiniPC is a perfect match to anyone looking to cover any of the 5 uses listed by NiPoGi and we could add other 6 to the list: data center, home server, business mobile PC, video surveillance, network multimedia system and "casual gaming at 1080p" and even 2K/4K on low demanding or legacy videogames
FIND ALL OUR: Earphones Reviews / In-Ear Headphones Reviews
MORE: Best Earphones Charts
---


---
---
---
---
---
KAMRUI AM06PRO COUPON
$30 OFF Coupon
KAMRUI AM06PRO COUPON
$30 OFF Coupon
---
NiPoGi AM06PRO / KAMRUI AM06PRO Technical Specifications
NiPoGi AM06PRO
KAMRUI AM06PRO
WiFi Dual Band 2.4/5GHz
Bluetooth 4.2
CPU
| | |
| --- | --- |
| Name | AMD Ryzen 5 5500U |
| Type | 1 Processor, 6 Cores, 12 Threads |
| Base Frequency | 2.10 GHz |
| Cluster 1 | 6 Cores |
| Maximum Frequency | 4041 MHz |
| TDP | 15W |
| Package | Socket FP6 |
| Codename | Lucienne |
| L1 Instruction Cache | 32.0 KB x 6 |
| L1 Data Cache | 32.0 KB x 6 |
| L2 Cache | 512 KB x 6 |
| L3 Cache | 4.00 MB x 2 |
RAM
| | |
| --- | --- |
| Size | 16.00 GB |
| Transfer Rate | 3192 MT/s |
| Type | DDR4 SDRAM |
| Channels | 2 |
Graphics card
| | |
| --- | --- |
| Name | AMD Radeon(TM) Graphics |
| Compute Units | 7 |
| Maximum Frequency | 1800 MHz |
| Device Memory | 6.09 GB |
YOU WILL ALSO LIKE: Amazon Coupons & Deals
MORE:  Gearbest Coupons – Discounts – Deals – Promo Codes – Sales Deals
SEE ALSO: Banggood Coupons – Discounts – Deals – Promo Codes – Sales Deals
SEE ALSO: Aliexpress Coupons – Discounts – Deals – Promo Codes – Sales Deals
MORE: Hybrid Earphones Reviews
MORE: Single Dynamic Driver Earphones Reviews
SELECTED FOR YOU: Aliexpress 11.11 Shopping Festival Coupons
RELATED TO THIS PAGE: Aliexpress Anniversary Sale Coupons and Deals
SEE ALSO: Black Friday Coupons and Deals – Black Friday Aliexpress, Gearbest, Banggood
MORE: Cyber Monday Coupons and Discounts
---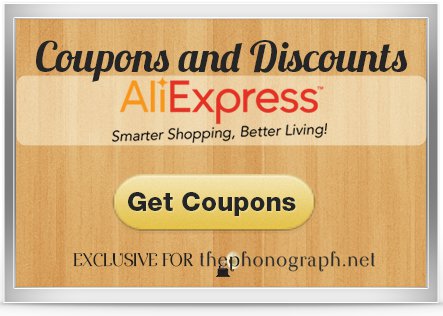 ---
RECOMMENDED
---
Found the Information Useful?
---
We hope you enjoyed this article. All the earphones reviews, earbuds reviews, headsets reviews, in-ear monitors reviews (iem), in-ear headphones reviews are made as objective and thorough as possible to provide our readers a way to choose the best earphones, earbuds, iem, in-ear monitors, headsets and in-ear headphones. By providing exhaustive information we allow our readers to even fine-tune their choices to select among the best budget earphones, best earphones for sports, best basshead earphones, best fun sounding earphones, most balanced earphones, least fatiguing earphones, most comfortable earphones, best looking earphones or even for the best cheap earphones to buy. Our resources offer: In-Depth Earphones Reviews, Earphones Scores Compared, an Earphones Size Comparison Tool, a sound frequency cheat-sheet, an Earphones Amplification Comparison Table, a brief audio glossary with the most frequent audio terms and audio definitions, and our Earphones Top Charts (covering the Top 10 Basshead Earphones, Best Bang for Buck Earphones, Top Sports Earphones, Best KZ earphones, Best bang for buck KZ earphones, Best basshead KZ earphones, Best KZ earphones for bass, Best KZ earphones for gaming, Best KZ earphones for sleeping, Best KZ earphones for working out, Best KZ earphones under $20, Best KZ earphones under $50, Best smallest KZ earphones, Top Balanced Earphones, Top Fun Sound Earphones, top smooth sounding earphones), Best Xiaomi Headphones, Best Xiaomi Earphones for Bass, Best Xiaomi Headphones under $50, Best Xiaomi Headphones under $20, The Best Xiaomi Wireless Headphones, Best Bang for Buck Xiaomi Headphones, Best 11.11 Deals and Coupons – Aliexpress – Gearbest – Banggood, Black Friday Coupons and Deals, Aliexpress Anniversary Sale Coupons and Deals, Cyber Monday Coupons and Discounts, Black Friday Coupons Aliexpress, Gearbest, Banggood, Amazon Coupons Discounts Deals Promo Codes Sales, ALIEXPRESS Coupons and Promo Codes – Exclusive Discounts