---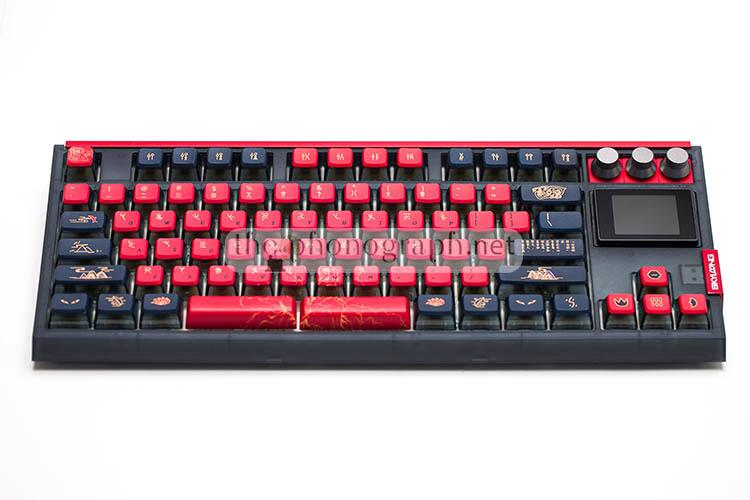 ---
SKYLOONG GK87Pro
| Mechanical Keyboard | Hot-Swappable | Wireless/Wired | TKL | North-facing |
---

SKYLOONG GK87Pro, a truly unique mechanical keyboard from SKYLOONG.
SKYLOONG has an endless catalog of mechanical keyboards that cover the needs of any type of users thanks to their varied designs.
The brand has a tendency to innovate and go all-in with some of their designs, bringing a refreshing and original contribution to the world of quality mechanical keyboards. The SKYLOONG GK87Pro is a perfect example of the cutting edge manufacturing capabilities of the brand.
FIND ALL: Headphones Scores Compared
---
SKYLOONG GK87Pro Review
Tests & Scores
---

Scores
SKYLOONG GK87Pro Scores
Accessories -

10/10

Design -

10/10

Display Screen -

8.75/10

Ergonomics -

9.75/10

Construction & Build -

10/10

Keycaps -

10/10

Switches -

9.25/10

Connectivity -

9.5/10

Customization -

10/10

Typing -

10/10

Gaming -

10/10

Productivity -

10/10

Office -

9.5/10

Tablet-Mobile -

9/10

Programming -

9.5/10

Sound -

10/10

Durability -

10/10

Lighting -

10/10

Software -

7.75/10

Battery -

10/10

Value for Money -

10/10
Summary
Pros
✅ Unique hardware customization
✅ Hot-swappable switches
✅ Modular detachable screen
✅ Hot-swappable knobs
✅ Excellent performance
✅ Beautiful aesthetics
Cons
❌ Software is less user-friendly
❌ Screen has limited customization
CONCLUSION
The SKYLOONG GK87Pro is an impressively innovating keyboard that offers a level of hardware customization that is truly unique and, yet, being able to offer the same premium performance of a custom keyboard.
MORE: Best Headphones Charts
---
A
ACCESSORIES & PACKAGING


5

/5
The SKYLOONG GK87Pro comes in a fairly simple cardboard packaging but inside of it you get a huge amount and variety of accessories, including:
• Keyboard cover
• Replacement stabilizer for single spacebar
• 11 additional switches
• 10 additional keycaps
• USB-C female to USB-A female adapter
• Keycap/keyswitch puller
• Plastic remover for silicone knob/spacebar sections
• Braided USB-C cable
• Silicone pieces for split/single spacebar
---
D
DESIGN


5

/5
The SKYLOONG GK87Pro has a TKL 87% form factor with 87 keys that include 3 rotary encoders pre-assembled (you can add more and customize their position, we will talk more about this in the Customization section)
The casing of the keyboard has a frosted, semi-translucid build that allows a partial see-through of the internals.
---

---
Right below the 3 knobs you will see a large 1.7″ display screen that gives the keyboard, yet another unique characteristic detail.
The keyboard has 2 metal plates in red color that give it a nice accent; one can be found on the right edge next to the arrow keys and the other one on the back section of the case.
If you do not love this metal back edge, this is actually an easy to detach section that is hold in place by a magnetic system – therefore, you can remove if wanted.
Another section that is removable is the "themed" design that you can see on the bottom plate, this can be removed by disassembling the case and removing the theme card but this is not an easy task as the case is connected with plastic clips and not with screws.
The SKYLOONG GK87Pro is available in 10 different colors/themes:
• SKYLOONG GK87Pro Pudding JIUWEI (model that we are reviewing)
• SKYLOONG GK87Pro Christmas White
• SKYLOONG GK87Pro Christmas Black
• SKYLOONG GK87Pro Pudding Sparta
• SKYLOONG GK87Pro Pudding Jellyfish
• SKYLOONG GK87Pro Hello Summer
• SKYLOONG GK87Pro Crazy Scientist
• SKYLOONG GK87Pro Matcha
• SKYLOONG GK87Pro Acqua
• SKYLOONG GK87Pro Barebones DIY Kit
In addition to the 7 themes variants, you can also choose Christmas, Summer and JIUWEI versions in a premium bundle package option that includes a case, wristpad, mouse/deskpad and a quality cable.
---
DC
DISPLAY SCREEN


4.5

/5
Of course, you have already noticed the ample display on the right section of the SKYLOONG GK87Pro. This is a very large 1.7″ screen that occupies the same area of 6 switches & keycaps. As a matter of fact you can remove it replace it with 6 switches if you want to.
This display screen has a hot-swappable design allowing users to pop it out with the bundled blue pry tool (or more rustically with your fingers)
Right out of the box, the screen will display a long lasting GIF animation but you can change the display from GIF animations to an info display that will show you the time, date, battery status in percentage, Win/Mac mode, connection mode, Caps lock, scroll lock, num lock.
The screen has the best contrast, color coverage and saturation that we have seen on every other keyboard with screen that we have reviewed.
On the other hand, the display is controlled through an in-menu that can be navigated with the keys of the keyboard but the settings and options available to customize an utilize the screen do not get too deep nor varied.
We would had loved to see such a superb screen to reach a deeper customization or allowing users to add stats from your PC to live view them.
---
E
ERGONOMICS


4.75

/5
With its TKL size and the addition of a handy screen and superb knobs, the SKYLOONG GK87Pro becomes a hard contender to beat in the ergonomics department.
Despite this, the keyboard is a bit taller than other non-low-profile mechanical keyboards.
On top of that, the keyboard has 3 height positions thanks to the dual position of their foldable feet.
---
CB
CONSTRUCTION & BUILD


5

/5
The SKYLOONG GK87Pro is surely a captivating keyboard with a strong aesthetic personality but beneath the neat looks, the keyboard has a premium build with a top gasket design that includes 6 dampening layers, a PC plate and a north-facing hot-swappable board compatible with 3-pin and 5-pin mechanical switches.
Certainly the brand did not left any details out in the build department as even the removable covers are made of metal and all encoders are made of CNC aluminum.
Moreover, the case has a polycarbonate construction that feels solid for a non-metal shell.
When selecting your SKYLOONG GK87Pro, you will be able to select either a PC plate or a Sandwich plate variant.
---
KC
KEYCAPS


5

/5
The SKYLOONG GK87Pro JIUWEI comes with ASA pudding PBT keycaps; if you do not know pudding keycaps, these have transparent lateral sides (all 4) and a solid non-transparent upper surface.
The non-translucent up section of the keycaps have a textured feel and a very nice looking theme combining classic Chinese red/black coloring and Chinese characters. If you do not know Chinese, fear not; all the letters keycaps have the corresponding occidental letter format placed on the bottom right area – also, you can select a different theme variant of the SKYLOONG GK87Pro to get keycaps with classic occidental non-Chinese characters (like the Jellyfish)
It is fair to highlight that not all variants of the SKYLOONG GK87Pro include the pudding keycaps; 3 of the 7 models come with them: Pudding JIUWEI, Pudding Jellyfish, Pudding Sparta.
The pudding design of the JIUWEI model allows full shine-through effect of the RGB LED from the board giving it a much more embellished look than classic shine-through keycaps.
Moreover, these are quality PBT keycaps and not a cheap plastic one; resulting in excellent performance also in the sound department.
---
SW
SWITCHES


4.75

/5

The brand made a wise choice of switches, giving user the possibility to select among all-time popular Gateron switches that include 2 linear variants and a tactile one.
All models of the SKYLOONG GK87Pro can be chosen with 3 different Gateron switches that include Yellow 3.0, Brown 3.0 and Red 3.0.
These Gateron switches come pre-assembled and pre-lubed from factory so you will not have to worry about any tedious disassembly and lubing process.
The model that we are reviewing has the Gateron Yellow 3.0 switches; as their reputation precede them, these Gateron switches perform as expected and as they should with their renowned smooth, scratchless character and excellent actuation-force:travel balance.
---
CON
CONNECTIVITY


4.75

/5
The SKYLOONG GK87Pro has a tri-connection mode that includes a wired USB-C, a wireless Bluetooth 5.0 and 2.4Ghz wireless with the bundled dongle (backed up by quality Nordic semiconductors tech)
In total, you can connect up to 4 devices and easily switch between them – the 4th device corresponds to dual Bluetooth slot.
A physical switch to select the wired or wireless modes is placed next to the USB-C connector.
On the "Design" section we mentioned a red metal accent piece on the right edge of the keyboard (with the SKYLOONG brand naming), this is actually a magnetically attached piece that hides the wireless dongle beneath it.
---
C&R
CUSTOMIZATION & REPROGRAMMING


5

/5
The hardware customization is massive with the SKYLOONG GK87Pro due to the hot-swappable board compatible with 3 and 5 pin switches, on-board memory, 100% per key macro & reprogramming – you can even reprogram the function of the knobs in 3 different functions per knob (rotation clockwise, rotation counterclockwise and pressing)
The even more impressive hardware customization is the fact that this is actually a modular keyboard that allows you to detach the screen and replace the space with either 6 mechanical switches or with 4 switches and 2 hot-pluggable knobs.
Talking about rotary encoders, the 3 knobs that come pre-assembled on the keyboard are hot-pluggable and can be replaced by mechanical switches; also the board has 8 slots that can be used either for mechanical switches or for SKYLOONG knobs.
If this was not enough, you can opt to use a standard "long" spacebar or a split spacebar with independent stabilizers and switches that can be reprogrammed independently.
---
P&E
PERFORMANCE & USE
TYPING


5/5
The SKYLOONG GK87Pro provides a delightful typing experience thanks to the multi-dampening layering, quality construction, acclaimed Gateron switches and well pre-lubed stabilizers.
GAMING


5/5
The SKYLOONG GK87Pro is a fantastic gaming keyboard with it's large 1.7 inches of display, plenty of knobs, superb RGB backlighting and gaming-oriented specs such as N-key rollover, 1000Hz polling rate in wired and 2.4Ghz modes, hot-swappable switches, full reprogrammability and a big long-lasting battery.
Moreover, you can set the keyboard with the split bar to allow instant layer switching and macros access on-the-fly for a superior custom-tailored reprogrammed layout for your competitive gaming sessions.
PRODUCTIVITY


5/5

If you are a professional photographer, music producer, video editor and/or content creator, the SKYLOONG GK87Pro will be an exceptionally unprecedented keyboard that you can customize to utilize up to 6 multifunction rotary encoders that are fully reprogrammable.
OFFICE


4.75/5
Either as a fixed keyboard or a versatile one to take from your home to your office, the SKYLOONG GK87Pro packs a rich-featured combo that can make it your beloved daily driver.
Among the best office-valuable features, you get:
• Multi-wired/wireless connection
• Many knobs
• Display screen
• Internal battery
• F number row
• Quality hot-swappable switches
TABLET/MOBILE


4.5/5
For tablet/iPad users, the SKYLOONG GK87Pro will provide nearly everything that you might need, from a wireless Bluetooth connection, to plenty F number row keys to customize for quick tablet actions, neat rotary encoders, a big screen and a large battery.
On the other hand, the TKL form factor and big battery adds weight and size that may make it less mobile-friendly if you were looking for a thin and minimal keyboard to carry around cafes.
PROGRAMMING


4.75/5
If you get creative with the reprogramming of the rotary encoders you could get a convenient feature to ease up your programming workflow.
On top of that, the excellent sound and typing performance and the display screen add up to its overall pleasing and productive usage.
---
L
LIGHTING


5

/5
The pudding keycaps do a remarkable job providing a special lighting implementation that takes full advantage of the RGB backlighting. The keycaps allow an eye-candy RGB result without the blinding effects of full-transparent keycaps.
Every lighting preset looks popping and effervescent with the SKYLOONG GK87Pro.
In addition to this, the frosted, semi-translucid casing also benefits from the board's LED lighting allowing an optimized illumination of both the top case and all around the edges of it, giving a strip-light alike effect.
We noticed that a couple of the in-built presets are actually way cooler than what the software shows. For example, there is a light pattern that is interactive to audio captured by an internal microphone in the keyboard.
---
S
SOUND


5

/5
The SKYLOONG GK87Pro is equipped with pre-lubed Gateron switches, pre-lubed stabs and 6 dampening layers including:
• Keycap liquid silicone pad
• 2x 3mm Poron & PET pads
• Switch PE Foam
• 2x sound absorbing foams
The combination of all these dampening elements showed an outstanding performance that exhibited a fully resonance and echo-free sound with a deep thocky personality that far exceeded the typical thocky levels that you can achieve on any other pre-assembled keyboard with the same Gateron Yellow 3.0 switches.
The stabilizers come lubed from factory (also including the extra stab to replace the split space bar to a single spacebar), we could instantly feel that these stabs have a very generous amount of lube but if you are obsessed with lubrification you might notice that the backspace, enter and shift stabs tend to have more of a mushy, cushiony, silent flavour.
Neither the keycaps, switches nor stabilizers presented any kind of rattling while, also, there were no traces of pinging.
To be honest, this remarkable performance is not a surprise as the SKYLOONG GK87Pro is actually a custom keyboard pre-assembled from factory, in fact, you can also buy the SKYLOONG GK87Pro as a DIY barebones Kit.
---
SW
SOFTWARE


3.75

/5
The software of the SKYLOONG GK87Pro is a double-edged sword, from one side the driver/software is not too easy to use to customize settings (in comparison with mainstream keyboard's software) yet on the other side is versatile allowing full per key reprogramming, macros and lighting customization – even more special, the software gives a live preview of the light presets without having to set it on the keyboard to view its effect.
It is worth noting, then, that some settings on the app might be less intuitive and user-friendly than on other keyboards.
Some of the limitations of the software include the fact that the standard layer cannot be edited (and the keyboard defaults to "Standard" unless you open the software and change it each time) and also the cool screen cannot be edited/controlled through the software, it is controlled through hotkeys and the in-menu of the keyboard – there is also a dedicated executable portable app for customizing pictures to upload to the screen and upgrading the firmware of the screen (we were not able to do neither).
---
B
BATTERY


5

/5
The SKYLOONG GK87Pro carries inside a very large dual battery with 7200mAh to power the unit in wireless modes.
The brand has made a wise decision packing it with a beefy battery as the big screen will always be a power consuming element while the nice lighting will surely tempt users to apply presets that showcase the beauty of its backlighting RGB LEDs.
---

---
SKYLOONG GK87Pro Technical Specifications
Model
SKYLOONG GK87Pro
Layout
TKL + 3 knobs
Hot-swappable
Kailh Switch Sockets
Keycap Material
PBT
Keycap Profile
ASA
Connectivity
USB-C/Bluetooth 5.0/ 2.4G wireless
Battery Capacity
7200mAh
LED Direction
North-facing
Ghost Keys
NKRO/anti-ghosting
Weight
1.4kg
---
Follow us:
Get the latest reviews on your favorite social network
YOU WILL ALSO LIKE: Amazon Coupons & Deals
SELECTED FOR YOU: Aliexpress 11.11 Shopping Festival Coupons
RELATED TO THIS PAGE: Aliexpress Anniversary Sale Coupons and Deals
SEE ALSO: Black Friday Coupons and Deals – Black Friday Aliexpress coupons
MORE: Cyber Monday Coupons and Discounts
We hope you enjoyed this article. All the earphones reviews, keyboards reviews, power tools reviews, music players reviews, DAC reviews, amplifiers reviews, smartwatch reviews, gadget reviews, tech reviews, dashcam reviews, earbuds reviews, headsets reviews, in-ear monitors reviews (iem), in-ear headphones reviews are made as objective and thorough as possible to provide our readers a way to choose the best earphones, earbuds, iem, in-ear monitors, headsets and in-ear headphones. By providing exhaustive information we allow our readers to even fine-tune their choices to select among the best budget earphones, best earphones for sports, best basshead earphones, best fun sounding earphones, most balanced earphones, least fatiguing earphones, most comfortable earphones, best looking earphones or even for the best cheap earphones to buy.
Our resources offer: In-Depth Earphones Reviews, Earphones Scores Compared, an Earphones Size Comparison Tool, a sound frequency cheat-sheet, an Earphones Amplification Comparison Table, a brief audio glossary with the most frequent audio terms and audio definitions, and our Earphones Top Charts (covering the Top 10 Basshead Earphones, Best Bang for Buck Earphones, Top Sports Earphones, Best KZ earphones, Best bang for buck KZ earphones, Best basshead KZ earphones, Best KZ earphones for bass, Best KZ earphones for gaming, Best KZ earphones for sleeping, Best KZ earphones for working out, Best KZ earphones under $20, Best KZ earphones under $50, Best smallest KZ earphones, Top Balanced Earphones, Top Fun Sound Earphones, top smooth sounding earphones), Best Xiaomi Headphones, Best Xiaomi Earphones for Bass, Best Xiaomi Headphones under $50, Best Xiaomi Headphones under $20, The Best Xiaomi Wireless Headphones, Best Bang for Buck Xiaomi Headphones, Best 11.11 Deals and Coupons – Aliexpress – – , Black Friday Coupons and Deals, Aliexpress Anniversary Sale Coupons and Deals, Cyber Monday Coupons and Discounts, Black Friday Coupons Aliexpress, , , Amazon Coupons Discounts Deals Promo Codes Sales, ALIEXPRESS Coupons and Promo Codes – Exclusive Discounts