---
TOPPING MX3
 | USB DAC | Headphone Amp | Speaker Amp | Bluetooth | NFC | Bass & Treble Control | 
---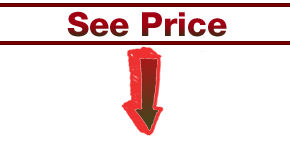 TOPPING MX3 COUPON
Only 20 coupons available - End Date 11-11 23:59hs
TOPPING MX3 COUPON
Only 20 coupons available - End Date 11-11 23:59hs
---
🎧 We are reviewing the TOPPING MX3, a tiny and affordable USB DAC and desktop amp with rich-featured specs.
TOPPING is a brand specialized in DAC and amplifiers with quite a large amount of variety in their catalog already.
The TOPPING MX3 is offered by the brand as an affordable all-in-one solution as a desktop DAC/Amp by offering a wide amount of connections and competent technical specifications but keeping an accessible and budget friendly price.
Through out our TOPPING MX3 review we will test out how the device performs and evaluate if this could be a worthy bang for buck option as a multi-use DAC and amp.
You can buy the TOPPING MX3 in 2 colors:
FIND ALL: Headphones Scores Compared
MORE: Reviews – Headphones, Music Players, DAC, DAP, Amp, Cables
SEE ALSO: DAP/DAC Reviews
---
TOPPING MX3 Review
Tests & Scores
---
AF
Advanced Features
The TOPPING MX3 include advanced features such as:
USB DAC
Bluetooth
Treble control
Bass control
NFC
Infrared remote control
Auto on/off
MORE: In-Ear Headphones Weight Comparison
SEE ALSO: Earphones Size Comparison
---
A
Accessories & Packaging
Despite not having the most refined packaging out there, the TOPPING MX3 comes bundled with a generous amount of accessories in comparison to many DAC/Amps on the market.
The TOPPING MX3 unboxing results in an AC adapter, 1x AC cable, 1x USB cable, 1x IR remote control, 1x Bluetooth antenna, 2x AAA batteries, connectors caps and 1x NFC tag.
The device comes protected by cushiony foams that ensure the safe arrival of the product.


4.75/5
---
W
Weight
Topping MX3 weight in grams and Topping MX3 weight in ounces
---
D
Design
The TOPPING MX3 has a very nice looking and polished design with curvy edges and a tiny footprint – in fact, the length of the device is just a bit longer than the FiiO M11 portable music player.
At the same time, the TOPPING MX3 is a very short (in height) DAC/AMP ,being their overall dimensions: 185mm x 122mm x 38mm and weighting just 475 grams.
The silver variant (same as the unit being reviewed by us) might look as if it was white on the brand's photos, but as you can see from our photos, the silver TOPPING MX3 is truly silver colored and not white.
The whole metal surface of the device has a pearled finish and no screws visible on neither the front nor sides of the unit. This details give the TOPPING DAC a nicer and more premium feel than many other metal DAC/Amps such as the FX-AUDIO DAC X7.


5/5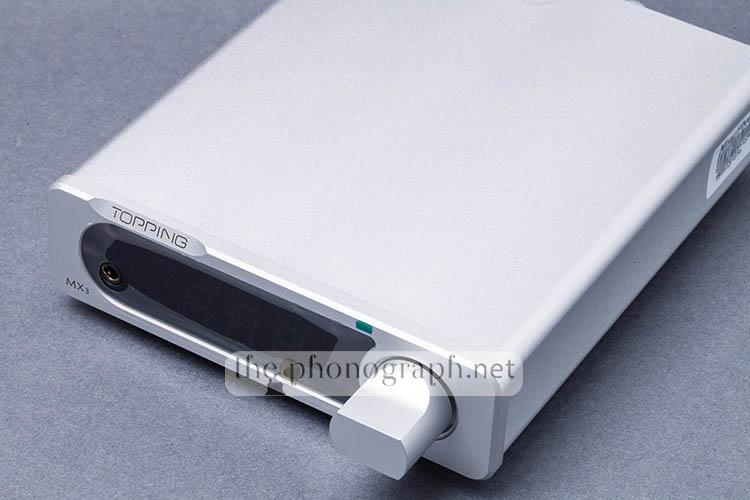 ---
OC
Operation & Control
The TOPPING MX3 is extremely easy to use with a single knob that can control all the main options of the device.
The knob can rotate infinitely either clock and counterclockwise with clicky steps that control the volume at 1% at a time or 0.5dB and 1dB (when in dB volume setting mode)
This knob is also a multi-function button with function such as:
Press: Turn on
Press and hold: Turn off
Single press: Switch modes
TOPPING MX3 Infrared operation:
In addition to the basic options available through the knob/button, the TOPPING MX3 has an infrared sensor and a bundled IR remote control that can provide further customization and operation of the device.
The IR remote will gives access to:
Bass control
Treble control
Play/pause
Skip songs
Brightness control
Auto on/off mode
Mute
dB Volume Mode
By pressing the Mute button, followed by the Mode button on the IR remote, the TOPPING MX3 will switch between a percentage volume mode and a dB volume mode.
On % mode, the volume is controlled at 1 step at a time with a range going from 000 to 100.
On dB mode, the volume is controlled at 1dB steps (from-66dB to -10dB) and at 0.5dB steps (from -9.5dB to +12dB) on headphone output mode.
On speaker output mode, the range goes from -70dB to +30dB and the steps will be 5dB from -70dB to -20dB, 1dB steps from -19dB to -10dB and 0.5dB steps from -9.5dB to +30dB.
How to power the TOPPING MX3:
The DAC/Amp is powered by connecting it through the external multi-voltage PSU that provides 24V and 3.75A.
The device can be turned on and off either by pressing and holding the knob/button, through the remote control or by turning on it's auto power on/off function.


5/5

MORE: Earphones Amplification Power Comparison
MORE: Best Basshead Earphones
SEE ALSO: Best Fun Sounding Earphones Chart
---
CB
Construction & Build
The TOPPING MX3 is remarkably well built and not only for the price point. In fact, the housing of the device is fully made of metal with only the front screen section being plastic.
Despite the small size and light weight, the DAC feels sturdy and rugged, being the only detail: a bit wobble movement on the knob/button. The IR remote is made of plastic while it's buttons are rubberized.



4.75/5
MORE: Best Headphones for Libraries Chart
SEE ALSO: Best Earphones for Bed
---
CM
Compatibility
The USB connection of the TOPPING MX3 allows the DAC/Amp to be fully compatible with Windows, Mac and Linux computers while the standard RCA, COAX, 3.5mm jack, Bluetooth, optical and banana connectors make it universally compatible with most audio devices, headphones, smartphones, tablets and speakers on the market.


5/5
---
SC
Screen
The screen might not have fancy peak control visualizations or multi-colored OLED displays like the Mytek Brooklyn Bridge but does neither costs nearly $3000 as the Mytek.
Even said so, the screen of the Topping MX3 is large and a pleasure to look at with big fonts and clear information that provide richer information than the screen of the xDuoo TA-20 AMP and the xDuoo TA-10 DAC/Amp.
The screen brightness can be either manually controlled in 3 different light intensities through the IR remote or it can be set to automatically dim while idle (when auto on/off mode is turned on)
The top edge of the screen will inform the audio mode set, the center will show the bit depth, kHz, volume setting and volume mode and the bottom edge will inform if the output chosen is headphones or speakers. Additionally, the center screen will inform the Treble and/or Bass Control dB boosting when entering this mode.


4.5/5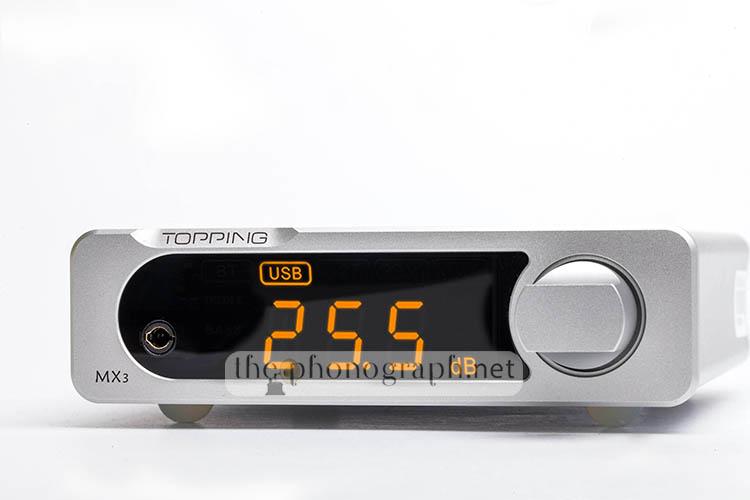 ---
C
Connectivity
The front panel of the TOPPING MX3 holds a single 3.5mm headphone output connector while the back panel carries all the rest of the I/O connections, including:
USB
Optical input
Coaxial input
Optical input
RCA Auxiliary input
Subwoofer output
Left speaker +
Left speaker –
Right speaker +
Right speaker –
Wireless Bluetooth
Additionally, the TOPPING MX3 includes an NFC tag to provide immediate Bluetooth pairing with mobile devices.
Connections Technical Specifications
USB: up to 96kHz / 24bit
Optical/COAX: up to 192kHz / 24bit
Bluetooth: HFPV1.6, AD2PV1.2, AVRCPV1.4


4.25/5
RELATED TO THIS: Active Noise Cancelling Headphones Reviews
---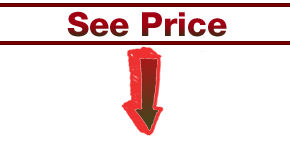 TOPPING MX3 COUPON
Only 20 coupons available - End Date 11-11 23:59hs
TOPPING MX3 COUPON
Only 20 coupons available - End Date 11-11 23:59hs
---
S
Sound
The brand rates the maximum headphone output power of the TOPPING MX3 at 257mW @32ohm (though some other leaflets declare 290mW), while the speakers output is 40Wx2 @4ohm. On paper, this wouldn't be a class-leading output power but, in real life, the MX3 significantly surpasses the power output of a FX-AUDIO TUBE-P1 or the FiiO K3 (set at high gain).
Despite not reaching the massive power of the BURSON AUDIO FUN, when our team plugged a beyerdynamic DT 770 PRO (250 ohm version), the maximum volume reached with the TOPPING MX3 was not too far below from the output provided by the xDuoo TA-20 (with the same beyerdynamic headphone) – yet, it was audibly lower on the Topping.
This, indeed, confirms that the TOPPING MX3 can cover higher impedance headphones and fulfill the tech specs stated by the brand which specify a capability to drive headphones with impedance from 16 ohm to 300 ohm.
Regarding sound quality and frequency response, the TOPPING MX3 showed no noticeable coloration while our measurements showed a remarkably flat frequency response.
Moreover, this TOPPING DAC does not suffer from any channel imbalance issues and is able to provide clean output without any kind of hiss.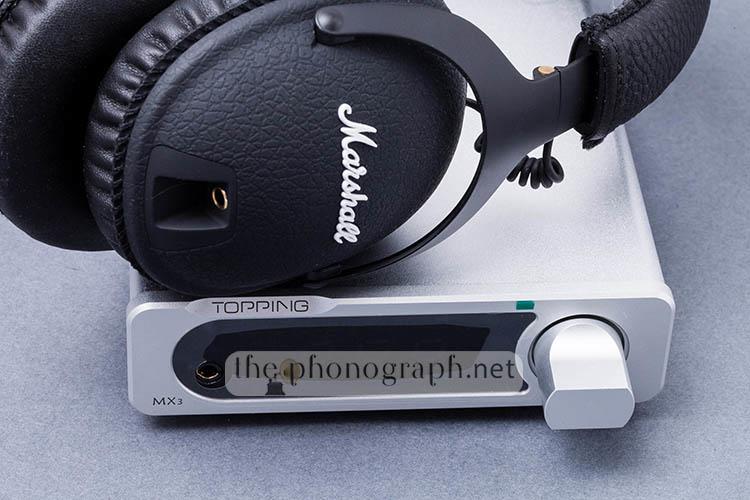 Bass Control & Treble Control

One special feature of the TOPPING MX3 is the bass and treble control option. This is an usual dual control seen on many other audio devices but it is remarkably well implemented on the MX3 with a range of control going from -10dB to +10dB at 1dB steps (20dB range)
Nonetheless, our tests and measurements revealed that the bass and treble control on the Topping MX3 is actually capable of delivering a maximum bass boost of +14dB to -14dB (instead of the +10dB to -10dB), which extends the range to 28dB.
Our measurements and audio tests of both the Bass Control and the Treble Control proved that these features are not a gimmick and present massive and true results to boost or "sedate" bass and treble.
Sound Technical Specifications
Some of main sound-related tech specs of the TOPPING MX3 are:
Headphones output:
SNR: 103dB
Gain: 11.6dB
THD+N: 0.005% @32 ohm 130mW
Frequency response: 20Hz-200kHz
Noise<18uVrms
Speaker output:
SNR:91dB
Gain: 29.6dB
THD+N: 0.05%
Noise:<0.5mV


5/5
RELATED: Best Earphones for Daily Commute
MORE: Most Comfortable In-Ear Headphones
MORE: Editor's Picks Earphones Chart
MORE: Best Bang for the Buck Earphones
---
FW
TOPPIGN MX3 Firmware & Driver
The brand does not provide any official drivers for the USB DAC capabilities of the TOPPING MX3 but users can try to use it as a plug and play device or can do some trial and error looking at other XMOS USB drivers for compatibility.
At the same time, the brand does not gives any reference to any firmware updates.
---
---
Follow us:
Get the latest reviews on your favorite social network
---

Scores
TOPPING MX3 Scores
Accessories -

10/10

Design -

10/10

Operation & Control -

10/10

Construction & Build -

9.75/10

Compatibility -

10/10

Screen -

9/10

Connectivity -

8.75/10

Sound -

10/10

Features -

9.5/10

Value for Money -

10/10
Summary

Pros
✅ Extremely rich-featured
✅ USB DAC
✅ Bluetooth
✅ Headphone + Speaker amp
✅ Bass control
✅ Treble control
✅ Extremely easy to use
✅ Large display – much useful than on this AMP
✅ Durable all-metal build
✅ No channel imbalance
✅ Precise volume control
✅ Tiny size – much smaller than this tube amp
✅ Light weighted
✅ IR remote
✅ Friendly price
Cons
❌ Might not offer as much I/O connectors as other DAC/AMPs
❌ Fairly large power supply in comparison to the dimensions of the DAC
❌ No RCA output capability
Conclusion
It's small, it's powerful for most commercial headphones and speakers, it's well-built with metal, it's rich-featured, it's super easy to use, it's beautiful and it's insanely affordable.
In conclusion, the TOPPING MX3 is a versatile and powerful DAC/AMP and a hell of a bang for buck - even more with our exclusive 11.11 coupon (Coupon will be published on November 11th and will only be valid that day).
TOPPING MX3 COUPON
Only 20 coupons available - End Date 11-11 23:59hs
TOPPING MX3 COUPON
Only 20 coupons available - End Date 11-11 23:59hs
FIND ALL OUR: Earphones Reviews / In-Ear Headphones Reviews
MORE: Best Earphones Charts
---
Buy it from

:

TOPPING MX3 COUPON
Only 20 coupons available - End Date 11-11 23:59hs
TOPPING MX3 COUPON
Only 20 coupons available - End Date 11-11 23:59hs
---
TOPPING MX3 Frequency Response Curve
RECOMMENDED FOR YOU: Headphones Frequency Response Curves
SEE ALSO: KZ Headphones Frequency Response Curves
---
Bass Control & Treble Control
TOPPING MX3 Bass Control & Treble Control Measurements
Sony headphone through TOPPING MX3 Bass Control & Treble Control Measurements 
---
TOPPING MX3 Volume Precision Control
---
TOPPING MX3 Technical Specifications
| | |
| --- | --- |
| Type | Amp/DAC |
| USB DAC | Yes |
| Max output | 257 mW (headphone) / 40W (speaker) |
| Bluetooth | Yes |
| NFC | Yes |
| Screen | Yes |
| Speaker amp | Yes |
| Frequency response | 20-200000Hz |
| Decoding | 192k, 24bit |
| IR remote | Yes |
| Weight | Approx. 475g |
| | |
YOU WILL ALSO LIKE: Amazon Coupons & Deals
MORE:  Gearbest Coupons – Discounts – Deals – Promo Codes – Sales Deals
SEE ALSO: Aliexpress Coupons – Discounts – Deals – Promo Codes – Sales Deals
MORE: Hybrid Earphones Reviews
MORE: Single Dynamic Driver Earphones Reviews
---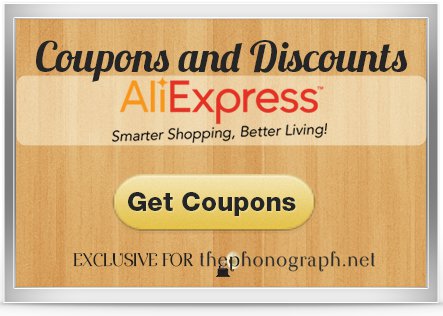 ---
RECOMMENDED
---
Found the Information Useful?
---
We hope you enjoyed this article. All the earphones reviews, earbuds reviews, headsets reviews, in-ear monitors reviews (iem), in-ear headphones reviews are made as objective and thorough as possible to provide our readers a way to choose the best earphones, earbuds, iem, in-ear monitors, headsets and in-ear headphones. By providing exhaustive information we allow our readers to even fine-tune their choices to select among the best budget earphones, best earphones for sports, best basshead earphones, best fun sounding earphones, most balanced earphones, least fatiguing earphones, most comfortable earphones, best looking earphones or even for the best cheap earphones to buy. Our resources offer: In-Depth Earphones Reviews, Earphones Scores Compared, an Earphones Size Comparison Tool, a sound frequency cheat-sheet, an Earphones Amplification Comparison Table, a brief audio glossary with the most frequent audio terms and audio definitions, and our Earphones Top Charts (covering the Top 10 Basshead Earphones, Best Bang for Buck Earphones, Top Sports Earphones, Best KZ earphones, Best bang for buck KZ earphones, Best basshead KZ earphones, Best KZ earphones for bass, Best KZ earphones for gaming, Best KZ earphones for sleeping, Best KZ earphones for working out, Best KZ earphones under $20, Best KZ earphones under $50, Best smallest KZ earphones, Top Balanced Earphones, Top Fun Sound Earphones, top smooth sounding earphones), Best Xiaomi Headphones, Best Xiaomi Earphones for Bass, Best Xiaomi Headphones under $50, Best Xiaomi Headphones under $20, The Best Xiaomi Wireless Headphones, Best Bang for Buck Xiaomi Headphones, Best 11.11 Deals and Coupons – Aliexpress – Gearbest – Banggood, Black Friday Coupons and Deals, Aliexpress Anniversary Sale Coupons and Deals, Cyber Monday Coupons and Discounts, Black Friday Coupons Aliexpress, Gearbest, Banggood, Amazon Coupons Discounts Deals Promo Codes Sales, ALIEXPRESS Coupons and Promo Codes – Exclusive Discounts