---
BOSE QuietComfort 20 Acoustic Noise Cancelling headphones
 | Active Noise Cancelling | Dynamic Driver |
---

---
? We are reviewing the BOSE QuietComfort 20 Acoustic Noise Cancelling headphones, the first active noise cancelling in-ear headphone from BOSE which has established as a highly desired earphone by a vast public. After our BOSE QC20 soundtests applied during this review we will find out if they are up to their popular reputation.
The BOSE QuietComfort 20 features a single dynamic driver, electronic active noise cancelling technology (that BOSE calls Acoustic Noise Cancelling), an "Aware mode", TriPort® technology, Active EQ, and a lithium-ion battery that powers their ANC.
BOSE made this model name quite long that it lead to different naming and abbreviation of the model name. Nowadays they can be found under these different names:
BOSE QC20i – the "i" at the end of the model name denotes that this is the model compatible with iPhone®, iPad® and iPod®
BOSE QC20a – the "a" on it's name identifies it as the Samsung and Android™ compatible model
BOSE QuietComfort® 20 Acoustic Noise Cancelling® headphones
BOSE QuietComfort 20i Acoustic Noise Cancelling headphones – same as the BOSE QC20i, refers to the iPhone®, iPad® and iPod® compatible model
BOSE QuietComfort 20 Acoustic Noise Cancelling headphones – the lack of the "i" on the name usually refers to the Android compatible model
BOSE QC20 headphones
BOSE QC20 Noise Cancelling headphones
BOSE QuietComfort 20 headphones
Through out this review we might refer to them with any of the just mentioned names and we will be always referring to the same unit that we are testing.
The housings of the BOSE QC20 are made of plastic and light-weighted; the dynamic driver inside the housings apparently is placed sideways like what we have seen on the SONY MDR-EX800st
, Sony MDR-7550 and Sony MDR-EX1000
.
The cables are substantially thick and very rubberized which helps to reduce the chances of tangling issues. Through out the cables you will find 2 different modules; first you will find the 4-button remote/mic (which is also the cable bifurcation section) and near the 3.5mm plug you will find a much larger piece that is the Acoustic Noise Cancelling module. The 4-button remote/mic has 2 volume dedicated buttons to set the volume up or down, a multi-function button that will allow you to play/pause music, access Siri / Google Search and answer/reject calls and a 4th button on the side of the remote that serves as a switch between the active noise cancelling mode and the "Aware mode" (keep reading ahead to find an explanation of each mode). The Acoustic Noise Cancelling module holds inside the whole ANC circuitry and the lithium-ion battery and is also the section where you will find the micro USB charging port and 2 status LEDs.
The BOSE QuietComfort 20 is compatible with Android and Apple devices but you will have to buy the corresponding model for the correct compatibility (BOSE QC20i for Apple devices and BOSE QC20a for Android and Samsung devices). If after getting one you are still dubious of which version you got you can look to the back of the remote where you will see a sticker with a QR-Code and an "S" marking engraved if you bought the Samsung Galaxy and Android compatible model.
You can buy the BOSE QC20 in:
FIND ALL: Earphones Scores Compared
MORE: In-Ear Headphones Reviews
SEE ALSO: Beats Headphones Reviews
---
AF
Advanced Features
The BOSE QuietComfort 20 technical specifications present some advanced features such as:
Acoustic Noise Cancelling: Active noise cancelling technology that electronically reduces the noises
Aware Mode: Mode that lets some sound in, allowing you to hear your surroundings
LED status: The ANC module holds 2 LEDs that inform the battery status, power and mode selected
TriPort® technology and Active EQ : BOSE's technology that theoretically provides deep and clear sound
Proprietary StayHear+® tips: BOSE's only eartips that give a secure and soft fit
---
OC
Operation & Control
The 4-button microphone/control of the BOSE QC20 allows you to:
Middle Button:
Press and hold

: Use of voice control (Siri for Apple devices and Google Search for most Android devices)

A single press

: Play, Pause music

Double button tap

: Skip track

3 times tapping:

Previous track
Press twice and hold: Fast forward track (only available with Apple model)

Press thrice and hold

: Rewind track (only available with Apple model)
Volume UP Button:
A single press

: Volume up by 1 level
Volume Down Button:
A single press

: Volume down by 1 level
Side button:
Single press

: Switch between Noise Cancelling Mode and Aware Mode
Calls Commands:
A single press

: Answer/Ends calls

A 1 second press and hold of Middle Button

: During incoming calls, reject call
LED Status Light: The two LEDs on the ANC module of the BOSE QuietComfort 20 lets you keep informed of the status of the headphones. One LED is associated to the power and battery and the other one to the mode selection.
Mode selection LED

:

Green LED On: Noise Cancelling On
Green LED Off: Aware Mode On

Power / Battery LED (while in use)

:

Green solid: Power On, more than 3 hours of battery left
Green blinking: Power On, less than 3 hours of battery left
None: Power off or no battery charge left
Charging: 
Power / Battery LED (while charging)

:

Green solid: Charging complete
Amber blinking:  Charging
Red: Error (you should refer to the Temperature Range section in the User Manual)
---
BOSE QuietComfort 20 Acoustic Noise Cancelling - Review
Tests & Scores
W
Weight
BOSE QuietComfort 20 weight in Ounces and BOSE QC20 weight in grams.
MORE: In-Ear Headphones Weight Comparison
SEE ALSO: Earphones Size Comparison
---
A
Accessories & Packaging
The BOSE QuietComfort 20 unboxing results in 3 pair of silicone eartips, a cable clip, a branded soft carrying pouch and a micro USB charging cable. The packaging of the BOSE QC20 is fairly large with a design and dimension similar to the one of the BOSE QuietComfort 25 over-ear headphones
.
The eartips included with them are called StayHear+® tips and have a "wing-styled" form factor somewhat like the Jaybird Freedom
or Jaybird X3
but are much more rubberized and clearly less rigid.

10/10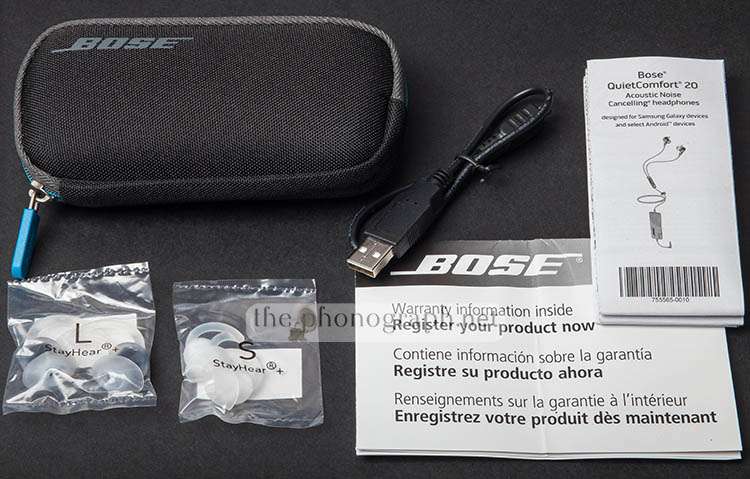 ---
B
Bass & Sub Bass
Noise Cancelling OFF
The BOSE QuietComfort 20 have strong mid-bass punch and some sub-bass depth but their bass is more centered on their mid-bass. The style of their lower frequencies will provide a full-bodied sound with a heavy middle and upper bass and somewhat absent lowest bass range.
Applying an EQ, there is a high increment of the depth with also an overall muddy sound.

6.5/10
Noise Cancelling ON
By turning on their Acoustic Noise Cancelling, the BOSE QC20
showed a higher volume output and an distinctly modified response of their lower frequencies making their mid-bass sound punchier and mostly their sub-bass becoming radically deeper in comparison to before.
Using an EQ gives them a stronger mid-bass and an insane increment of their lower end's depth.

7.5/10
If you were wondering why we had not mentioned our extreme bass tests for the BOSE QuietComfort 20; our test involves feeding the earphones with intense levels of amplification with a Fiio E12 Mont Blanc
, the additional stress that this tests apply over the units can damage their drivers and nevertheless we put our earphones through the test but in the case of the BOSE QC20 the additional power supplied by the amplifier could fry the Acoustic Noise Cancelling circuitry. Therefore, we have not ran them through these tests.
MORE: Earphones Amplification Power Comparison
MORE: Best Basshead Earphones
SEE ALSO: Best Fun Sounding Earphones Chart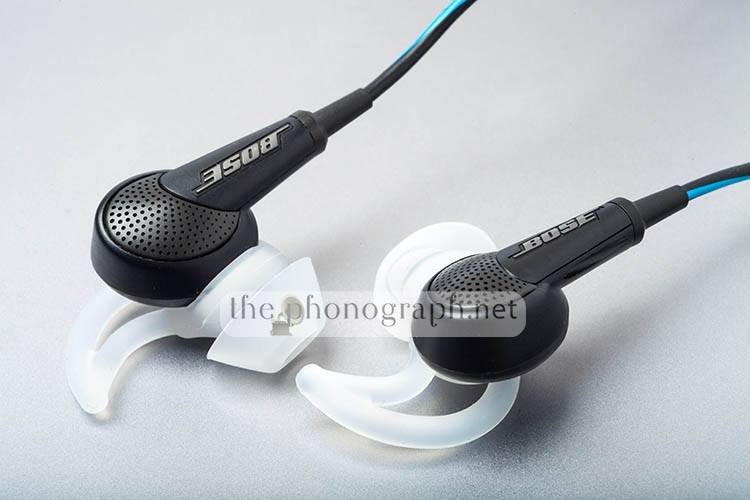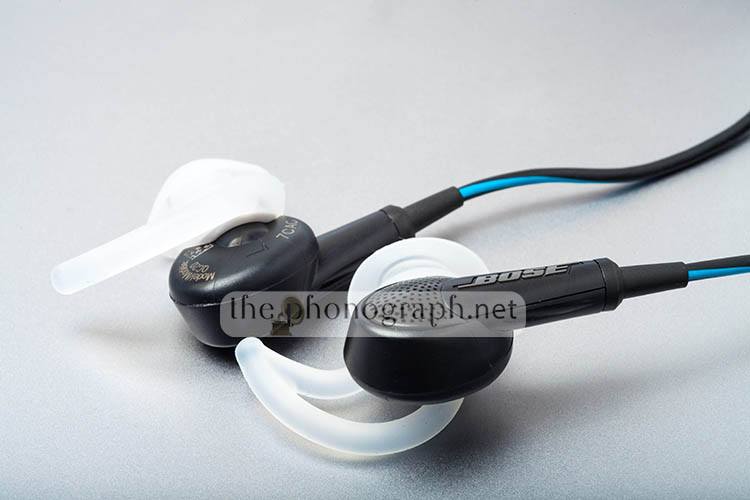 ---
M
Mids & Vocals
Noise Cancelling OFF
The BOSE QC20 mids have strong mid-bass bleed that makes their lower vocals congested. Higher mids are evidently not as rolled-off, sound crisp and at times become harsh. The overall mids are muddy and very warm (maybe excessively warm).
With an EQ there is a strong improvement of their lower mids with much more clear sounding male vocals and a prominent reduction of mid-bass bleed. Their mids warmth becomes better balanced while not becoming thin nor tinny. The sporadic harsh peaks can become more frequent.

5.5/10
Noise Cancelling ON
After turning their ANC on, mids become clear with a much more controlled and less present mid-bass bleed, energetic and vivid vocals that definitely do not sound congested. Higher mids become crispier too but risk to become a bit too forward with frequent harsh crests. On the contrary, alternating from Aware Mode to Noise Cancelling Mode shows no sound variation.
With an EQ, you can empower their mids and they will become much more present but sincerely this is not the EQ path that we recommend for the BOSE QC20. Instead, you might prefer to use an EQ just to reduce the harsh higher peaks and leave alone their lower and middle mids. A slight reduction of dB at +/- 2kHz and 4kHz will show an evident smoothing of their harsh higher mids without affecting much of their overall clear and energetic mids and vocals.

7.5/10
---
H
Highs & Treble
Noise Cancelling OFF
The BOSE QuietComfort20 highs are very dark and resolve no detail. The strong recession of their highs does give a positive sound characteristic that some will appreciate, the 100% free of piercing and sibilant highs peaks at any given moment with any track. Certainly, highs are not their strongest asset if you are looking for clarity, brightness and detail but if you want non-fatiguing highs you could welcome them.
An EQ gives them a much needed help with added brightness, bit of detail and a more open sound. Still their highs are dark and not the greatest.

4/10
Noise Cancelling ON
Much like what happened with mids, vocals, mid-bass and sub-bass; the BOSE QC20 also show an absolute makeover of their sound in the higher frequencies and offer a much higher volume output (aprox. 25% stronger). Switching from Noise Cancelling mode to Aware mode makes no difference in their sound.
With Noise Cancelling turned on, their highs are miles brighter and substantially more detailed. The extremely dark and muddy overall sound that was present while using them with their Noise Cancelling off, now becomes much more open, clear sounding and way way brighter by turning the ANC on. On the other hand, piercing highs show up and some sibilance can be perceived, depending on the song being listened to.
An EQ this time makes their highs much brighter and open with also a strong increase of piercing highs.

6.75/10
---
SL
Sound Leak
The sound that leaks out of the BOSE QuietComfort
is considerably low, people nearby will not hear a thing from your earphones if you are listening to music at a moderate volume. If you crank up the volume all the way up a mild quantity will be perceptible but only on fairly quiet situations.
As mentioned on the previous sections, the activation of their Acoustic Noise Cancelling or Aware mode will increment their volume output. In this case, if you turn the volume to the max. their sound leakage will be a bit more audible.

7.75/10
MORE: Best Headphones for Libraries Chart
SEE ALSO: Best Earphones for Bed
---
SI
Sound Isolation
This is the category where the BOSE QuietComfort20
have to defend their reputation as one of the most effective noise cancelling technologies to date but first we have to mention their passive isolation (meaning, while not turning on their electronic Acoustic Noise Cancelling). The amount of passive isolation of these earphones is good with a noticeable reduction of the surroundings but not the strongest one by any means, if we would have to rate them by their passive isolation they would probably get a 7.5 out of 10 but they have much more isolation to offer with their active noise cancelling.
The Acoustic Noise Cancelling of the BOSE QC20 electronically cancels surrounding noises by measuring the noises with their microphones and emitting an opposite sound curve, the result of the physics behind this (that should matter to you) is that you get a reduction/cancellation of these environmental noises. Additionally to the active noise cancellation, they have a special function called "Aware mode" that can be activated by simply pressing the button on the side of the remote/mic. This mode emphasizes specific audio frequencies to allow the perception of environmental noises; the convenience of this mode? For example, you could be at an airport awaiting the announcement of your flight but you would like to reduce disturbing noises, with this BOSE headphones you can turn their ANC on (that will reduce noises) and switch to Aware mode on-the-go by pressing the switch button to temporarily allow you to hear the flight announcement and then switch back to Noise Cancelling mode by pressing the button again. Another example, you are walking through the city with the ANC on to reduce the busy city rumble but reach a busy crosswalk were you would like to hear any noises for security reasons, press the side-button on the remote, switch to Aware mode, cross the road and press the button again to continue cancelling noises.
Getting to our tests of the Acoustic Noise Cancelling, while activating their ANC we measured a maximum of 33.6 dB of noise reduction at the most responsive audio frequencies, -7.3 dB on the least effective frequencies and a general reduction that averaged from 20 dB to 24 dB. These values translate into an extreme reduction of noises in situations such as flight travelling or train commuting. If you have never experienced the noise reduction of a highly efficient noise cancelling earphone (like the Xiaomi Mi Noise Cancelling Earphones) you will remain perplexed by the sensation and if you already own a noise cancelling earphone that provides a fair but moderate performance, the BOSE QC20 will let you discover a whole new level of cancellation.
Our measurements of the Aware mode, demonstrated a maximum reduction of 14.4 dB near the 80 Hz and a general decrease of 6.2 dB that extended through out frequencies from 150 Hz to 700 Hz. Above +/- 730 Hz and up to 2500 Hz, the Aware mode shows their intervention with an 8 dB boosting and topping to a maximum of +8.7 dB.

10/10
SEE ALSO: Active Noise Cancelling Headphones Reviews
RECOMMENDED: Xiaomi Mi Noise Cancelling Earphones Review
MORE: Xiaomi Mi Noise Cancelling Type-C Headphones Review
---
C
Comfort
When you get your hands on the BOSE QC20 you will realize the not so common shape and could make you have second thoughts about their comfort. As soon as you place them in the ears you will notice the greatly achieved ergonomics and comfort level of their fit, there are no sharp edges touching the ear's surface nor rigid eartips/earwings that could generate some sort of pressure and pain after a while. Because of these reasons the BOSE QuietComfort 20 provide a pain-free experience with a fit that is secure and holds tight in the ears.

10/10
RELATED: Best Earphones for Daily Commute
MORE: Most Comfortable In-Ear Headphones
---
EQ
Response to Equalization
Noise Cancelling OFF
An EQ for highs and mids had a lot of work to do. Equalizing their highs offered some improvement of brightness and detail but remained being dark, mids highly cleared up and sounded much better with a subdued strength of mid-bass bleed and less congested vocals, bass became deeper but muddy.

7/10
Noise Cancelling ON
When ANC was turned on, the response to EQ also improved. Bass gained a crazy amount of depth without becoming as muddy as before, mids removed their harsh peaks and highs showed a strong amount of brightness and overall much more open sound.

8.25/10
MORE: Editor's Picks Earphones Chart
MORE: Best Bang for the Buck Earphones
---
BUY IT AT: 
---
Follow us:
Get the latest reviews on your favorite social network
---

Scores
Accessories -

10/10

Design -

9/10

Bass -

7.5/10

Mids -

7.5/10

Highs -

6.75/10

Sound Leak -

7.75/10

Sound Isolation -

10/10

Comfort -

10/10

Response to EQ -

8.25/10

Value for Money -

8/10
Summary
NOTE: The scores above represent the performance with Acoustic Noise Cancelling On. The scores are different with Acoustic Noise Cancelling Off are: Bass= 6.5 / Mids= 5.5 / Highs= 4 / EQ= 7 // Average= 7.75

AWARDS
Pros
✅ One of strongest Active Noise Cancelling dB reduction on the market

✅ Energetic bass (mostly (if ANC is On)

✅ Clear mids and vocals (if ANC is On)

✅ No piercing or sibilant highs (if ANC is Off)

✅ Aware mode

✅ On-the-go switchable from Noise Cancelling mode to Aware mode

✅ 4-button remote with dedicated volume buttons

✅ BOSE StayHear+ eartips included

✅ Outstandingly comfortable and pain-free fit

✅ Light-weighted housings

✅ Long lasting lithium-ion battery (16 hours)

✅ Two highly different sound signatures by switching ANC On or Off
Cons
❌ Limited to use with ANC turned on to provide good sound quality

❌ Very dark highs and congested, muddy mids (only when ANC is off)

❌ Price
Conclusion
The BOSE QuietComfort 20 are usually given the title of the best active noise cancelling earphone for the intensity of their noise cancellation and according to our measurements they make honor to their reputation with a maximum reduction of up to 33.6dB. Their sound showed a radical audio modification if the Acoustic Noise Cancelling (or Aware Mode) was turned on, going from a very dark, muddy and congested sound signature (ANC Off) to a deep bass, clear mids, vivid vocals and sufficiently bright sound signature (ANC on)
For the outstandingly comfort level provided they are now part of the Most Comfortable Earphones Chart, thanks to their 4-button remote, strong active noise cancelling, Aware mode, long lasting battery and fit they have entered our Best Earphones for Daily Commute and also to the Best In-Ear Headphones for Flight Travelling. Due to the amount of dB reduction provided by their Acoustic Noise Cancelling and the useful Aware mode they rank in our Best Featured Earphones Chart.
If you are looking to get an earphone with phenomenal comfort/fit and extreme noise cancellation, the BOSE QC20 are probably one of the best earphones that you can get on those areas.
FIND ALL OUR: Earphones Reviews / In-Ear Headphones Reviews
MORE: Best Earphones Charts
---
Buy it from

:
 

---
BOSE QuietComfort 20 Acoustic Noise Cancelling headphones Frequency Response
RECOMMENDED FOR YOU: Headphones Frequency Response Curves
SEE ALSO: Beats Headphones Frequency Response Curves
SEE ALSO: JBL Headphones Frequency Response Curves
SEE ALSO: Jaybird Headphones Frequency Response Curves
---
BOSE QuietComfort 20 Acoustic Noise Cancelling headphones
Type
Acoustic Noise Cancelling | Dynamic Driver
Driver Unit
Dynamic Driver
Sensitivity
N/A
Power Capacity
N/A
Impedance
unknown
Frequency Response
unknown
Battery
Lithium-ion
Battery life
16 hours
Charging time
2 hours
Charging Cable
Micro USB
Plug
3.5mm Stereo mini plug
Weight
Approx. 44g
Supplied Accessories
Neoprene-like soft carrying case/pouch;
cable clip;
3 pair of StayHear®+;
USB charging cable
MORE: Single Dynamic Driver Earphones Reviews
MORE: Amazon Coupons & Deals
MORE:  Gearbest Coupons – Discounts – Deals – Promo Codes – Sales Deals
SEE ALSO: Banggood Coupons – Discounts – Deals – Promo Codes – Sales Deals
SEE ALSO: Aliexpress Coupons – Discounts – Deals – Promo Codes – Sales Deals
---
Photos
DISCLAIMER
We highly discourage anyone from trying to apply our testings to your own earphones, the risk of damaging or permanently breaking your iems is absolutely probable to happen. With our standardized equalization and amplification tests we push the limits of the earphones to the extreme. If anyway you decide to do so, we cannot be held responsible of the damage done to your equipment. Do it at your own risk.
---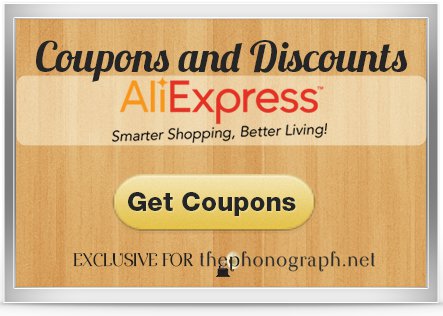 ---
RECOMMENDED
---
Found the Information Useful?
---
We hope you enjoyed this article. All the earphones reviews, earbuds reviews, headsets reviews, in-ear monitors reviews (iem), in-ear headphones reviews are made as objective and thorough as possible to provide our readers a way to choose the best earphones, earbuds, iem, in-ear monitors, headsets and in-ear headphones. By providing exhaustive information we allow our readers to even fine-tune their choices to select among the best budget earphones, best earphones for sports, best basshead earphones, best fun sounding earphones, most balanced earphones, least fatiguing earphones, most comfortable earphones, best looking earphones or even for the best cheap earphones to buy. Our resources offer: In-Depth Earphones Reviews, Earphones Scores Compared, an Earphones Size Comparison Tool, a sound frequency cheat-sheet, an Earphones Amplification Comparison Table, a brief audio glossary with the most frequent audio terms and audio definitions, and our Earphones Top Charts (covering the Top 10 Basshead Earphones, Best Bang for Buck Earphones, Top Sports Earphones, Best KZ earphones, Best bang for buck KZ earphones, Best basshead KZ earphones, Best KZ earphones for bass, Best KZ earphones for gaming, Best KZ earphones for sleeping, Best KZ earphones for working out, Best KZ earphones under $20, Best KZ earphones under $50, Best smallest KZ earphones, Top Balanced Earphones, Top Fun Sound Earphones, top smooth sounding earphones), Best Xiaomi Headphones, Best Xiaomi Earphones for Bass, Best Xiaomi Headphones under $50, Best Xiaomi Headphones under $20, The Best Xiaomi Wireless Headphones, Best Bang for Buck Xiaomi Headphones, Best 11.11 Deals and Coupons – Aliexpress – Gearbest – Banggood, Black Friday Coupons and Deals, Aliexpress Anniversary Sale Coupons and Deals, Cyber Monday Coupons and Discounts, Black Friday Coupons Aliexpress, Gearbest, Banggood, Amazon Coupons Discounts Deals Promo Codes Sales, ALIEXPRESS Coupons and Promo Codes – Exclusive Discounts