---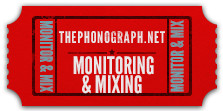 Best Headphones for Monitoring & Mixing
---
If you are looking into mixing or monitoring you should be looking for the "purest" sound possible from your headphones.
By "purest" we do not mean the brightest sound but the most unadulterated, uncolored or which shows the least amount of boosting and/or recession over most parts of their frequency range as to ease the work of mixing and monitoring.
---
Best Headphones for Monitoring & Mixing
The Best Headphones for Monitoring & Mixing Chart does NOT rank from 1st to 10th place, it is an unordered list.

Note

: All the headphones and earphones in this chart have been either fully reviewed or measured by our team – this chart does not include headphones that we have not auditioned.
---
---
---
Buy the Best Headphones for Monitoring & Mixing at

:
---
Read all the Best Headphones for Monitoring & Mixing reviews

: