---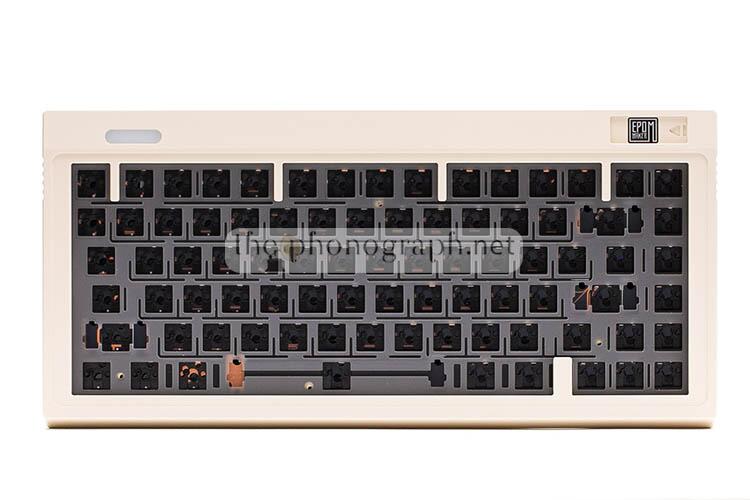 ---
EPOMAKER EK75
| DIY Kit | Mechanical Keyboard | Hot-Swappable | Wireless/Wired | 75% |
---

EPOMAKER EK75, a barebones DIY mechanical keyboard Kit with premium quality.
The EPOMAKER EK75 is aimed to mechanical keyboard enthusiasts with some level of expertise or who want to jump directly into the high-tier DIY Kits with still a more accessible price than $300+ models.
Before you dig into our full EPOMAKER EK75 review, we think that is worth highlighting that if you are looking at this DIY Kit for your first assembly project, you might feel safer looking at the EPOMAKER Aura 75.
FIND ALL: Headphones Scores Compared
---
EPOMAKER EK75 Review
Tests & Scores
---

Scores
EPOMAKER EK75 Scores
Accessories -

9/10

Design -

9.75/10

Ergonomics -

9/10

Construction & Build -

10/10

Connectivity -

9.75/10

Customization -

10/10

Gaming -

8.5/10

Productivity -

9/10

Office -

9.25/10

Tablet-Mobile -

8/10

Programming -

9/10

Typing -

10/10

Sound -

10/10

Durability -

10/10

Software -

9/10

Battery -

8.75/10

Value for Money -

10/10
Summary
Pros
✅ Amazing sound
✅ Rugged metal construction
✅ Premium components
✅ Hot-swappable
✅ VIA programmable
✅ Wired and wireless
✅ Multi dampening layers
✅ Flex cut PCB
Cons
❌ More complicated for first timers
❌ Bundled cable not up to the premium level of the keyboard
CONCLUSION
If you have been on the mechanical keyboard world for some time and want to do a solid quality upgrade on a premium DIY Kit that can be customized at any level, the EPOMAKER EK75 will be a worthy option to consider. Instead, If you are on a tight budget and this will be your first DIY project, the EK75 might be overkill for you or a building process that might be too much for your first attempt.
MORE: Best Headphones Charts
---
A
ACCESSORIES & PACKAGING


4.5

/5
EPOMAKER wants to be clear that the EK75 is a premium keyboard and they show it even from the very first moment that you receive the unit by it's much better, thick packaging containing it.
Despite being a barebones DIY Kit, the brand includes all stabilizers needed to fully assemble the unit – without needing to spend extra money right away.
Also included with the device:
• 1.6m USB-C cable
• Dampening gasket foams
• Stabilizers
---
---
---
D
DESIGN


4.75

/5
The EPOMAKER EK75 has a very nice aesthetic design that is coherent with the high-tier class it belongs to.
The keyboard has a clean, elegant design with a minimalistic spirit, some unique bevel details and a metal rounded piece on the center of the back plate (in rose gold color, as seen on the photos) – yet it is a pity that this nice rose gold detail is not showcased nor visible very often as it is placed on the bottom of the case.
EPOMAKER has intentionally excluded many of the non-essential elements for a premium keyboard aimed for serious enthusiasts. Among these you will not find RGB backlighting, adjustable feet, knob nor any kind of flashy LCD displays – yet you will get a light strip on the top left section of the front panel that serves as a design detail but also as a status indicator of battery levels, CAPS Lock and connectivity info.
Of course, the keycaps that you end up selecting will change the final aesthetics of the EK75, our choice was the Epomaker AquaShift, giving it a classic keyboard style with a classy retro vibe (keep reading the review and you will find several photos of our EK75 and this setup)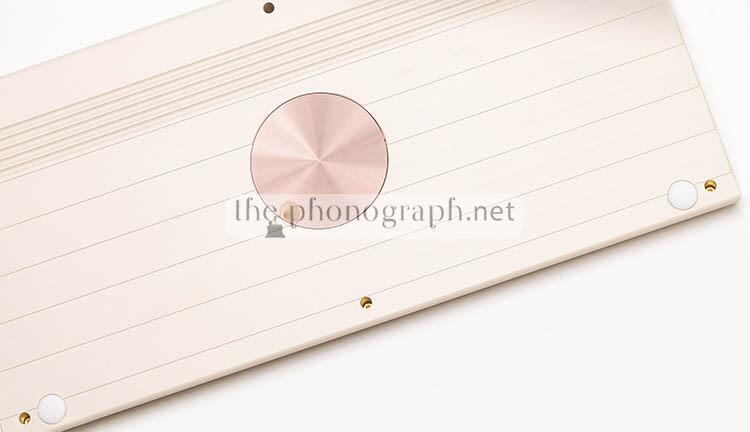 ---
E
ERGONOMICS


4.75

/5
The more compact 75% layout gives the EK75 an advantage over both TKL and 60% keyboards offering the lateral space ergonomics nearer to a 60% keyboard for a comfortable mouse use but with the access of navigation keys and the F row.
Two details prone to be judged for purely ergonomic purposes are: the case that could had made better use of the empty area on top of the F row number (for aesthetics it actually looks quite nice) and the lack of any tilt/height adjustment.
---
CB
CONSTRUCTION & BUILD


5

/5
If you are relatively new to DIY mechanical keyboard Kits, you might wonder why should you opt for the EPOMAKER EK75 and spend more than twice the price of a DIY kit like the EPOMAKER AURA 75; well, it is all in the build quality, caliber of components, customization accessibility and overall grade.
Neither from photos nor by knowing that the keyboard weights 1.8Kg you will get an idea of how rugged and built like a tank it feels like when you grab the EK75 for the first time. Of course, do not expect any case flex at all from the solid EK75.
In fact, the EK75 is in a whole different level than more budget DIY Kits with specs and features such as full aluminum 6063 case, polycarbonate plate with Porom foams, multi-layer dampening, IXPE switch sheet and a gasket-mounted design – while the Kailh hot-swappable system ensures endless life for the switches.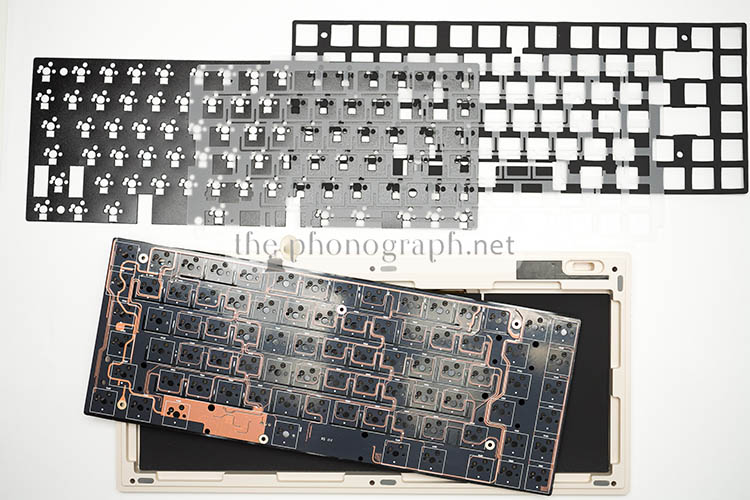 ---
CON
CONNECTIVITY


4.75

/5
This might be a DIY Kit but it still is fully equipped with a triple connection mode that includes 2 types of wireless connectivity. You can setup and use the EPOMAKER EK75 with 5 devices assigning an independent slot to each device and switch between them with ease.
To reach these 5 devices you have to use the 3 Bluetooth slots available, the 2.4GHz wireless dongle and the wired mode through the USB-C connector.
The 2.4GHz dongle is smartly placed inside a magnetic closing compartment hidden below the EPOMAKER logo; to open it you need to slide to the left and the dongle will pop out.
---
C&R
CUSTOMIZATION & REPROGRAMMING


5

/5
The board of the EPOMAKER EK75 has a hot-swappable design compatible with 5-pin switches allowing users to change and choose among the endless variety of mechanical switches on the market while not having to go through the tedious and risky process of de-soldering and re-soldering switches. Of course, having hot-swappable switches means also that you have the option to choose any keycap that you want as long as it is compatible with your switches choice.
On top of that, this DIY Kit has a PCB with screw-on stabilizers allowing the customization potential to reach even the stabilizers flavour of each users preference with an easy and more stable screw-on system.
Regarding internal customization, users have access to full per-key reprogramming and macros assignment without restrictions thanks to VIA software and on-board memory.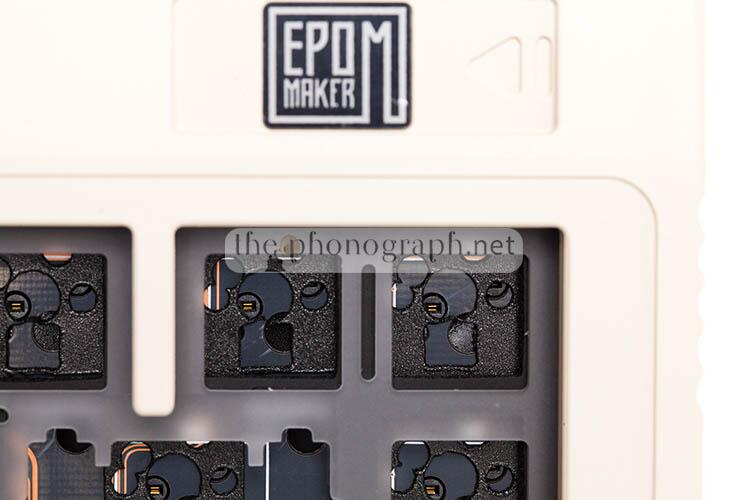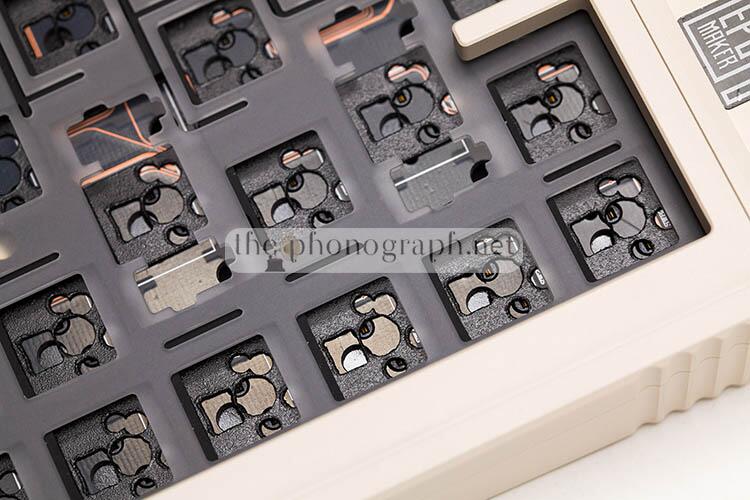 ---
P&E
PERFORMANCE & USE
GAMING


4.25/5
We would not rank the EPOMAKER EK75 as a gamer exclusive keyboard due to the "excessive" level of construction quality and, thus, additional weight; qualities that are not necessarily required for gaming purposes.
Nonetheless, if you are a fancy gamer, the EK75 can still provide most of the essentials needed for gaming, like:
• Full NKRO and anti-ghosting on wired mode
• Wired and wireless 2.4GHz
• Smaller than TKL size
• High quality switches compatibility
• Hot-swappable
• 1000Hz polling rate
• Macro programming
• Refined sound profile
Yet, remember that this is not a keyboard with backlight RGB lights – in fact, it has no backlight at all.
PRODUCTIVITY


4.5/5

The added weight of the EK75 can, actually, be a positive feature for it's stability, durability and quality feel for users into productivity that have a pro desktop setup for their video editing, photography editing, music production and content creation.
Moreover, the following specific features can ease up a production day:
• Wired and wireless
• Hot-swappable
• Macros
• Reprogram per key
• F row number
OFFICE


4.5/5
The superb build and excellent dampening system can make the EK75 an excellent office keyboard when paired with linear or silent switches, as long as you do not intend to carry it back and forth on your daily commute by train/subway.
As far as nobody at the office feels tempted by the premium keyboard and decides to steal it while you are absent.
For office work at a home office or private office, you can even pair the excellent typing experience of the Kit with clicky or tactile switches if these match better your typing profile.
On top of that the 75% layout gives you access to the handy F row number and navigation keys for office-oriented software and spreadsheets – if you do some heavy calculator use you might want to consider adding a separate numpad.
TABLET/MOBILE


4/5
For tablet users looking for a keyboard to carry around cafes, the EPOMAKER EK75 will be too heavy but if you are a mobile user that has a tablet setup as a PC replacement or a more fixed mobile setup, then the EK75 can fulfill your needs thanks to:
• Bluetooth connectivity
• Built-in battery
• On-board memory
• Compact 75% footprint
PROGRAMMING


4.5/5
Similar to the needs of Office and Productivity users, programmers that are not intending to use it as a portable keyboard can get all the pros of the EK75 without caring about the hefty weight.
Also you might appreciate the layers access and customization as well as the macros and reprogram per key.
---
S
SOUND


5

/5
With all the premium components and sturdy build of the EK75; plus the quality and pre-assembled dampening system in multi-layers, polycarbonate plate and the gasket mounted design, all combine to offer a superb building base for an optimal sounding mechanical keyboard when matched with high-quality switches and keycaps.
We highly recommend that you equip the EK75 with quality switches that can keep up with the high-standards of the Kit as to take full advantage of the potential offered by the keyboard.
We proceeded to test the kit with popular and also more exotic switches to see how much of a real-life improvement you can obtain in the sound department. The results showed a clear and massive difference both in keeping resonance, vibrations and sharp rebound clicky issues under control.
Moreover, the kit added a level of fullness and deepness to any switch equipped, seeing the best results when paired with linear switches in search of meaty thocky sound.
Trying less common switches such as the Epomaker Budgerigar (tactile) and Sea Salt silent (linear silent), the combination showed the Budgerigar to add a better dampening for any poppy impact and a delightfully smooth and "cushiony" feel for the Sea Salt ones.
Finally, we tested out a combo of switches with the Epomaker Wisteria for the F number row and Epomaker Jade Blossom for all the rest of the keyboard (both premium linear switches) and Epomaker AquaShift PBT keycaps; the results were impressive with a mechanical keyboard sound quality that was simply unreachable by any pre-assembled keyboard and even in a whole new category against similar priced DIY Kits – out of this combo you can expect perfectly thocky sound (even more for the Jade Blossoms 43g), absolutely no resonance, no pinging, no hollow sound hints and a deep, solid and confident sound yet perfectly dampened and far from being loud and clicky – in fact, this ended up being our final switch/keycaps choice for our Epomaker EK75.
In addition to this, the screw-on stabilizers ensured no rattling noises, a tighter stabilizers fixing system and a better management & stabilization of long keys. Consider, though, that being a DIY Kit aimed for custom keyboard enthusiasts, you will not get pre-lubed stabilizers, so you will have to do it yourself – it is part of the fun process of building your custom keyboard.
If the build and specs do not make you remember the premium class of the EPOMAKER EK75, the sound profile and capability will be a fresh new reminder of the rank it belongs to.
---
SW
SOFTWARE


4.5

/5
Unlike other EPOMAKER keyboards, the EK75 uses VIA software to customize and program it.
VIA is a powerful software on the keyboard enthusiast and custom keyboard world, yet it might be a bit of a shock for new users used to commercial software included with mainstream brands or even to the standard Epomaker software.
On the other hand, once you get familiar with VIA you will have a full in-depth customization potential for the EK75 that goes from per-key macros, all-key reprogramming capability to more complex layering, macros with mouse actions and even the neat key/typing tester from VIA.
As the EK75 has on-board memory, once you set it up and apply your customization, everything will always be available on the keyboard itself without the need of VIA running as a background app.
---
B
BATTERY


4.25

/5
With an internal rechargeable battery to power the keyboard in wireless modes, the 3000mAh lithium-ion battery can provide sufficient power to use the keyboard for weeks without worrying, even more being that the keyboard does not have a power-hungry LCD nor draining RGB LED backlighting.
---

---
EPOMAKER EK75 Technical Specifications
Model
Epomaker EK75
LAYOUT
75%
Mount Type
Gasket
Case Material
Aluminum 6063
Typing Angle
6°
Plate Material
PC
Hotswappable
Yes, compatible with 5-pin switch
Foams
PCB foam, bottom foam and IXPE switch sheet
RGB backlight
No
Switch Direction
LED-slot south facing
Stabilizer type
Screw-in
Connectivity
Type-C Wired, Bluetooth 5.0 & 2.4GHz
Battery Capacity
3000mAh
Supported Software
VIA
Dimension
355*159*43mm
Weight
1.8kg
Inside the box
Keyboard Kit (PCB, Keyboard case, Mounting Plate, Stabilizers, dampening Foams)
1.6m Cable
Instructional Manual
---
Follow us:
Get the latest reviews on your favorite social network
YOU WILL ALSO LIKE: Amazon Coupons & Deals
SELECTED FOR YOU: Aliexpress 11.11 Shopping Festival Coupons
RELATED TO THIS PAGE: Aliexpress Anniversary Sale Coupons and Deals
SEE ALSO: Black Friday Coupons and Deals – Black Friday Aliexpress coupons
MORE: Cyber Monday Coupons and Discounts
We hope you enjoyed this article. All the earphones reviews, keyboards reviews, power tools reviews, music players reviews, DAC reviews, amplifiers reviews, smartwatch reviews, gadget reviews, tech reviews, dashcam reviews, earbuds reviews, headsets reviews, in-ear monitors reviews (iem), in-ear headphones reviews are made as objective and thorough as possible to provide our readers a way to choose the best earphones, earbuds, iem, in-ear monitors, headsets and in-ear headphones. By providing exhaustive information we allow our readers to even fine-tune their choices to select among the best budget earphones, best earphones for sports, best basshead earphones, best fun sounding earphones, most balanced earphones, least fatiguing earphones, most comfortable earphones, best looking earphones or even for the best cheap earphones to buy.
Our resources offer: In-Depth Earphones Reviews, Earphones Scores Compared, an Earphones Size Comparison Tool, a sound frequency cheat-sheet, an Earphones Amplification Comparison Table, a brief audio glossary with the most frequent audio terms and audio definitions, and our Earphones Top Charts (covering the Top 10 Basshead Earphones, Best Bang for Buck Earphones, Top Sports Earphones, Best KZ earphones, Best bang for buck KZ earphones, Best basshead KZ earphones, Best KZ earphones for bass, Best KZ earphones for gaming, Best KZ earphones for sleeping, Best KZ earphones for working out, Best KZ earphones under $20, Best KZ earphones under $50, Best smallest KZ earphones, Top Balanced Earphones, Top Fun Sound Earphones, top smooth sounding earphones), Best Xiaomi Headphones, Best Xiaomi Earphones for Bass, Best Xiaomi Headphones under $50, Best Xiaomi Headphones under $20, The Best Xiaomi Wireless Headphones, Best Bang for Buck Xiaomi Headphones, Best 11.11 Deals and Coupons – Aliexpress – – , Black Friday Coupons and Deals, Aliexpress Anniversary Sale Coupons and Deals, Cyber Monday Coupons and Discounts, Black Friday Coupons Aliexpress, , , Amazon Coupons Discounts Deals Promo Codes Sales, ALIEXPRESS Coupons and Promo Codes – Exclusive Discounts