---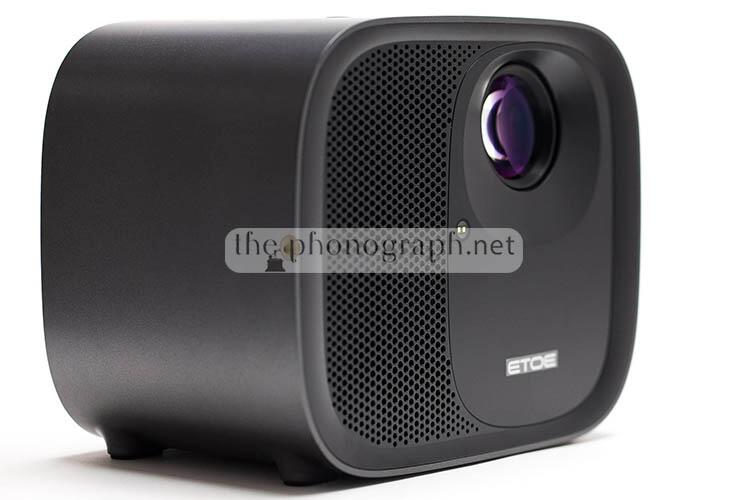 ---
ETOE E3 Pro Android TV Projector
| Optical LCD Projector | Android TV | Native 1080p | 4K | 2x10W | WiFi | Bluetooth |
---

ETOE E3 Pro Android TV Projector, the newest flagship LCD projector from ETOE.
The ETOE E3 Pro is the newest model of the E PRO series from ETOE, right above the E2 Pro – the full official name is ETOE Whale E3 Pro but we might refer to it simply as ETOE E3 Pro throughout our review.
---
---

---
---
ETOE is a brand that specializes in projectors and Android TV box, with several models in their catalog with an always expanding and innovating offering at a budget-friendly price.
The ETOE E3 PRO is available in black or white color.
FIND ALL: Headphones Scores Compared
---
ETOE E3 Pro Android TV Projector Review
Tests & Scores
---

Scores
ETOE E3 Pro Android TV Projector Scores
Accessories -

8.75/10

Tech & Specs -

9.75/10

Features -

10/10

Design -

9.5/10

Construction & Build -

9/10

Operation & Control -

10/10

Connectivity -

10/10

Compatibility -

10/10

Versatility -

10/10

Image Quality -

9.5/10

Sound -

9/10

Performance -

9.5/10

Power Consumption -

9/10

Software -

8.75/10

Value for Money -

10/10
Summary
Pros
✅ 4K (native 1080p)
✅ Android TV built-in
✅ Excellent image quality
✅ Auto Keystone
✅ Auto Focus
✅ Superb value for money
Cons
❌ Power cable might be a bit short for some
CONCLUSION
The ETOE E3 PRO is probably one of the best bang for buck projectors on the market right now, offering a full home-cinema bundle with stellar performance including its sharp native 1080p image quality and a built-in Android TV Box.
MORE: Best Headphones Charts
---
A
ACCESSORIES & PACKAGING


4.25

/5
The ETOE E3 PRO comes well protected in a packaging that includes:
• Soft carrying bag
• PSU
• Remote control
---
F
FEATURES


5

/5
The ETOE E3 PRO might have an entry-level price but the projector offers a mid-tier premium array of features and specs, such as:
• Android TV
• Auto focus
• Auto keystone
• Native 1080p
• Support for 4K, HDR
• Wi-Fi 5G/2.4G
• Bluetooth
• Chromecast
• Voice commands
• Multiple I/O video & audio connections
---
D
DESIGN


4.5

/5
The ETOE E3 Pro has a clean and elegant design with a space grey finish that gives it a premium flavour.
---

---
The projector has a cube-alike form factor giving it a compact footprint; with an exact size of 5.1 x 4.3 x 5.9 inches. The case of the ETOE projector presents smooth curved angles with no sharp nor pointy edges and a flat front and back panel.
The top of the E3 PRO has physical buttons to control the unit while on the front you will find the optical elements, grids for speakers output and ventilation and an auto focus and auto keystone laser sensor.
Inside, the ETOE E3 PRO includes for free a built-in Android TV Box (ETOE sells this Android TV Box for $80, so you are basically getting an $80 freebie) with a storage capacity of 13GB.
The Android TV Box is placed on the inner section of the back of the projector, below the input/output connectors and above the back ventilation and rear speaker output grid.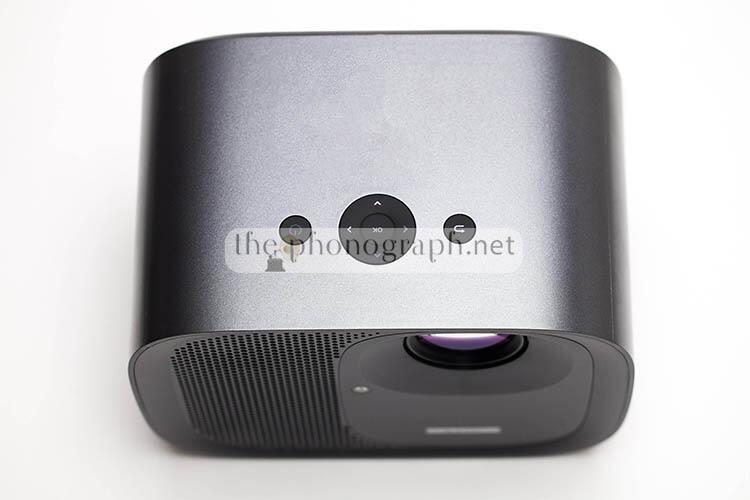 ---
CB
CONSTRUCTION & BUILD


4.5

/5
ETOE has done a wise choice by building the E3 PRO with a solid but light-weighted plastic case that gives it a sufficiently rugged construction yet allowing an easier ceiling-hanging installation without straining the adapters and fixing elements over your roof – to be more precise, the weight is around 2.68kg.
Talking about ceiling installation, the bottom case of the projector is equipped with an universal thread that screws on most standard projector stands, ceiling fixing adapters and tripods (also compatible with photo and video tripods)
In addition to this, the ETOE has a dustproof design that avoids particles getting inside the device, avoiding damage from accumulating particles and reducing dust projection over the final image.
For users planning to use the projector sitting on a table or on a shelf, the E3 PRO has 4 rubberized feet on the bottom that do an excellent job keeping the device in place and never showing slippery issues.
---
OC
OPERATION & CONTROL


5

/5
The ETOE E3 Pro is equipped with a quad control system with an IR remote that is also a Bluetooth remote, voice commands (through the remote), smartphone remote with the installation of Android TV remote app and classic control through 7 physical buttons placed on the top of the projector.
The bundled IR/Bluetooth remote has 22 buttons to allow an easy and intuitive operation with handy shortcuts for quick switching of the input or to open Netflix, Prime Video, YouTube or Disney+ apps.
On top of that, the remote has a built-in microphone that enables voice commands through Google Assistant – a voice command activation button is placed on the top center of the remote control.
The ETOE E3 Pro is fully controllable through the smartphone app Android TV app, therefore in case that you lose or break the remote and do not want to buy a replacement you will always be able to use and control the projector without spending any additional money.
On top of that, the physical buttons on the top case of the projector also allow full operation of the device and navigation over the Android TV OS.
---
CON
CONNECTIVITY


4.75

/5
The ETOE E3 PRO offers a remarkably varied wired and wireless connectivity that includes:
Wired
• HDMI 2.2
• USB
• 3.5mm stereo AUX
Wireless
• Bluetooth 5.1
• Wi-Fi 5G & 2.4G
• Chromecast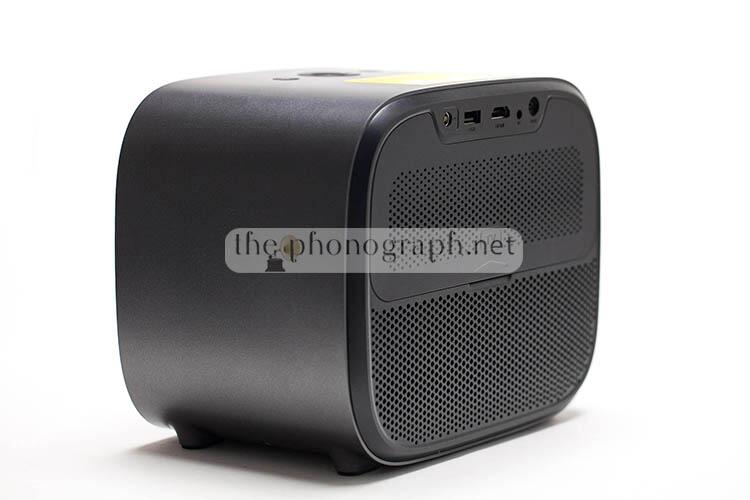 ---
V
VERSATILITY


5

/5
With half dozen of I/O connectivity options, users are able to use the ETOE E3 PRO as a standalone Android TV/projector or as an external projector for a PC, USB stick or even as a casting projector to mirror the screen of any Chromecast-enabled device (including smartphones and tablets)
In addition to the video versatility of the ETOE E3 PRO, the audio connectivity through the wired stereo connector and/or through a wireless Bluetooth connection enables full freedom to connect to external speakers, audio systems, amplifiers and even Bluetooth headphones.
The Android TV part of the projector comes as a modular and replaceable (theoretically) piece connected to the rear of the projector, behind a detachable grid that is labeled as "TV". The TV module is not soldered to the board of the projector, instead it is a fully independent component that is plugged through USB cables to the main projector's board.
This might indicate plans from ETOE to sell upgraded Android TV modules to upgrade your ETOE E3 PRO without having to buy a whole new device – this is our theory, ETOE has not informed nor confirmed this as a development plan.
---
IQ
IMAGE QUALITY


4.75

/5
The ETOE E3 Pro has a true native 1080p resolution (no marketing BS) that can reach 4K with upscaling/interpolation.
By default, when used as an Android TV and standalone projector, the ETOE E3 PRO will come set to a resolution of 1080p running at 60Hz.
The quality of the true 1080p is a massive image upgrade over "fake" 1080p projectors that are really 720p or less upscaled to 1080. Right out of the box you obtain an excellent level of sharpness, contrast, saturation; this is in part thanks to its 15000:1 high dynamic contrast ratio, 99% of NTSC color gamut coverage and strong brightness reaching 15000 Lux / 600 ANSI.
While measuring the intensity of light during our tests, the projector was able emit a maximum of 9 EV at 1m – revealed by our measurements with an industry leading professional SEKONIC lightmeter for photography & cinema.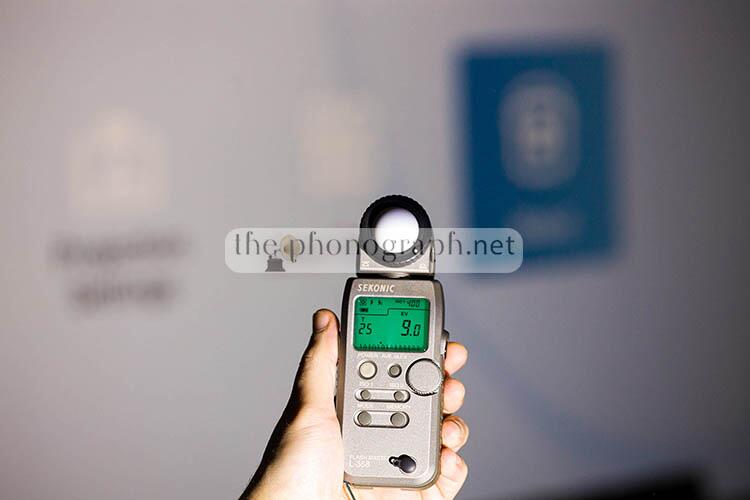 Within the maximum projection size of the ETOE E3 PRO (which is 150″), the brand recommends remaining between 40″ to 80″, yet we pushed it nearer the limits of its maximum projection size by doing some tests with a projection size of 100″ (approx.) – our test images samples where shot with the projector at a throw distance of 270cm/106 inches with a resulting projection size of 97 inches.
Throughout our tests every color popped while shadows and dark areas are projected as dark blacks and not washed-out greys.
Color transitions were presented in a smooth gradual visual representation while contrast was well balanced without clipping white/bright scenes nor loosing detail on dark areas.
At 1080p, the projector offered a sharp and detailed image that did not show pixelation and with the ability to reproduce fine detail of any frame on movies.
The ETOE E3 PRO supports 4K reaching a maximum resolution (upscaled) of 4096×2160 of 24Hz with a bit depth of 8-bit on a color format YCbCr444 (or classic 4K 3840×2160 30Hz) and can reach a maximum bit depth of 12-bit YcbCr444 at 1080p 60Hz.
Despite this, when used as a computer monitor/projector while connected to a PC, we concluded that the E3 PRO can be perfectly adapted to reproduce multimedia and video content but it cannot replace a 4K computer monitor for daily work.
Moreover, the strong brightness of the projector allowed it to be used with a dim <5W ambient light turned on, while remaining visually pleasant and not becoming a fully washed-out image.
The test samples below correspond to real photographs with no crop and with 80% crop.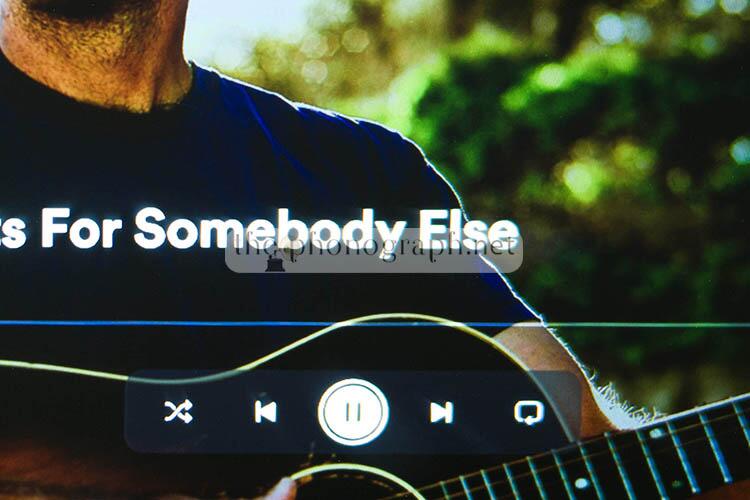 ---
S
SOUND


4.5

/5
The speakers are placed inside the housing shell with a smart dual "grill" that allows sound to be transmitted towards both the front and behind the projector.
This might not seem relevant but it is actually a game-changer in the versatility offered by allowing users to experience the same sound quality independently of where the projector is placed (ahead or behind the user)
We proceeded to test the audio quality and power of the ETOE E3 PRO by running it through varied movies, music and as a PC monitor with audio output – the projector's speakers were tested with Spotify, YouTube, Netflix, Prime Video, PLEX, local videos and with audio coming from the HDMI connection to a computer using it as desktop PC and also with some AAA gaming.
The results showed that the dual 10W of the internal speakers were fully capable of delivering plenty of power to cover rooms of 25 square meters or more.
The sound quality was clear for voices and dialogues and deep, bassy and exciting with action movies and gaming.
Moreover, every song played through the ETOE provided a full but well balanced sound.
To customize the sound of the ETOE, users have access to 3 audio presets (standard, movie, music) plus a custom one with 5 independently controlled Eq bands (120, 500, 1500, 5000, 10000Hz)
As a side note, we noticed that some content in Prime Video showed a fairly low maximum volume but this was not a limit of the ETOE projector, this is a badly leveled audio from Amazon that was present in few random movies.
Needless to say but, of course, this is an internal speaker and if you are looking for a 2.0, 2.1, 5.0, 7.0 or further surround sound experience you need to match it with a surround home-cinema audio system.
---
P
PERFORMANCE


4.75

/5
By the sole fact that this is not just a projector but an Android TV with a projector combo, the ETOE E3 PRO already wipes out the floor of the competition. The built-in Android TV Box is powered by a Cortex-A53 quad-core processor that supports HD, 4K, HDR and Dolby Audio.
The projector showed excellent response to commands and no delay ever nor loss of sync with audio nor video outputs.
When used as a standalone projector either through the HDMI connection with a computer and with a TV decoder, the projector performed perfectly smooth with no single issue regarding signal output nor resolution.
The ETOE E3 PRO is equipped with a dedicated hardware sensor for autofocusing and auto keystone that was started automatically right after booting the device, applying the necessary focus/keystone corrections to get a sharp and distort-free image.
We tested the ETOE E3 Pro putting the projector through several hard-solving situations aiming the device to angled walls and uneven walls, applying steep tilting and even placing objects to the sides of the projection canvas.
In every single test, the sensors of the E3 PRO were nearly 100% flawless nailing an optimal image correction and applying the projection image over the wall/canvas without mistakenly sensing objects as part of the projection canvas – as an example, one of the testing scenarios included 2 floorstanding speakers and a TV furniture and the ETOE applied the projection within the limits of the obstacles.
Moreover, the auto sensors were able to correct the image on any wall surface.
On top of that, the auto sensors were highly responsive to any repositioning of the projector sensing the placement/orientation modification of the projector and re-applying a new auto keystone/focus.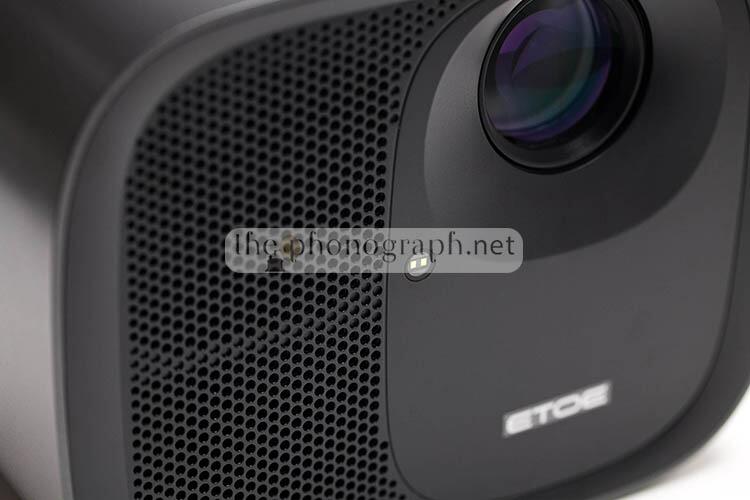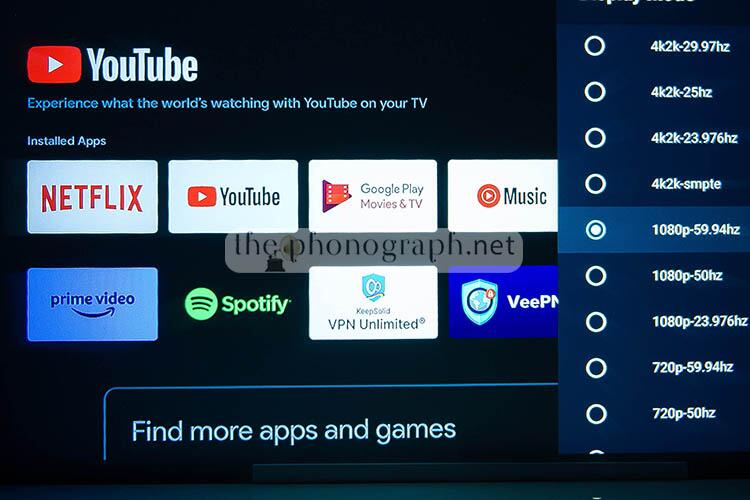 ---
PC
POWER CONSUMPTION


4.5

/5
Given the performance and powerful brightness levels provided by the ETOE E3 PRO, the 90W maximum power consumption measured during our tests seem more than fair.
As a reference for comparison, the 90 watts of power needed by the projector is just 60% of the 150W of consumption that our 4K PC monitors use and 10W less than any TVs in the office consume.
In addition to this, we measured a standby optimized low-power of just 0.71W.
---
SW
SOFTWARE


4.5

/5
The ETOE E3 PRO comes with an Android TV version 11, this is not a custom OS nor a featured-limited OS, this is a full-fledged Android TV OS, allowing users to access Google Play Store to install/buy any wanted app for the projector/TV.
Android TV OS is also very well equipped with access to customizations, settings of the TV and projector quality, resolution, leveling, EQ, WiFi connection, pairing and use of Bluetooth devices, etc.
Android can show some few bugs, for example bug in the "Personal" Image Mode did not save the personalization and always reset Sharpness to 0.
Opening a video or song through any installed app in the Android TV OS is fast and lag-free but it is fair to note that the navigation of the Android UI might show some lag if you have many apps installed or a rich homepage full of content.
Moreover, the ETOE projector has a parallel own OS with a simplified function that is mainly oriented to the internal settings and calibration of the device, including focusing, keystone auto and manual overriding, etc.
---

---
ETOE E3 Pro Android TV Projector Technical Specifications
Model: E3 Pro
CPU: ARM Quad 64-bit Cortex-A53
Android OS: Android ™ 11.0
Bluetooth: Bluetooth 5.1
Wi-Fi: 2.4G/5 G Hz 802.11a/b/g/n/ac
Native Resolution: 1920*1080
Throw ratio: 1.22
Contrast ratio: 3000:1
Central Brightness: 600 ANSI / 15000 Lux
Aspect Ratio: 16:9 / 4:3 Adaptive
Speaker: 10W*2 Stereo Speaker
Connection port: HDMI*1; USB*1; AUX*1
Projection size: 40″-150″
Zoom: 50%-100%
Picture Adjustment: Auto /Digital Keystone & Focus
Keystone Correction: ±45°, Auto keystone support
Recommended ambient: 41°F to 95°F / 5°C to 35°C
Relative humidity: 15% ~ 85% (non-condensing)
Power & Voltage: AC 100-240V / 50-60hz , 90W(Max)
Dimensions: 5.1 x 4.3 x 5.9 inches
Weight: 2.68 kgs
---
YOU WILL ALSO LIKE: Amazon Coupons & Deals
SELECTED FOR YOU: Aliexpress 11.11 Shopping Festival Coupons
RELATED TO THIS PAGE: Aliexpress Anniversary Sale Coupons and Deals
SEE ALSO: Black Friday Coupons and Deals – Black Friday Aliexpress coupons
MORE: Cyber Monday Coupons and Discounts
We hope you enjoyed this article. All the earphones reviews, keyboards reviews, power tools reviews, music players reviews, DAC reviews, amplifiers reviews, smartwatch reviews, gadget reviews, tech reviews, dashcam reviews, earbuds reviews, headsets reviews, in-ear monitors reviews (iem), in-ear headphones reviews are made as objective and thorough as possible to provide our readers a way to choose the best earphones, earbuds, iem, in-ear monitors, headsets and in-ear headphones. By providing exhaustive information we allow our readers to even fine-tune their choices to select among the best budget earphones, best earphones for sports, best basshead earphones, best fun sounding earphones, most balanced earphones, least fatiguing earphones, most comfortable earphones, best looking earphones or even for the best cheap earphones to buy.
Our resources offer: In-Depth Earphones Reviews, Earphones Scores Compared, an Earphones Size Comparison Tool, a sound frequency cheat-sheet, an Earphones Amplification Comparison Table, a brief audio glossary with the most frequent audio terms and audio definitions, and our Earphones Top Charts (covering the Top 10 Basshead Earphones, Best Bang for Buck Earphones, Top Sports Earphones, Best KZ earphones, Best bang for buck KZ earphones, Best basshead KZ earphones, Best KZ earphones for bass, Best KZ earphones for gaming, Best KZ earphones for sleeping, Best KZ earphones for working out, Best KZ earphones under $20, Best KZ earphones under $50, Best smallest KZ earphones, Top Balanced Earphones, Top Fun Sound Earphones, top smooth sounding earphones), Best Xiaomi Headphones, Best Xiaomi Earphones for Bass, Best Xiaomi Headphones under $50, Best Xiaomi Headphones under $20, The Best Xiaomi Wireless Headphones, Best Bang for Buck Xiaomi Headphones, Best 11.11 Deals and Coupons – Aliexpress – – , Black Friday Coupons and Deals, Aliexpress Anniversary Sale Coupons and Deals, Cyber Monday Coupons and Discounts, Black Friday Coupons Aliexpress, , , Amazon Coupons Discounts Deals Promo Codes Sales, ALIEXPRESS Coupons and Promo Codes – Exclusive Discounts