---
---
GAOMON PD1161 Pen Display
| 1080p | 11.6″ | Pen Display | 72% NTSC |
---

GAOMON PD1161 Pen Display, a premium spec'd pen display graphic tablet with entry-level price.
---
---

---
---
GAOMON has been developing graphic tablets and pen displays for a decade by approaching to the market with a more friendly price but with high quality technical specifications.
The GAOMON PD1161 is the cheapest and most popular pen display from the brand, allowing users to access a pen display with a sub $200 price.
FIND ALL: Headphones Scores Compared
---
GAOMON PD1161 Pen Display Review
Tests & Scores
---

Scores
GAOMON PD1161 Pen Display Scores
Accessories -

9.5/10

Design -

9/10

Display Screen -

9/10

Ergonomics -

9.25/10

Construction & Build -

8.5/10

Pen -

8.75/10

Connectivity -

8/10

Customization -

10/10

Graphic Design -

9.5/10

Photography -

8.25/10

Draw / Sketch / 3D -

9.5/10

Mobile -

7.5/10

Video Editing -

9.5/10

Office / Note Taking -

10/10

Performance -

9/10

Durability -

9.25/10

Versatility -

10/10

Software -

10/10

Value for Money -

10/10
Summary
Pros
✅ Responsive
✅ Tilt and Pressure
✅ Premium specs
✅ Nice anti-reflective screen
✅ High PPI
✅ Very affordable
Cons
❌ Multi cables connection
❌ No VESA support
CONCLUSION
The GAOMON PD1161 offers a superb bang for buck for people either looking for their first pen display or with limited desktop space but who do not want to sacrifice performance.
MORE: Best Headphones Charts
---
A
ACCESSORIES & PACKAGING


4.75

/5
The device comes well protected in a clean designed packaging that holds inside the device and all the bundled accessories.
Included you will get:
• Digital Pen AP50
• 3-in-2 Cable
• Power Adapter
• Pen Holder
• 8x Pen Nibs
• Glove
---
D
DESIGN


4.5

/5
The GAOMON PD1161 has a rectangular elongated form factor for the case and a 16:9 ratio for the screen.
Overall, the pen display has a nice, professional look and a clean design with rounded edges in a black plastic casing – the bottom of the case holds 4 rubberized feet to keep the pen display in place without sliding through your desktop.
---
---
The GAOMON PD1161 has in total 5 physical buttons placed on the left edge of the device and 8 express keys on the left front panel area. The 5 buttons are used to navigate through the in-built menus of the device while the 8 express keys have the classic graphics tablet use for shortcuts for your programs.
The pen holder bundled for free is also a nib extractor and holds inside 8 nibs replacements. The design of the holder has a smart dual positioning for your pen; you can either lay it flat on top of it or insert it vertically in the center hole of it.
The exact dimensions of the GAOMON PD1161 are 361.1 x 200 x 13mm and weights 866g.
---
DC
DISPLAY SCREEN


4.5

/5
The screen of the GAOMON PD1161 has a diameter of 11.6 inches with an IPS LCD type and a resolution of 1080p.
While a display under 13 inches is certainly not the largest pen display that you can get on the market, the PD1161 screen is packed with respectably performing specs such as a contrast ratio of 1000:1, brightness 220cd/m2, nearly 178 degrees of viewing angles and almost 100% sRGB gamut coverage (72% NTSC).
On top of that, due to the smaller 11.6″ and 1080p resolution the effective PPI is nearly twice of our 43″ 4K main monitors. Specifically, the GAOMON offers 190 PPI while our 43″ 4K monitors result in 102 PPI.
The display has a non-reflective finish, that unlike reflective glass screens, the GAOMON does never exhibit any disturbing reflections from light sources nor any "mirror" effect invading the display's surface. (see comparisons on the "Performance" section in this review)
On top of that, the screen comes with a pre-applied AG protection film that does not degrade neither the visibility nor sharpness of the display.
Some details that we noticed while testing the display was a marginal difference of brightness at 180 degrees rotation (lefties use) in comparison to 0 degrees and if positioned flat and looking it at extreme angles – if the pen display is used even slightly tilted up, this brightness loss will not be present.
Also bezels are a bit on the thick side, if a bezel-less or thin bezel design was used, the PD1161 could had used to it's fullest the size of the device and gain around 2 inches of a larger screen or reduced by 2 inches (diagonal) the footprint of the unit.
On the other hand, these inches of additional non-screen space enables a section to support your hand/wrist without "falling on the edges" of the pen display.
GAOMON has gone as small as it could for the PD1161 without compromising too much of the usability of the device, anything smaller than the 11.6″ offered would had been too cumbersome to use with comfort.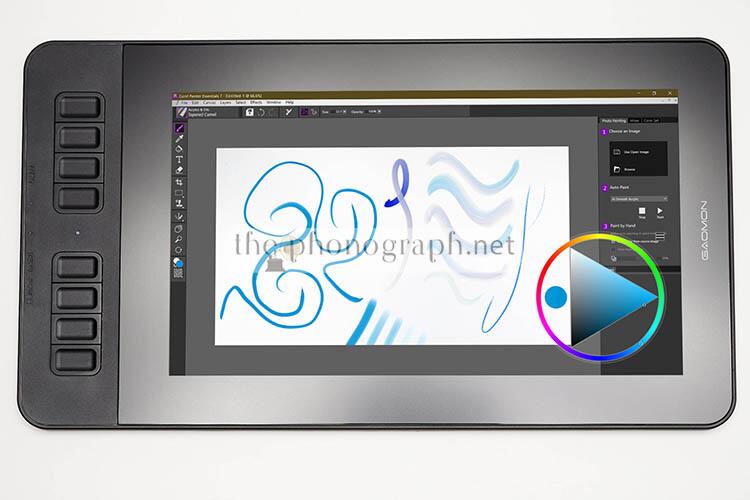 ---
P
PEN


4.25

/5
GAOMON has many pen models, the one included with the PD1161 is the AP50; a pen with sensors for 8192 pressure levels and tilt up to 60 degrees.
The pen is particularly light-weighted thanks to the electromagnetic resonance tech used by the PD1161 that does not require any internal batteries inside the pen itself.
The AP50 pen has two buttons near the tip end that come pre-configured to act as a right mouse click and an "E" key – reprogramming is available through software.
The pen inherits the same general build of the device, being made entirely of plastic, but in the case of the pen, due to it's feather-alike weight it can make it feel a bit fragile if you drop it – fortunately the brand sells the pen alone in case it breaks or if you lose it.
The pen has a rubberized section at the height of the 2-buttons that helps reducing the slippery finish of the plastics. In our tests, this rubberized part did a competent job allowing to use it without having to worry about sliding while also adding a softer gentler area to rest the fingers on.
---
C
CONNECTIVITY


4

/5
The pen display connects with a multicable system that includes 2 connections on the unit's side and 3 connections to the sources (power, signal and USB)
The USB connection used is of type-A while the display signal from your PC will need to be HDMI (no Display Port connector nor adapter included)
To add a layer of ruggedness, the brand has implemented recessed connection ports that give it a more snug fit and a significant reduction of risks of damaging the ports.
---
CUS
CUSTOMIZATION


5

/5
With a symmetrical buttons layout and express keys design, the GAOMON PD1161 can be rotated 180 degrees making it also a left-handed friendly pen display. The PD1161 has a dedicated option to rotate the screen and pen tracking (Workspace setting). In fact, you can also choose to rotate the display to 0°, 90°, 180° or 270°; meaning that you can use it in landscape or portrait mode.
This Workspace setting is quite powerful as it also allows users to: restrict and define the active workspace for the pen display, use the full area of the main monitor and decide whether if the pen should track the movement over the main monitor or the pen display itself.
By default, the express keys come set as: Ctrl+S, E, Ctrl+=, Ctrl+-, [, ], Space, B; but you can personalize and set each express key to do whatever keyboard key, mouse key or even set multimedia functions, program launching, switch screen, switch brush or fully disable the express key function.
If you want to, the PD1161 can also be used as a classic graphics tablet (no display) or even as a secondary monitor.
Specific calibration and configuration related to the display itself are available through the in-built menus that will allow users to apply color modes, color calibration, color temperature, preset calibration or manual calibration, sharpness, contrast, brightness, backlighting, Gamma selection, OSD settings, etc.
---
E
USE
GRAPHIC DESIGN


4.75/5
Graphic designers with a smaller desktop space will find a superb match with the GAOMON PD1161, having all the benefits of a high-quality pen display but with the reduced footprint of a 11.6″ device.
PHOTOGRAPHY


4.25/5

The display might be a bit too small for photographers depending on the specific type of photography field you specialize in.
For professional product and commercial photographers, the smaller screen will limit the capacity to see micro details and trace the daunting presence of dust spots without having to zoom in and pan or double check from a duplicated window output on your main monitor.
For landscape photographers and general hobbyists, though, the PD1161 can fit them perfectly while checking smaller details on their main monitor when needed.
DRAWING / SKETCHING / 3D DESIGN


4.75/5
Similar to graphic designers, people into drawing, sketching or 3D design who want a light and small pen display could love the GAOMON PD1161 due to the performance and specs offered for the low asking price while still providing 8192 pressure levels, 5080LPI and tilt support.
MOBILE


3.75/5
If the GAOMON PD1161 would had implemented a single USB-C connection, this pen display could had been a dream come true for graphic designers, photographers and drawing artists on-the-go pairing it with a laptop. The multi cable connection and dedicated external power supply will not make it the most portable pen display to use for people looking to work at cafes or around the city on a set and go way.
VIDEO EDITING


4.5/5
As long as your video editing is not developed around 8K material, the PD1161 will be a faithful ally to speed up your workflow and productivity.
For 4K videos with very small sized details you can always switch the pen display mode into a graphics tablet mode and verify the details on your bigger main 4K monitor.
OFFICE / NOTE TAKING


5/5

With a textured display finish that makes it feel like writing on paper and a smooth performance with no significant lag no parallax, this model is a phenomenal pen display for note taking and office-based tasks.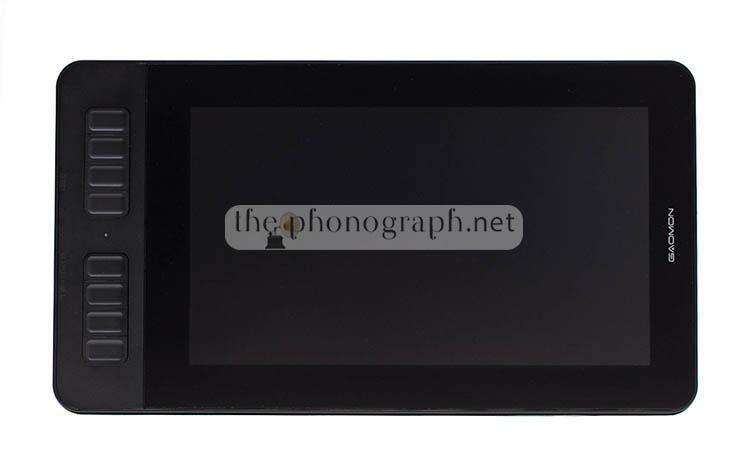 ---
P
PERFORMANCE


4.5

/5
All tests in this performance section were done with Adobe Photoshop, Corel Painter, Adobe Illustrator, Affinity Photo 2, Affinity Designer 2, Microsoft OneNote and Microsoft Office Suite.
Pressure & Tilt
At 8192 pressure levels, the GAOMON PD1161 showed an excellent range of gradients on pressure-related applications such as drawing or graphics/photo editing with brushes benefiting from pressure control – also OneNote showed clear reactive effects to the pressure while hand writing or sketching.
Industry standard Photoshop responds to all 3 main pressure-related pen settings like "Shape Dynamics", "Transfer" and "Smoothing" for flawless pressure control of brush sizes, brush opacity, build-up paint effects and smoothing fine-tuning.
Both pressure and tilt need some tweaking to be enabled in Photoshop, Illustrator, Affinity Photo & Designer (this is not a problem of GAOMON, it is how Adobe and Affinity handle any WinTab and Windows Ink pen and tablet) but it works right away with OneNote, Microsoft Office and even with Corel Painter, the pen cursor itself shows in real time the tilt sensing.
Lag
This GAOMON model is rated at over 220PPS for its report rate and a display response of 25ms, which in real life use did not add any lag nor delay to the pen input that could affect the use of any kind of graphic/drawing creation and even less for writing/taking notes.
Jitter
Jitter is a common weak point of pen displays and pen tablets, which is even more evident while tracing straight diagonal lines at a slow pace. As you can see from our example images below, the GAOMON PD1161 was flawless against jitter issues, having complete control of them and always tracing smooth straight lines with a physicals ruler or a software-based one; regardless of the tracing direction (vertical, horizontal or diagonal)
Tracking / Parallax
The GAOMON PD1161 showed a good tracking performance right out of the box without any further custom calibration applied but you can always enter the calibration settings to custom calibrate the pen if you are seeing some excessive mistracking.
From specs, the PD1161 has a accuracy tolerance of 3mm on the edges and 0.5mm on the center. During our tests, the tracking showed to fall within the spec'ed tolerance.
Most of the parallax during tracking was seeing when continuously dragging the pen from extreme opposite sections of the screen but we noticed that lifting the pen and re positioning the pen perfectly re-aligned the tracking of the pen cursor's position.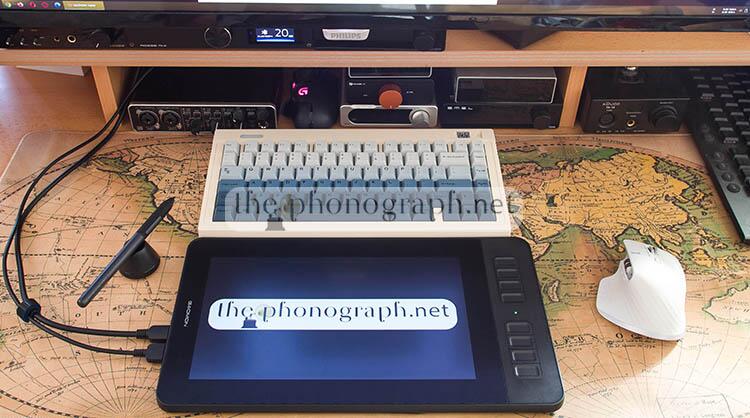 GAOMON PD1161 in a desktop setup on a left-handed 180 degree rotation
Examples of pressure response, tilt and jitter on diagonal lines
Comparison
Compared to Microsoft's proprietary active stylus and digital pen technology seen on the series of newer Surface Pro computers, the GAOMON pen display exhibited far less delay and lag but with a bit more of pen tracking misalignment when reaching the extreme corners of the display.
Moreover, the shiny glass screens of the Surface Pro models vs the GAOMON was night and day when trying to control and avoid reflections on the screen. (see our photos)
GAOMON PD1161 vs Microsoft Surface Pro series
Compared to other pen display technology like Wacom from Surface Pro 2 or Fujitsu T7XX and T9XX classic workhorses, the PD1161 is way more accurate in both tracking precision and parallax. Also, these Wacom models do not support tilt function and the GAOMON exhibited better control of reflections.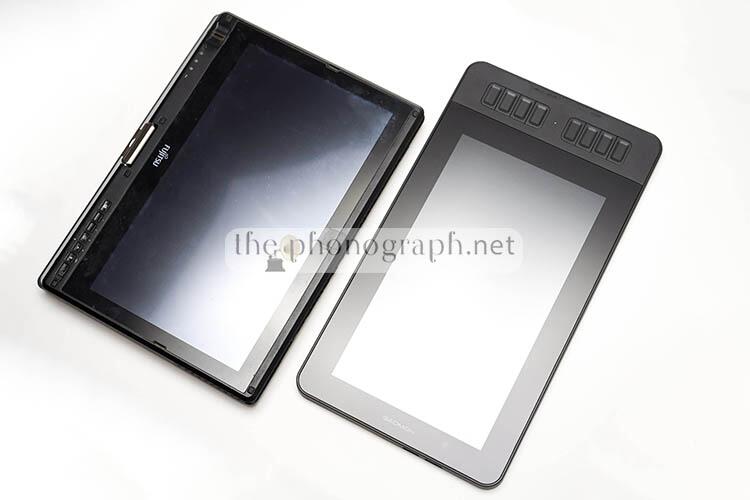 GAOMON PD1161 vs Fujitsu T732 PC Wacom tablet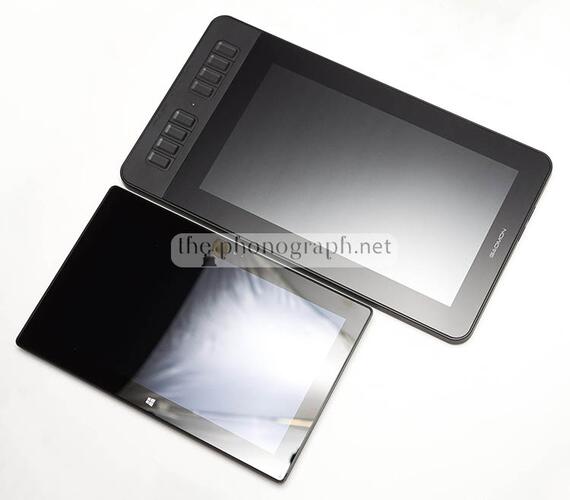 GAOMON PD1161 vs Microsoft Surface Pro 2
Of course, remember that compared to all of the above, those are actually tablet/notebooks while the GAOMON PD1161 is not a standalone computer.
---
SW
SOFTWARE


5

/5
The software for the GAOMON pen display is quite powerful with a vast amount of settings available to tune up your device.
Among the customization options you can set the pressure sensitivity of the pen, re-program all 8 express keys and the 2 buttons on the pen to any keyboard/mouse key that you prefer or opt to trigger program launching, media controls, etc. Also, you can set your workspace, workspace area or even the workspace monitor to be the pen display itself or any other standard monitor connected to your PC.
Moreover, you can create custom profile per program so you can set specifically tailored express keys, workspace configurations, pen buttons functions and custom pen pressure curves for each program independently and save and apply them on the fly.
Access to import/export configurations, OTA firmware updates and pen calibration are enabled by the GAOMON software.
If you are experiencing weird behavior with Photoshop, go to the diagnostic section in the software and click the button saying "PS WinTab (PS disable WinTab)"
---

---
GAOMON PD1161 Pen Display Technical Specifications
Model
PD1161
Screen Panel Size
11.6inch
Resolution
1920 x 1080(16:9)
LCD Type
IPS
Active Area
256.3 x 144.2mm
Contrast Ratio
1000:1
Brightness
220cd/m2
Response Time
25ms
Viewing Angle
89°/89°(H)/89°/89°(V)
(Typ.)(CR > 10)
Gamut
72% Ntsc
Display Color
16.7M
Touch Technology
Battery-free Electromagnetic Resonance
Touch Resolution
5080LPI
Pressure Level
8192Level
Report Rate
≥ 220PPS
Sensing Height
10mm
Accuracy
±0.5mm(Center)
±3mm(Corner)
Digital Pen Model
AP50
Net Weight
16.5g
Dimension
160 x Φ12mm
Side Buttons
Two Customizable Buttons
General
Working Power Consumption
12W
Input Voltage
100-240VAC, 50/60Hz
Output Voltage
DC12V 1A
Video Interface
HDMI
Press Key
8 Customizable Press Key
Dimension
361.6 x 200 x 13mm
Net Weight
0.86KG
OS Support
Windows 7 or later, macOS 10.12 or later
---
Follow us:
Get the latest reviews on your favorite social network
YOU WILL ALSO LIKE: Amazon Coupons & Deals
SELECTED FOR YOU: Aliexpress 11.11 Shopping Festival Coupons
RELATED TO THIS PAGE: Aliexpress Anniversary Sale Coupons and Deals
SEE ALSO: Black Friday Coupons and Deals – Black Friday Aliexpress coupons
MORE: Cyber Monday Coupons and Discounts
We hope you enjoyed this article. All the earphones reviews, keyboards reviews, power tools reviews, music players reviews, DAC reviews, amplifiers reviews, smartwatch reviews, gadget reviews, tech reviews, dashcam reviews, earbuds reviews, headsets reviews, in-ear monitors reviews (iem), in-ear headphones reviews are made as objective and thorough as possible to provide our readers a way to choose the best earphones, earbuds, iem, in-ear monitors, headsets and in-ear headphones. By providing exhaustive information we allow our readers to even fine-tune their choices to select among the best budget earphones, best earphones for sports, best basshead earphones, best fun sounding earphones, most balanced earphones, least fatiguing earphones, most comfortable earphones, best looking earphones or even for the best cheap earphones to buy.
Our resources offer: In-Depth Earphones Reviews, Earphones Scores Compared, an Earphones Size Comparison Tool, a sound frequency cheat-sheet, an Earphones Amplification Comparison Table, a brief audio glossary with the most frequent audio terms and audio definitions, and our Earphones Top Charts (covering the Top 10 Basshead Earphones, Best Bang for Buck Earphones, Top Sports Earphones, Best KZ earphones, Best bang for buck KZ earphones, Best basshead KZ earphones, Best KZ earphones for bass, Best KZ earphones for gaming, Best KZ earphones for sleeping, Best KZ earphones for working out, Best KZ earphones under $20, Best KZ earphones under $50, Best smallest KZ earphones, Top Balanced Earphones, Top Fun Sound Earphones, top smooth sounding earphones), Best Xiaomi Headphones, Best Xiaomi Earphones for Bass, Best Xiaomi Headphones under $50, Best Xiaomi Headphones under $20, The Best Xiaomi Wireless Headphones, Best Bang for Buck Xiaomi Headphones, Best 11.11 Deals and Coupons – Aliexpress – – , Black Friday Coupons and Deals, Aliexpress Anniversary Sale Coupons and Deals, Cyber Monday Coupons and Discounts, Black Friday Coupons Aliexpress, , , Amazon Coupons Discounts Deals Promo Codes Sales, ALIEXPRESS Coupons and Promo Codes – Exclusive Discounts