---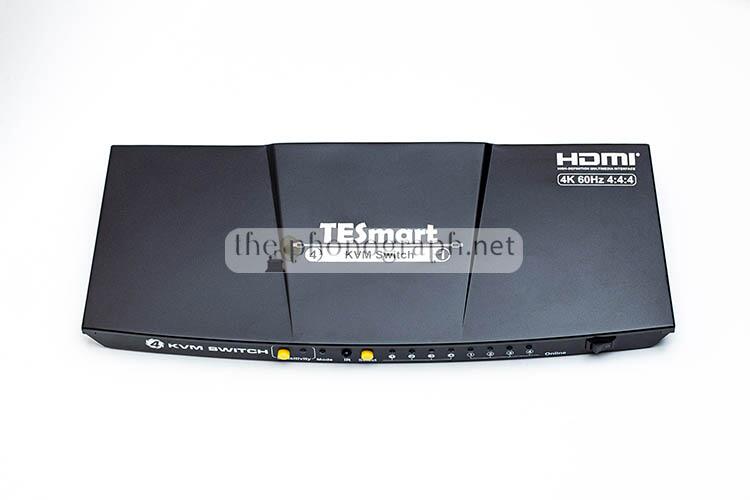 ---
TESmart 4K KVM Switch Type-C HDMI
| KVM Switch | 4K | 60Hz | 4:4:4 |
---

---
TESmart 4K KVM Switch Type-C HDMI, a keyboard, video, mouse switch with high-end specs.
TESmart or better called "To Enjoy Smart" is a brand specialized in the manufacturing of KVM switches, video matrix, extenders and other audio and video products for business and high-demand use.
The TESmart 4K KVM Switch Type-C HDMI HCK0401A1U is their latest 4K HDMI Type-C KVM Switch, enabling the control of 4 computers with one same set of keyboard, mouse and monitor.
You can buy the TESmart 4K KVM Switch Type-C HDMI HCK0401A1U in 2 colors:
• TESmart HCK0401A1U black
• TESmart HCK0401A1U grey
• TESmart HCK0401A1U red
FIND ALL: Earphones Scores Compared
MORE: In-Ear Headphones Reviews
SEE ALSO: Headphones Technical Specifications
---
TESmart 4K KVM Switch Type-C HDMI Review
Tests & Scores
---
AF
Advanced Features
The TESmart 4K KVM Switch Type-C HDMI HCK0401A1U features include advanced specs such as:
• EDID emulators
• HDCP 2.2 compliant
• HDR compatible
• 4K 60Hz 4:4:4


5/5
MORE: Editor's Picks Earphones Chart
MORE: Best Bang for the Buck Earphones
---
A
Accessories & Packaging
The TESmart 4K KVM Switch Type-C HDMI HCK0401A1U unboxing results in:
• 1x USB Type-C data cable
• 3x HDMI/USB cables
• 1x IR remote
• 1x 5v PSU
Users will get all the necessary accessories and cables needed to plug and start using the KVM switch right away, without needing any further purchase of adapters nor cables.
The units comes inside a rectangular box with sufficient protection to withstand normal shipping and handling.


5/5
---
D
Design
The TESmart 4K KVM Switch Type-C HDMI HCK0401A1U has a clean design with an all-black finish (black model).
The brand has done pretty nice job keeping the device slim and particularly small for a KVM switch with these specs and features.
The front panel of the unit holds all the information and button controls while the back panel is reserved to all the input and output ports.
In addition to this, the front panel also sports 10 LED lights that indicate, where the last 8 lights indicate (with labels 1 to 4 on the bottom) the available, connected input PCs and the current PC being used.
It is fair to note that the LED lights are perfectly visible at relatively direct angles but start loose visibility when looked at a steep angle – either sideways and up/down.
On the bottom, users will find dual vent holes to keep the device cool and avoid overheating and 4 rubber feet that give a stable and non-slippery fit on any desktop surface.
The TESmart 4K KVM Switch Type-C HDMI HCK0401A1U measures: 300mm x 117mm x 30mm and weights 800 grams.


4/5
---
OC
Operation & Control
The TESmart 4K KVM Switch Type-C HDMI HCK0401A1U has been wisely designed to have a fast and user-friendly operation with a simple button layout.
On the front panel, users will immediately see 2 yellow popping buttons and a black switch, these 3 buttons can fully control the whole device – all yellow colored buttons are clearly visible and stand-out from the rest of the front-panel, enabling an easy and fast recognition of the buttons.
From left to right, the first yellow button is dedicated to control and set the sensitivity of the mouse connected to the KVM switch, the 2nd yellow button is used to switch from all 3 keyboard, mouse and video to the next attached input device (PC, laptop, etc) – the last black switch on the right corner is a 2-position On/Off switch.
In addition to the physical buttons, the TESmart KVM switch comes bundled with an infrared remote that allows switching directly to any of the 4 input devices by simply clicking the corresponding number on the IR remote. The IR Remote has 8 buttons but only 4 are usable (1 to 4) – buttons labeled M, P, 5 and spinning arrows are not usable nor respond to any function.
Moreover, the unit incorporates Hot Keys for fast switching from the connected keyboard.
Switch shortcuts and other shortcuts by hot keys:
• double clicking "Scroll lock" + number 1 to 4
• double clicking "Scroll lock" + Page Up/Page down
• double clicking "Scroll lock" + F11 (buzzer on-off)
If the buzzer option is turned on, a beep sound will give feedback and confirm every switch command sent to the unit.
Switching can be made either with the IR remote, with the physical button on the front panel of the unit, through the Hot Keys or with a fast switching option by mouse gestures – this last option can be enabled by double pressing "Scroll lock" + F12.


5/5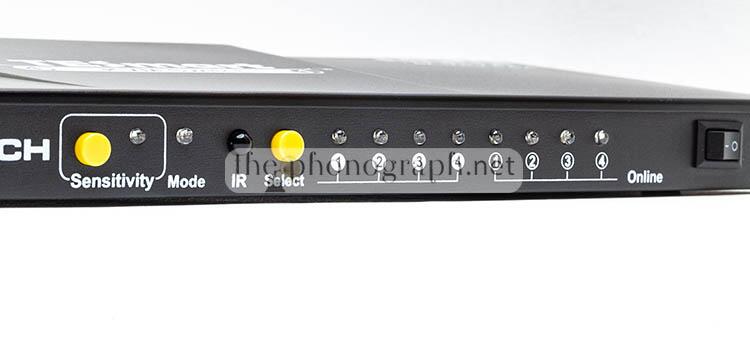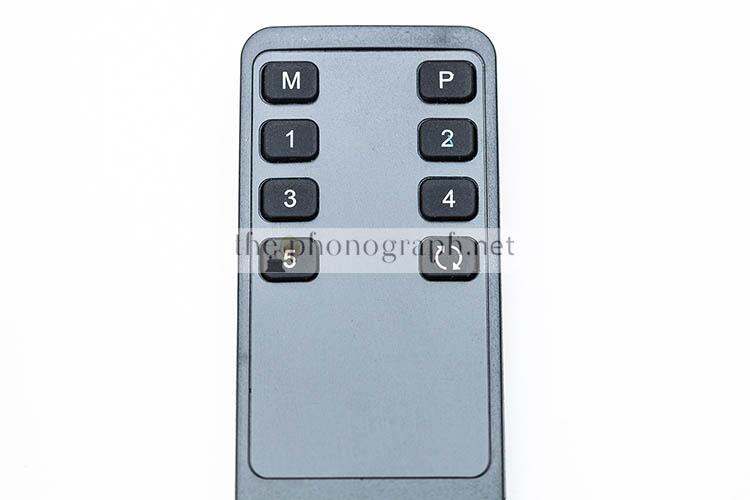 ---
CB
Construction & Build
The TESmart 4K KVM Switch Type-C HDMI HCK0401A1U feels solidly built but with a fairly light final weight.
The main casing of the KVM switch is made of aluminum alloy with only plastic details used for the buttons, switches and light domes – the IR remote is also made of plastic.
TESmart has carefully taken care that none of the buttons give a flimsy sensation nor show any wobbling.
On top of that, all the included cables have the required certifications, girth and length required for both optimal operation and durability – even, all cables come with plastic caps to protect the port's terminals.
Overall, thanks to the metal body, the unit provides a more robust and durable feel than other KVM switches on the market with plastic housings.


4.5/5
---
C
Connectivity
This TESmart 4K KVM switch holds both HDMI + USB and Type-C connection ports.
The back panel holds from left to right (according to our photograph below):
• DC 5V power input
• HDMI Monitor output
• USB 2.0 Additional USB port (printer, external HDD, peripherals)
• 2x USB exclusively for connecting a mouse and keyboard
• Input number 4: HDMI + USB
• Input number 3: HDMI + USB
• Input number 2: HDMI + USB
• Input number 1: USB Type-C (video + data)
• 3.5mm stereo L/R audio output
The specific connectivity details include:
• Data transfer 18 Gbps
• USB hub 2.0
The wide variety of connectivity options enables the KVM switch to be compatible with different types inputs that will not only be limited to PCs.


5/5

RELATED TO THIS: Active Noise Cancelling Headphones Reviews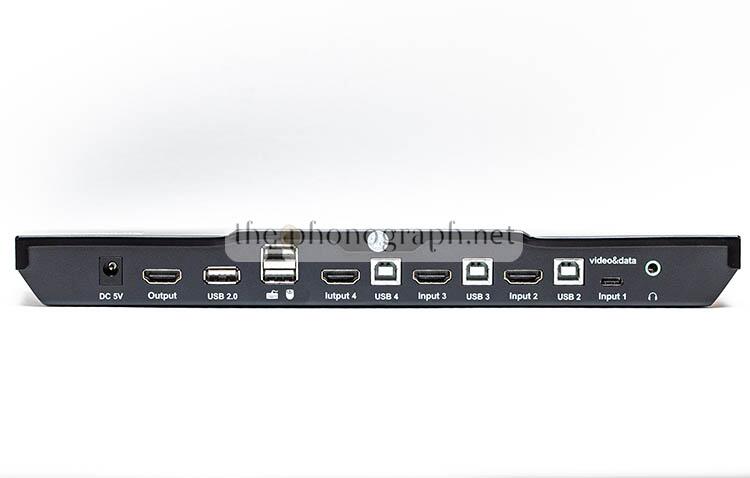 ---
Per
Performance
The TESmart HDMI 4K KVM Switch Type-C is highly-spec'ed with not only 4K support but also 60Hz frequency at 4K and 4:4:4.
Different to other competitors, this KVM switch offers true 4K thanks to the lack of use of chroma subsampling such as 4:2:2 or 4:2:0 and providing a 4:4:4 signal.
A 4:4:4 signal is uncompressed which ensures quality, definition, no blurry issues and no loss of performance at all on high-demand usage such as PC and enterprise usage.
In addition to this, the switch is HDCP 2.2 compliant and has support for high-dynamic-range technology of both HDR10 and Dolby Vision.
Our team tested the switch with both a Sony 60 inch 4K TV and a Philips 43 inch 4K high-end PC monitor with built-in PIP, 4xPBP and 4 inputs. Combining the TESmart KVM Switch with the built-in PIP-PBP capabilities of the Philips monitor, enables an infinite number of I/O combinations, switching and creative use – both devices together will only have the sky as the limit of what you can do.
As a high-demand testing ground the KVM switch was tested with the Philips monitor connected to 2 high-end desktop PCs, 1x MacBook Pro 16 (M1) and 1x Surface Laptop Studio. The testing PCs hold an AMD Ryzen 5950X CPU + AMD RX 6900XT GPU and an Intel i9-12900K CPU + NVIDIA GeForce RTX 3090 – the Surface Laptop Studio was connected through the USB-C port and the MacBook Pro 16 through the HDMI + USB connections (an USB-A to C adapter was needed)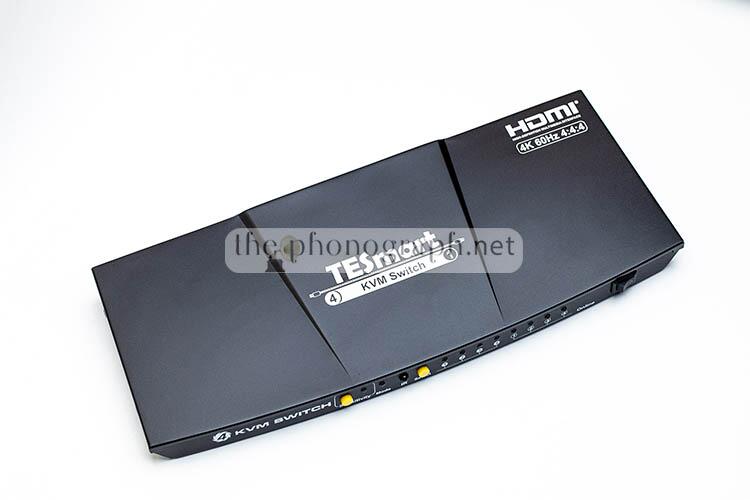 Throughout all the tests, the switch showed a flawless 4K 60Hz output as if connected natively to the video cards of every testing computer.
While testing chroma subsampling with our reference testing patterns, the results also confirmed that the declared 4K 60Hz at 4:4:4 is real as no subsampling artifacts were present, text was perfectly readable while every fine pattern was pristinely defined.
Overall, the video output quality did not show any single trace of muddiness, fuzziness, color distortion nor any sort of artifacts.
Furthermore, our team proceeded to test lag issues and responsiveness.
The results showed no added lag in either input commands nor over output on any monitor and usage. Business desktop use on either Windows OS or MacOS presented the same lag-free behavior while also 4K 60Hz gaming showed the same optimal performance.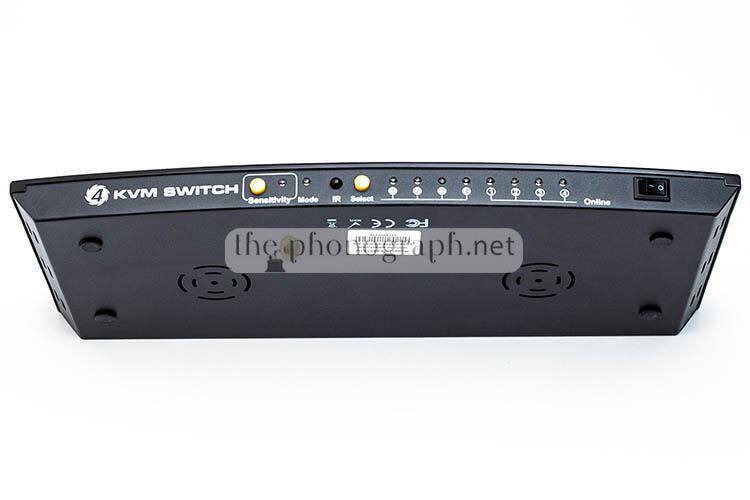 The responsiveness of the switching process showed a 2 seconds blackout between the video output switching but both keyboard and mouse switching were instant without any delay at all. We also noticed that custom software for Mouse-Keyboards such as Logitech G series are not recognized by Logitech´s software when using the KVM switch – this means that the mouse/keyboard will work correctly but will not be able to be customized through Logitech's software.
Moreover, while testing switching between PCs using different output resolutions (like switching from a PC1: 4K 60Hz to PC2: 2K 60Hz and to PC3: 1080p 60Hz) always responded with the exact and correct output on the PC monitor, without any window resizing issues – this is thanks to the incorporated EDID emulators in the TESmart switch.
All the results detailed in this section were shown on all of the 4 computers used.
In addition to this, the power consumption of the device was covered by a small 5V 2A power supply.


4.75/5

RELATED: Best Earphones for Daily Commute
MORE: Most Comfortable In-Ear Headphones
---
---
Follow us:
Get the latest reviews on your favorite social network
---

Scores
TESmart 4K KVM Switch Type-C HDMI Scores
Features -

10/10

Accessories -

10/10

Design -

8/10

Operation & Control -

10/10

Construction & Build -

9/10

Compatibility -

9/10

Connectivity -

10/10

Performance -

9.5/10

Value for Money -

9/10
Summary
Pros
✅ Great performance
✅ Native video quality
✅ Instant mouse and keyboard switch
✅ No lag
✅ IR remote
✅ Low power consumption
Cons
❌ LED lights loose visibility at an angle
❌ Some switching delay for video
Conclusion
The TESmart KVM switch showed excellent performance with pristine video output and endless I/O combinations for a friendly price.
FIND ALL OUR: Earphones Reviews / In-Ear Headphones Reviews
MORE: Best Earphones Charts
---
Buy it from

:

---
---
---
---
---
---
TESmart 4K KVM Switch Type-C HDMI Technical Specifications
HCK0401A1U
4 Port HDMI + Type-C HDMI KVM Switch
Functionality
Auto Scan
Yes
Port selection
Front panel buttons
Keyboard hotkeys
IR remote control
Technical
Resolution
Up to 3840×2160@60Hz 4:4:4
Auto to get EDID
Yes
Data rate
18 Gbps
Auto scan interval
1~250 Seconds
Beep Sound
On/Off
OSD
No
Supported OS
Unix/Windows/Debian /Ubuntu /Fedora /Mac OS X/ Raspbian /Ubuntu for Raspberry Pi and other Linux based system
Console ports
Keyboard emulation
Mouse emulation
USB 2.0 Hub ports
Video /Audio
System ports
USB Data
L/R Audio output
Video / Audio
ESD protection
Human body model – ±8kV (Air-gap discharge)
Mechanical:
Chasing material
Aluminum Alloy
Product dimensions
300 (L) x 117 (W) x 30w (H) mm
Item weight
800g
YOU WILL ALSO LIKE: Amazon Coupons & Deals
MORE:  Gearbest Coupons – Discounts – Deals – Promo Codes – Sales Deals
SEE ALSO: Banggood Coupons – Discounts – Deals – Promo Codes – Sales Deals
SEE ALSO: Aliexpress Coupons – Discounts – Deals – Promo Codes – Sales Deals
MORE: Hybrid Earphones Reviews
MORE: Single Dynamic Driver Earphones Reviews
SELECTED FOR YOU: Aliexpress 11.11 Shopping Festival Coupons
RELATED TO THIS PAGE: Aliexpress Anniversary Sale Coupons and Deals
SEE ALSO: Black Friday Coupons and Deals – Black Friday Aliexpress, Gearbest, Banggood
MORE: Cyber Monday Coupons and Discounts
---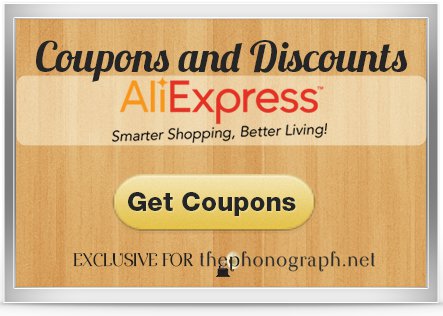 ---
RECOMMENDED
---
Found the Information Useful?
---
We hope you enjoyed this article. All the earphones reviews, earbuds reviews, headsets reviews, in-ear monitors reviews (iem), in-ear headphones reviews are made as objective and thorough as possible to provide our readers a way to choose the best earphones, earbuds, iem, in-ear monitors, headsets and in-ear headphones. By providing exhaustive information we allow our readers to even fine-tune their choices to select among the best budget earphones, best earphones for sports, best basshead earphones, best fun sounding earphones, most balanced earphones, least fatiguing earphones, most comfortable earphones, best looking earphones or even for the best cheap earphones to buy. Our resources offer: In-Depth Earphones Reviews, Earphones Scores Compared, an Earphones Size Comparison Tool, a sound frequency cheat-sheet, an Earphones Amplification Comparison Table, a brief audio glossary with the most frequent audio terms and audio definitions, and our Earphones Top Charts (covering the Top 10 Basshead Earphones, Best Bang for Buck Earphones, Top Sports Earphones, Best KZ earphones, Best bang for buck KZ earphones, Best basshead KZ earphones, Best KZ earphones for bass, Best KZ earphones for gaming, Best KZ earphones for sleeping, Best KZ earphones for working out, Best KZ earphones under $20, Best KZ earphones under $50, Best smallest KZ earphones, Top Balanced Earphones, Top Fun Sound Earphones, top smooth sounding earphones), Best Xiaomi Headphones, Best Xiaomi Earphones for Bass, Best Xiaomi Headphones under $50, Best Xiaomi Headphones under $20, The Best Xiaomi Wireless Headphones, Best Bang for Buck Xiaomi Headphones, Best 11.11 Deals and Coupons – Aliexpress – Gearbest – Banggood, Black Friday Coupons and Deals, Aliexpress Anniversary Sale Coupons and Deals, Cyber Monday Coupons and Discounts, Black Friday Coupons Aliexpress, Gearbest, Banggood, Amazon Coupons Discounts Deals Promo Codes Sales, ALIEXPRESS Coupons and Promo Codes – Exclusive Discounts