---
---
Keydous NJ98
| Mechanical Keyboard | Hot-Swappable | Wireless/Wired | 98% | South-Facing |
---

Keydous NJ98, a premium built mechanical keyboard with a very honest price.
Keydous might not have the popularity of consumer brands such as Razer or Logitech but offers custom-premium quality keyboards and DIY barebone kits for a fraction of the price of plastic, generic mainstream keyboards.
---
---

---
---
FIND ALL: Headphones Scores Compared
---
Keydous NJ98 Review
Tests & Scores
---

Scores
Keydous NJ98 Scores
Accessories -

8.25/10

Design -

10/10

Display Screen -

9/10

Ergonomics -

9.75/10

Construction & Build -

10/10

Keycaps -

9.5/10

Switches -

10/10

Connectivity -

9.75/10

Customization -

10/10

Typing -

10/10

Gaming -

8.75/10

Productivity -

10/10

Office -

10/10

Tablet-Mobile -

8/10

Programming -

10/10

Sound -

10/10

Durability -

10/10

Lighting -

10/10

Software -

8.75/10

Battery -

9/10

Value for Money -

10/10
Summary
Pros
✅ Excellent sound and performance
✅ Huge variety of build options
✅ Refined aesthetics
✅ Great keycaps
✅ Wired and wireless
✅ Large battery
✅ Display screen (detachable)
Cons
❌ Keycaps are hard to read when backlight is off
CONCLUSION
The Keydous NJ98 is a phenomenal premium keyboard that can be a production beast and a perfect main keyboard to use as a daily driver to cover all sort of tasks.
MORE: Best Headphones Charts
---
A
ACCESSORIES & PACKAGING


4.25

/5
The box containing the keyboard might give users a wrong impression of the high quality of the keyboard that you are actually getting.
Inside the box you will find:
• 3 keycap set for Mac
• Keycap puller
• Switch puller
• USB-C cable
• 4 additional stabs housings and stems
• Keyboard cover
---
D
DESIGN


5

/5
The Keydous NJ98 has a 98% layout including nearly all the keys found on a 100% keyboard but with a noticeable reduction of its foot print.
As you  might notice from our photos, on the upper right area, the keyboard sports a display screen and a knob; both inherit a color and finish that matches the color variant that you chose for your NJ98.
The case of the Keydous NJ98 has a frosted, semi-translucent polycarbonate build that allows partial visibility of the upper brass plate layer and from the backlighting of the board (the case can be "solid" non-frosted if you choose a different model)
On the bottom you can find a pair of height adjustable feet (1 height adjustment) and 6 very rubberized anti-slip feet.
---

---
The Keydous NJ98 is available in 7 different color versions, 2 different plate options and with 10 different switches variants; the color options include:
• Keydous NJ98 white
• Keydous NJ98 pale green
• Keydous NJ98 white-side lit keycap
• Keydous NJ98 dark solid black case
• Keydous NJ98 Black Samurai smokey black case – model that we are reviewing
• Keydous NJ98 pink white bottom case
• Keydous NJ98 khaki white bottom case
The color variants of the NJ98 do not differ only in color, each one will have different combinations of keycaps, profile and knob/screen colors; Keydous has a very clear chart on their website showing the differences between all the NJ98 models.
---
DC
DISPLAY SCREEN


4.5

/5
The Keydous NJ98 includes a TFT multi-colored screen with a modular design. The display might be substantially smaller than on other keyboards with huge screens like the SKYLOONG GK87 or Epomaker RT100 but the information displayed, clarity of the status info and versatility is way better implemented.
Without too many unnecessary items shown on the screen (besides the central section with the animated GIF) the display provides immediate identification of the mode being used (wired, wireless or BT), the battery status, clock (but does not includes date), Caps Lock, Num Lock.
The display even has a standalone calculator mode that allows to use the number pad and screen as a calculator with all the calc information being displayed live on the screen. The brand implemented this calculator mode in a smart way that only the number pad is used for the standalone calc mode while leaving the rest of the keyboard fully enabled to be used as a normal keyboard – of course, do not expect a scientific calculator, this is intended for basic mathematical operations.
The screen also supports uploading of animated colored GIFs, static designs or custom designs (all through Keydous software and with 8 slots to be saved and swapped on-the-fly) – you have the option to download and apply GIFs uploaded by the community.
A detail that we noticed was that if you hot-unplug and then hot-replug it, the screen will not turn on unless you reboot the keyboard.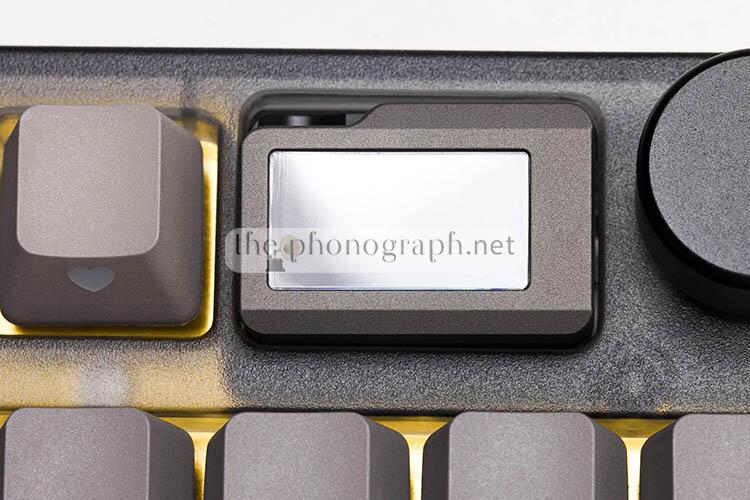 ---
CB
CONSTRUCTION & BUILD


5

/5
As soon as you get your hands on the Keydous NJ98 you can feel the high construction quality of the keyboard.
Despite not having a metal case, the NJ98 is in a whole new level above most other non-metal keyboards – far above other competitors offering similar or even much higher prices.
The general build of the externals does not have metal elements with the exception of the knob and the screen that are actually made of a hefty aluminum alloy.
Inside, the keyboard is equipped with a 3-section layering of foam that includes dampening for the switch, PCB and bottom layer. Specifically, you are getting INOAC Poron for the PCB and bottom layer and an IXPE switch foam.
In addition to this, you can select between a steel plate or a brass plate.
---
KC
KEYCAPS


4.75

/5
The Keydous NJ98 can be bought with "normal" dye-sub PBT keycaps (also double-shot PBT) or with the side-lit PBT that you can see in our review.
The keycaps have a fine-textured finish that provides a nice non-slippery feel and an OEM profile.
Moreover, these side-lit keycaps add a special look to the keyboard and are excellent regarding usability but you have to consider that if the LED backlights are turned off, the readability of the keycaps fonts becomes significantly more difficult than on a standard keycap.
Despite this, when the lights are turned on, the keycaps do an exceptional job facilitating the recognition of each key or understanding if Caps Lock, Num Lock are turned on or off – there is no random guessing unlike what happens with most keyboards with non-shine through PBT keycaps.
We have to admit that the combo offered by the Keydous NJ98 with the south-facing LEDs and the side-lit keycaps has become one of our all-time favorites.
In comparison with "standard" premium PBT keycaps, these side-lit keycaps will have a slimmer body.
Moreover, the delightfully smooth knob provided a silent movement but with a clearly tactile feedback.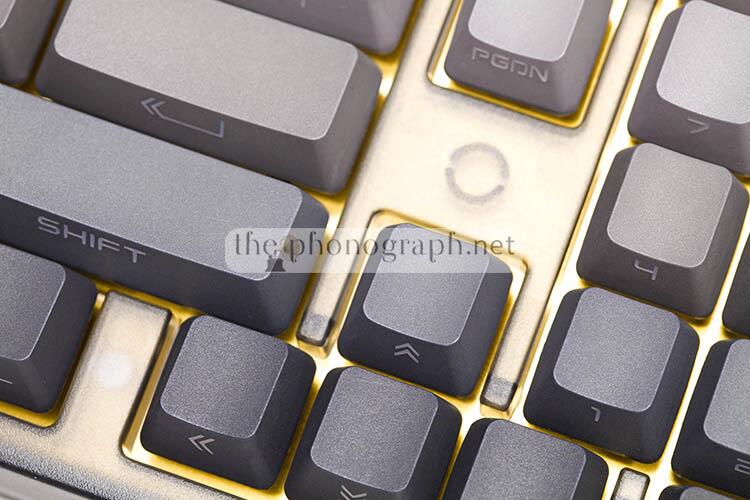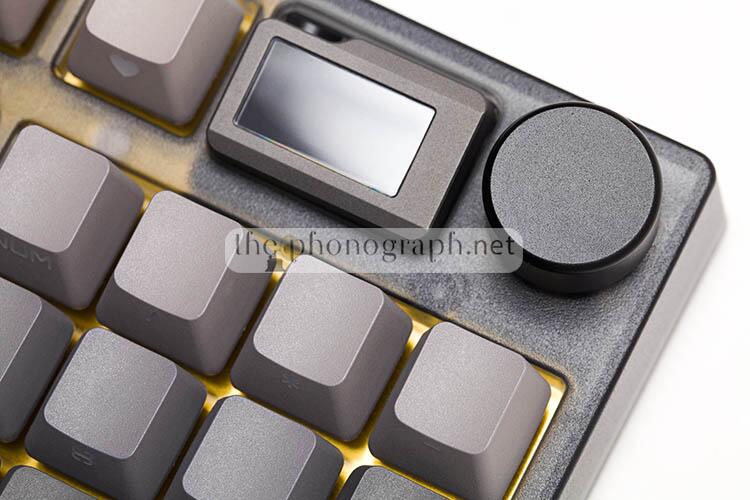 ---
SW
SWITCHES


5

/5

The Keydous NJ98 can be bought with many varied pre-assembled (and pre-lubed) switches that include 5 linear switches, 2 speed linear, 2 tactile and 1 silent linear:
• Gateron Milky Yellow Pro (linear)
• Kailh BOX Strawberry Ice Cream Pro (linear)
• Kailh BOX Blueberry Ice Cream Pro (speed linear)
• Kailh BOX Taro Ice Cream Pro (linear)
• Kailh BOX Deep Sea – Islet (silent linear)
• Kailh BOX Coffee Ice Cream (tactile)
• TTC ACE V2 (linear)
• TTC Gold Pink V2 (linear)
• TTC Speed Silver (speed linear)
• Gateron Baby Kangaroo (tactile)
To make the best use of the side-lit keycaps and backlighting we decided to select the Kailh BOX Taro Ice Cream switches that have a specific light converging element and design to optimize backlighting shine-through.
The Box Taro Ice Cream switches are linear switches with the lighter operating force of the linear Kailh options and the 2nd fastest one.
While testing it, we noticed a highly smooth travel with complete absence of scratchy issues.
BOX Taro Ice Cream
• Type: linear
• Pre-lubed: yes
• Material : Full POM
• Operating Force: 37±10gf
• Pre-travel: 1.3±0.4mm
• Total Distance: 3.5±0.3mm
• Sound Level: low
• Mechanical Life: over 50m times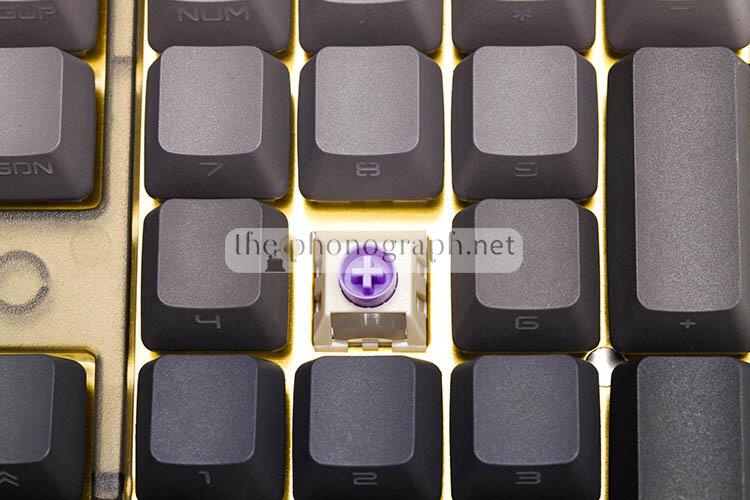 ---
CON
CONNECTIVITY


4.75

/5
The Keydous NJ98 has 3 connection modes including a wired one through the USB-C port, a 2.4GHz wireless with the dongle and a Bluetooth one that includes 3 different BT connection slots. The combination of all allow users to connect up to 5 devices and switch back and forth between them with ease.
To set the keyboard either in wired or wireless mode, you need to change the position of a hidden switch on the bottom case (also the dongle is hidden in a slot on the bottom case area). Instead, changing wireless modes is done directly through hotkeys.
The status of your connection and chosen wired or wireless modes are always clearly informed by the screen and backlight over the corresponding keys to each mode.
---
C&R
CUSTOMIZATION & REPROGRAMMING


5

/5
The board of the Keydous NJ98 is hot-swappable and compatible with 3-pin and 5-pin mechanical switches, this means that you can easily replace the switches without having to get into soldering.
The display screen has a modular detachable design with a magnetic docking system, allowing to unplug and remove it with ease – though the space left is not reusable by switches or extra knobs.
The brand offers a whole new level of configuration choices allowing buyers to get a fully assembled keyboard from factory but with a level of premium components and variety that you could only find if you bought a barebones kit and build it by yourself.
With a total of 7 case shells, 3 keycap types with 2 different profiles, 10 switches models and even the possibility to choose a steel or a brass plate, Keydous is raising the bar of customization options on pre-assembled keyboards.
On the software side of customization the NJ98 enables 100% per-key reprogrammability, per-key lighting and macros – even the knob can be reprogrammed in its clockwise, counterclockwise rotational movement and on the press function.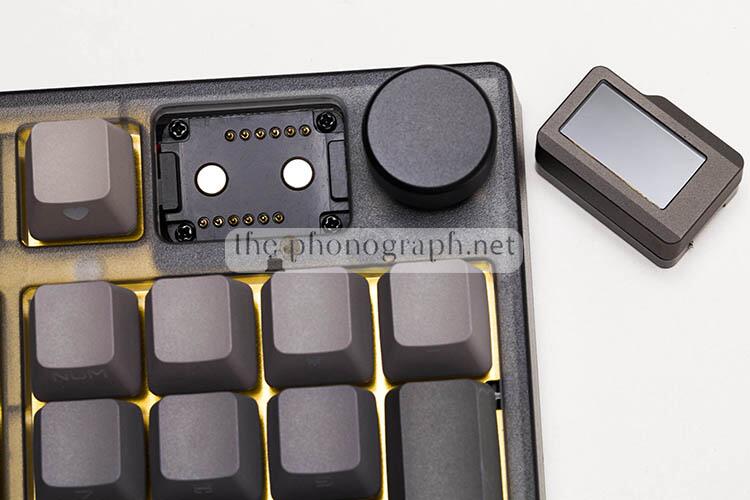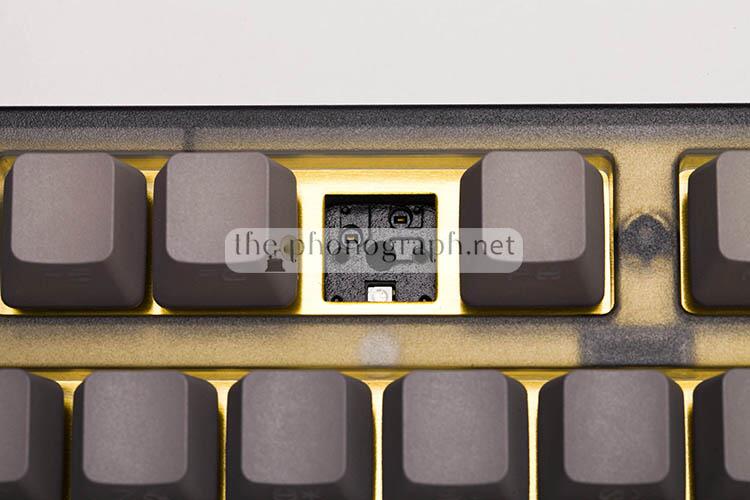 ---
P&E
PERFORMANCE & USE
TYPING


5/5
From daily typing to serious and professional typing for the creation of articles/documents; the Keydous NJ98 is a phenomenal keyboard that provides a highly comfortable with an advantageous layout, design and efficiency.
With a polished and fluid switch/keys performance, typing on the NJ98 is a true pleasure.
GAMING


4.5/5
For our taste, a keyboard near the 100% layout is a bit too large for gaming purposes but there is a huge community of professional gamers that opt for 100% keyboards for their competitive gaming.
Nonetheless, the Keydous NJ98 offers many specs that will check the list of a gaming keyboard, such as:
• 1000Hz polling rate in wired and wireless mode (not in BT)
• Large battery
• Outstanding RGB backlighting
• Premium switches, stabs and inner components
• Multimedia knob
• Display screen
If you are intending to use the keyboard as a gaming one, you might be better choosing the NJ98 with the BOX Blueberry Ice Cream Pro or TTC Speed Silver switches, which are speed linear.
PRODUCTIVITY


5/5

The 98% layout with full access to the F number row, numpad and the additional elements such as the rotary encoder and handy screen make the Keydous NJ98 a prolific keyboard that can ease up and boost your productivity and workflow.
OFFICE


5/5
People looking for a keyboard for their home-office, work and even to carry back and forth from your home to your office can find a perfect companion with the NJ98.
Some features that stand out for this use include:
• Wired and wireless connection
• Numpad
• Knob
• RGB backlight
• Screen
• Silent, linear and tactile switches available
TABLET/MOBILE


4/5
The model that we chose with the brass plate adds up a substantial weight to the keyboard, of course if you were aiming for portability you would not be selecting a nearly 100% keyboard with a huge battery and a brass plate.
Nonetheless, users looking for a premium keyboard to match it with a more fixed than mobile iPad use/configuration will have a vastly superior keyboard with the NJ98.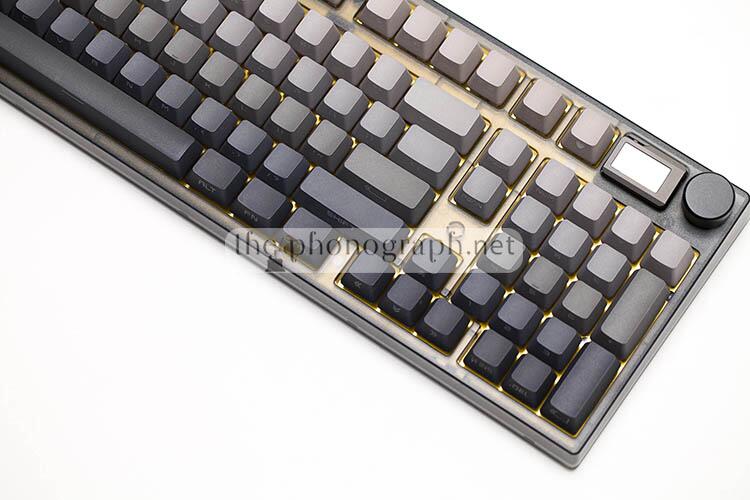 ---
L
LIGHTING


5

/5
The side-lit keycaps combined with the frosted semi-translucent case provide a refreshingly new flavor on lighting presets and effects that give it more of a 3D sensation.
As a matter of fact, the aesthetic final result of the backlighting looks more refined and better implemented than on most standard RGB backlighted keyboards with either north or south-facing boards – the gap advantage over south-facing keyboards with non-shine through PBT keycaps is massive.
There is something about the Keydous NJ98 backlight design that enables it to be transformed from an elegant one to an eye-candy one (depending on the lighting preset) but never looking tacky like many flashy RGB keyboards.
On top of the community downloadable GIFs, Keydous went a step further allowing sharing and downloading of community designed custom RGB lighting patterns/presets. If you are bored of the classic lighting effects, these community light effects will provide a fresh new look to your backlighting.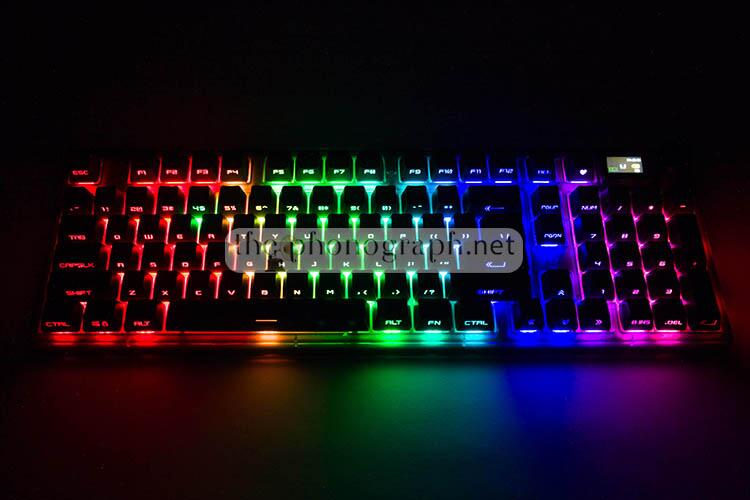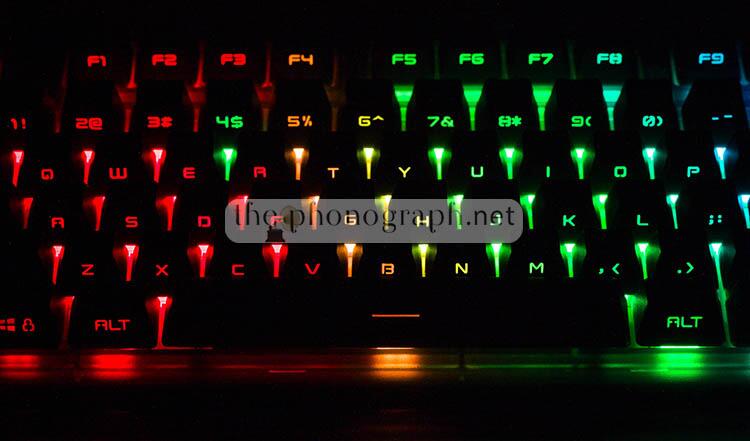 ---
S
SOUND


5

/5
The specific configuration of the Keydous NJ98 that we are reviewing includes the BOX Taro Ice Cream switches, side-lit keycaps and brass plate.
The sound of this combo resulted in a refined, clacky-deep flavor with not even a single trace of pinging, hollow feel, echo nor resonance.
The NJ98, though, can sound way deeper and thockier than what we are obtaining with this configuration, the less-thocky and more clacky element of this combo are the super nice looking side-lit keycaps that due to the thinner body, they provide a "less-deep" sound. In fact, we also tested the Keydous NJ98 with some premium, very thick, PBT keycaps and the thocky and profound nature of the NJ98 arise immediately.
Of course, we made a configuration choice that might seem contradictory in our NJ98 by selecting it with the brass plate for a deeper sound but with side-lit keycaps, yet this also provides a new layer of customization freedom to allow it to be clacky-deep with the side-lit keycaps or able to be remarkably deep-thockier with other thicker PBT keycaps.
On top of that, the pre-lubed stabilizers do a great job offering a pristinely clean and smooth travel and sound with no rattling at all.
---
SW
SOFTWARE


4.5

/5
The software from Keydous might not look as aesthetically polished as the software from big mainstream commercial brands but it offers a solid potential to fully customize the keyboard.
Exactly as seen on other keyboards that have the community option to download and apply GIFs animations and lighting effect presets, the software is a little slow and buggy listing the community GIFS/light effects, though once downloaded, the software works well and as intended to apply the GIFs to the screen.
---
B
BATTERY


4.5

/5
Fortunately, the brand has equipped the Keydous NJ98 with a massive 8000mAh battery as the neat keycaps fonts depend on backlighting to be easily readable and the screen will also be another power consuming element.
Keydous reports a battery life of up to 29 hours when both the RGB lights and screen are always on and as much as a whopping 800 hours of runtime when the screen and backlights are turned off.
From our tests, we can say that the brand is informing realistic battery runtimes.
---

---
Keydous NJ98 Technical Specifications
Model
Keydous NJ98
Layout
98% + 1 knob
Hot-swappable
Kailh Switch Sockets
Keycap Material
PBT
Keycap Profile
OEM
Connectivity
USB-C/Bluetooth 5.0/ 2.4G wireless
Battery Capacity
8000mAh
LED Direction
South-facing
Screen
Yes
Dimension
403 x 138 x 40 mm
Weight
1.4kg
---
Follow us:
Get the latest reviews on your favorite social network
YOU WILL ALSO LIKE: Amazon Coupons & Deals
SELECTED FOR YOU: Aliexpress 11.11 Shopping Festival Coupons
RELATED TO THIS PAGE: Aliexpress Anniversary Sale Coupons and Deals
SEE ALSO: Black Friday Coupons and Deals – Black Friday Aliexpress coupons
MORE: Cyber Monday Coupons and Discounts
We hope you enjoyed this article. All the earphones reviews, keyboards reviews, power tools reviews, music players reviews, DAC reviews, amplifiers reviews, smartwatch reviews, gadget reviews, tech reviews, dashcam reviews, earbuds reviews, headsets reviews, in-ear monitors reviews (iem), in-ear headphones reviews are made as objective and thorough as possible to provide our readers a way to choose the best earphones, earbuds, iem, in-ear monitors, headsets and in-ear headphones. By providing exhaustive information we allow our readers to even fine-tune their choices to select among the best budget earphones, best earphones for sports, best basshead earphones, best fun sounding earphones, most balanced earphones, least fatiguing earphones, most comfortable earphones, best looking earphones or even for the best cheap earphones to buy.
Our resources offer: In-Depth Earphones Reviews, Earphones Scores Compared, an Earphones Size Comparison Tool, a sound frequency cheat-sheet, an Earphones Amplification Comparison Table, a brief audio glossary with the most frequent audio terms and audio definitions, and our Earphones Top Charts (covering the Top 10 Basshead Earphones, Best Bang for Buck Earphones, Top Sports Earphones, Best KZ earphones, Best bang for buck KZ earphones, Best basshead KZ earphones, Best KZ earphones for bass, Best KZ earphones for gaming, Best KZ earphones for sleeping, Best KZ earphones for working out, Best KZ earphones under $20, Best KZ earphones under $50, Best smallest KZ earphones, Top Balanced Earphones, Top Fun Sound Earphones, top smooth sounding earphones), Best Xiaomi Headphones, Best Xiaomi Earphones for Bass, Best Xiaomi Headphones under $50, Best Xiaomi Headphones under $20, The Best Xiaomi Wireless Headphones, Best Bang for Buck Xiaomi Headphones, Best 11.11 Deals and Coupons – Aliexpress – – , Black Friday Coupons and Deals, Aliexpress Anniversary Sale Coupons and Deals, Cyber Monday Coupons and Discounts, Black Friday Coupons Aliexpress, , , Amazon Coupons Discounts Deals Promo Codes Sales, ALIEXPRESS Coupons and Promo Codes – Exclusive Discounts