---
SMSL DO300EX
 | DAC | Headphone Amp | Bluetooth | 2000mW | DSD512 | MQA |
---

---
SMSL DO300EX, the newest DAC & headphone amp from SMSL with premium specs.
The SMSL DO300EX is part of the DO models (which are Digital-to-Analog Converters) and belonging to the 300 series. The 300 series are the mid-upper tier of their products, being 2 categories above the budget 100 series and the mid 200 series. The SMSL DO300EX can be considered the evolved, bigger brother of the 2022 SMSL DO300.
Many of the products on the DO series are only DAC devices but the SMSL DO300EX is actually a 3-in-1 audiophile system that includes capabilities as a: headphone amplifier, DAC and preamp.
Among the premium inner components, the SMSL DO300EX is equipped with:
• DAC chip: AKM flagship AK4191+AK4499EX
• USB chip: 16-core XMOS XU-316
• Op amp: 5x OPA1612A
FIND ALL: Headphones Scores Compared
MORE: Reviews – Headphones, Music Players, DAC, DAP, Amp, Cables
SEE ALSO: DAP/DAC Reviews
---
SMSL DO300EX Review
Tests & Scores
---

Scores
SMSL DO300EX Scores
Accessories -

7.5/10

Design -

10/10

Operation & Control -

10/10

Construction & Build -

10/10

Compatibility -

10/10

Screen -

8.75/10

Connectivity -

10/10

Sound -

10/10

Features -

9.75/10

Value for Money -

9.75/10
Summary
Pros
✅ 3-in-1 audiophile system
✅ Flagship components
✅ Excellent performance
✅ Powerful
✅ Groundbreaking specs
✅ Low power consumption
Cons
❌ Smaller fonts for settings menu
❌ No treble/bass/balance control
Conclusion
The SMSL DO300EX offers a 3-in-1 audiophile system with flagship components, stellar performance and premium tech specs for the price of a fair mid-tier DAC.
---
AF
Advanced Features
The SMSL DO300EX includes advanced features such as:
---
---

---
---
• USB DAC
• Bluetooth
• PCM 768kHz / 32bit
• DSD512 decoding
• MQA
• Balanced output
• CK-03 clock processing + 2nd PLL for jitter control
---
AC
Accessories & Packaging
The SMSL DO300EX comes inside the usual white packaging from SMSL. Inside you will find the unit very well protected by a generous amount of padding and the following accessories:
• IR remote control
• Power cable
• USB-C cable for DAC use
• Bluetooth antenna


3.75/5
---
D
Design
The SMSL DO300EX has a premium aesthetic thanks to a clean, all-black finish with a CNC aluminum (you can also get it with a silver front panel) and a left-aligned floating screen design that adds a touch of unique personality to the DAC.
On the front panel you find the display, a large knob and the headphone connectors while all the rest of the I/O and power connectors are placed on the back panel.
The design decision of placing the display over the left edge for the DO300EX makes it a sweet stack match with the AO200 MKII which has its display on the right edge. Stacking both, these opposite display placement give it a simple visual separation that avoids confusion if you are reaching your DAC/headphone amp (DO300EX) or your speaker amp (AO200 MKII)
Moreover, the SMSL DO300EX follows a coherent design with the rest of the products from the brand in similar categories, allowing users to build-up an audiophile stack system that harmoniously look and match with each other.
If you compare it with SMSL 100 series, the DO300EX is fairly larger but it shares similar dimensions with many of the 200 series.
Specifically, the SMSL DO300EX measures 222 x 39 x 207mm.


5/5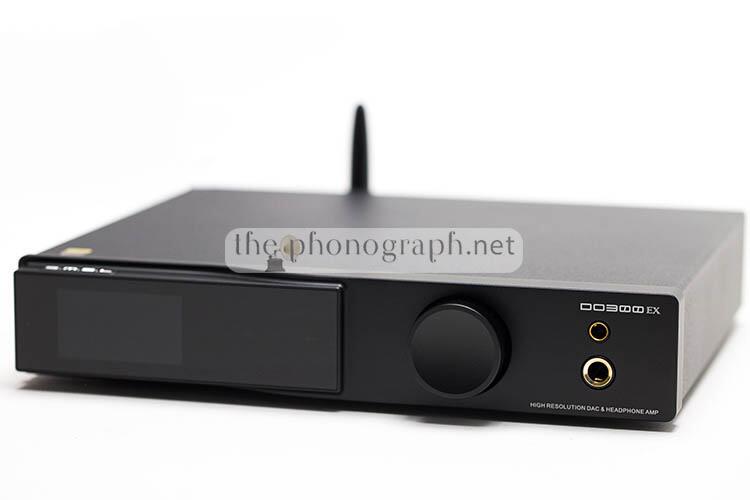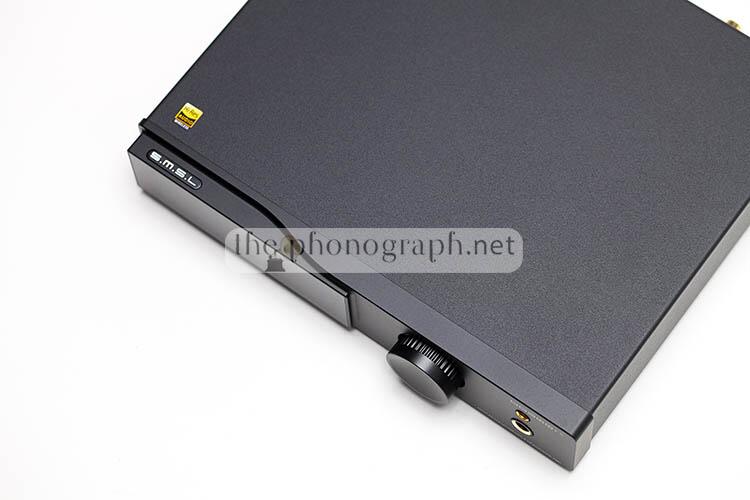 ---
OC
Operation & Control
The DO300EX packs quite a lot of features and settings inside but the brand did a good job keeping it extremely easy to operate and control with either the knob that is also a multifunction button or through the IR remote control. Either control option give you access to the full navigation, operation and customization of the DAC.
The knob has a curved front instead of the typical flat surface seen on knobs; this detail is not easily seen on photos nor even many times in person but it adds an unexpectedly ergonomic placement of the thumb when grabbing the knob to handle it.
The knob can be used to control volume levels but once in menus it also acts as a navigation wheel and as a "enter/back" button.
Rotating the knob allows an infinite movement both clock and counterclockwise that and you will feel a tactile feedback for each step but with a completely silent movement and no clicky sounds at all – each step corresponds to 0.5dB.
With the multi-function button you can:
• Press and hold: Standby on/off
• Single press: Enter settings menu
• Single press: Confirm setting
Being also a preamp, the SMSL DO300EX offers specific preamp settings regarding volume control where you can opt the DO300EX to offer a fixed output or to enable the volume output from your amp and from the DO300EX.
How to power the SMSL DO300EX:
Having an internal PSU, the SMSL DO300EX also holds a dedicated power on/off switch on the back panel but the unit can also be set in a soft power-off/standby mode by either pressing and holding the button/knob or through the IR remote – the specific power consumption in standby mode is less than 0.5W and you will obtain an instant power on when "waken up".
Whether you prefer to turn the unit completely off or set it to standby when you do not use it, the DAC is actually very fast to turn on from a full power off/on cycle.


5/5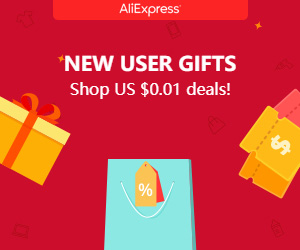 ---
CB
Construction & Build
SMSL does never disappoint in the build department as even their entry-level products offer a rugged construction.
The DO300EX, in fact, inherits the durable and quality feel that has been seen on nearly every other SMSL product that we have reviewed.
This is thanks to a full CNC aluminum-alloy case and a resistant tempered glass that protects the display section.
On the bottom, the unit has 4 rounded feet that are a bit raised, adding a space between the unit and the surface where it stands (or from other stacked devices), allowing better air flow and thermal control; while the silicone-alike material of the feet does an excellent job keeping the DAC in place.


5/5
---
CM
Compatibility
The USB connection of the FX-AUDIO DAC-M1 enables the unit to be compatible with computers as a DAC + headphone amp while the COAX, optical, I2S enables it to be paired with a TV, media center or other audio devices/sources.
The RCA output permits an easy connection with active speakers and the XLR balanced outputs will provide the means for an audiophile connection to passive speakers through an amp; also the Bluetooth connection makes compatible with any BT device (for example smartphones and tablets)


5/5
---
SC
Screen
The screen uses big, clear fonts with a 4-color pattern that eases up reading and recognition of information.
The center of the display informs the volume level set in dB at 0.5dB per step with a range of control that goes from -100dB up to +1.5dB; thus you get 203 steps of fine-control of your volume. The upper section will let you know the input/output mode selection being in use and the bottom end will give you information about kHz, BT status and other handful details.
The display also shows excellent viewing angles as the tech of the screen used is IPS with a full-laminated design.
If you happen to own the SMSL AO200 MKII, you might notice that the max. brightness of the AO200 is higher than what the DO300 can reach, yet the display from the DO300EX is far from being dim; even on bright rooms – brightness and time-off dimming for the screen can be set through the menus.


4.5/5
---
C
Connectivity
The SMSL DO300EX provides a vast possibility of I/O connections thanks to 5 input options and 4 outputs (gold plated I/O terminals)
Specifically, you get:
Inputs
• USB-C DAC
• Bluetooth
• Coaxial
• Optical
• I2S (HDMI)
---

---
Thanks to the in-menu settings, users will have the option to: set the audio phase for the XLR connection, choose I2S as normal or reversed to fit the standard of the I2S interface that you are using and the I2S DSD channel to match the correct output of L/R channels.
Outputs
• XLR balanced
• RCA stereo (unbalanced)
• 4.4mm headphone jack
• 6.35mm headphone jack
Connections Technical Specifications
• USB: up to 768kHz / 32bit
• Optical/COAX: up to 192kHz / 24bit
• Bluetooth 5.1: up to 96kHz / 24bit, LDAC /AAC / SBC / aptX / aptX-HD


5/5
---

---
S
Sound


5

/5

As expected from a higher-tier product, the DO300EX did never show popping sounds neither connecting or disconnecting headphones (even with the unit turned on while doing it) and no scratching noises from the potentiometer.
We proceeded to test the performance of the SMSL DO300EX as a DAC and headphone amp with a beyerdynamic DT-990 PRO 250 ohm, beyerdynamic DT-7700 PRO 250 ohm, Sennheiser HD650 and Sennheiser HD600. Power-wise, thanks to it whopping 2000mW of max. output, the DO300EX had absolutely no issue driving neither of the 4 headphones connected; with more than enough head-up room to crank up the volume above safe dB levels.
At the same time, the DAC/amp did a stellar job preserving the nature and distinct sound profiles of each of these iconic headphones without adding nor subtracting character to them.
When tested as a Bluetooth amp, the DO300EX showed again pristine sound on a Bowers & Wilkins PX headphone – also, no BT hiccups nor sudden disconnections happened at any given time.
Moreover, the DAC did not suffer from static noise nor any audible artifacts that could affect your listening sessions.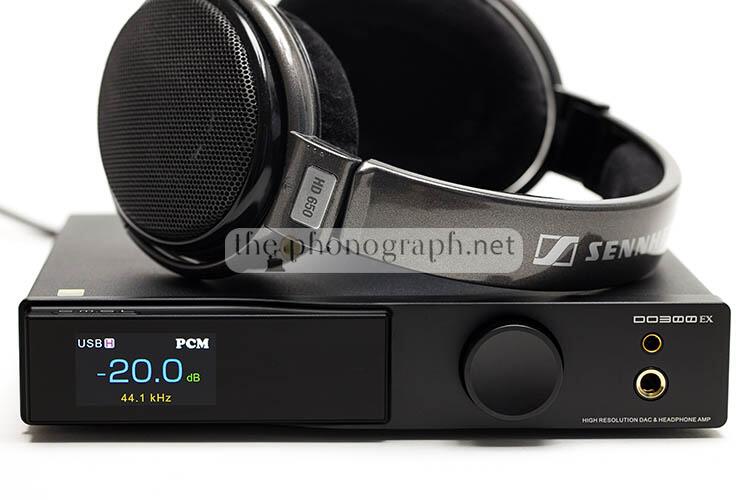 When measuring the precision of the potentiometer, the DO300EX presented a precise measured 0.5dB per step control of volume output; faithful to the representation seen on the information of the display screen.
In addition to this, our frequency response measurements revealed a perfectly flat response without any spikes/dips or unexpected sudden peaks nor roll-off.
Furthermore, the results showed no coloration, distortion issues nor any channel imbalance.
All the tests showed the same results with or without the +7dB of gain provided by the HPA circuitry.
With the DO300EX you might not find the classic bass or treble control but you get access to more audio-enthusiast controls like PCM filters, DSD filters, HPA gain and sound color presets. All these add a whole new layer of sound customization for different audiophile flavors.
Moreover, the DAC supports MQA decoding either through USB, optical fiber or coaxial connections, with no need of dedicated software to handle MQA playback.
Sound Technical Specifications
Seeing all the flagship components packed inside the SMSL DO300EX and the premium specs, it is no surprise that our tests of the DO300EX showed an impeccable performance.
Among some whopping specs you will get:
• SNR: 132dB
• THD+N: 0.00006% (-124dB)
• HPA gain: +7dB
• Max. line output: 5Vrms
• Max. headphone output: 2000mW
PCM Filters:
The DO300EX includes 6 built-in PCM filters to choose from:
• SHARP ROLL-OFF
• SLOW ROLL-OFF
• SHORT SHARP
• SHORT SLOW
• SUPER SLOW
• LOW DISPERSION
MORE: Editor's Picks Earphones Chart
MORE: Best Bang for the Buck Earphones
---

---
Follow us:
Get the latest reviews on your favorite social network
---
SMSL DO300EX Measurements
SMSL DO300EX Frequency response
SMSL DO300EX Volume Control Precision
FIND ALL OUR: Earphones Reviews / In-Ear Headphones Reviews
MORE: Best Earphones Charts
RECOMMENDED FOR YOU: Headphones Frequency Response Curves
SEE ALSO: KZ Headphones Frequency Response Curves
---
SMSL DO300EX Technical Specifications
Input:USB/Optical/Coaxial/Bluetooth/I2S
Output:RCA/XLR/4.4mm+6.35 Headphone Jack
THD+N:0.00006%(-124dB)(UN-WTD)
HPA THD+N:0.0001%(-120dB)(UN-WTD)
Line output amplitude:
XLR 5Vrms
RCA 2.5Vrms
Headphome output power:2Wx2(16Ω) / 1Wx2(32Ω)
Output Impedance:
XLR 200Ω / RCA 100Ω / HPA near 0Ω
HPA gain control: low 0dB / high +7dB
Dynamic range:XLR 132dB / HPA 127dB
SNR: XLR 132dB / HPA 127dB
USB transmission:Asynchronization
USB compatibility:Windows 7 / 8 / 8.1 / 10 / 11(Needs Driver), Mac OSX10.6 or Later、Linux(Driverless)
MQA decoder:USB/Optical/Coaxial
Sampling rate & Bit Width:
USB PCM :44.1~768kHz(32bit)
2.8224~22.5792MHz(1bit)
DoP:DoP64~DoP256
Optical / Coaxial 44.1~192kHz(24bit)
DoP:DoP64
Bluetooth specification:5.1(Supports SBC,AAC,aptX,apt HD,LDAC(24bit/96kHz))
Power Consumption:<20W
Standby power:<0.5W
Size:222x39x207mm(WxHxD)
Weight:1.54kg/3.40lbs
SEE ALSO: Aliexpress Coupons – Discounts – Deals – Promo Codes – Sales Deals
MORE: Hybrid Earphones Reviews
MORE: Single Dynamic Driver Earphones Reviews
We hope you enjoyed this article. All the earphones reviews, keyboards reviews, power tools reviews, music players reviews, DAC reviews, amplifiers reviews, smartwatch reviews, gadget reviews, tech reviews, dashcam reviews, earbuds reviews, headsets reviews, in-ear monitors reviews (iem), in-ear headphones reviews are made as objective and thorough as possible to provide our readers a way to choose the best earphones, earbuds, iem, in-ear monitors, headsets and in-ear headphones. By providing exhaustive information we allow our readers to even fine-tune their choices to select among the best budget earphones, best earphones for sports, best basshead earphones, best fun sounding earphones, most balanced earphones, least fatiguing earphones, most comfortable earphones, best looking earphones or even for the best cheap earphones to buy.
Our resources offer: In-Depth Earphones Reviews, Earphones Scores Compared, an Earphones Size Comparison Tool, a sound frequency cheat-sheet, an Earphones Amplification Comparison Table, a brief audio glossary with the most frequent audio terms and audio definitions, and our Earphones Top Charts (covering the Top 10 Basshead Earphones, Best Bang for Buck Earphones, Top Sports Earphones, Best KZ earphones, Best bang for buck KZ earphones, Best basshead KZ earphones, Best KZ earphones for bass, Best KZ earphones for gaming, Best KZ earphones for sleeping, Best KZ earphones for working out, Best KZ earphones under $20, Best KZ earphones under $50, Best smallest KZ earphones, Top Balanced Earphones, Top Fun Sound Earphones, top smooth sounding earphones), Best Xiaomi Headphones, Best Xiaomi Earphones for Bass, Best Xiaomi Headphones under $50, Best Xiaomi Headphones under $20, The Best Xiaomi Wireless Headphones, Best Bang for Buck Xiaomi Headphones, Best 11.11 Deals and Coupons – Aliexpress – – , Black Friday Coupons and Deals, Aliexpress Anniversary Sale Coupons and Deals, Cyber Monday Coupons and Discounts, Black Friday Coupons Aliexpress, , , Amazon Coupons Discounts Deals Promo Codes Sales, ALIEXPRESS Coupons and Promo Codes – Exclusive Discounts